New York City
Bronx Point waterfront project is more than affordable housing
The Bronx Point waterfront project could reshape the South Bronx.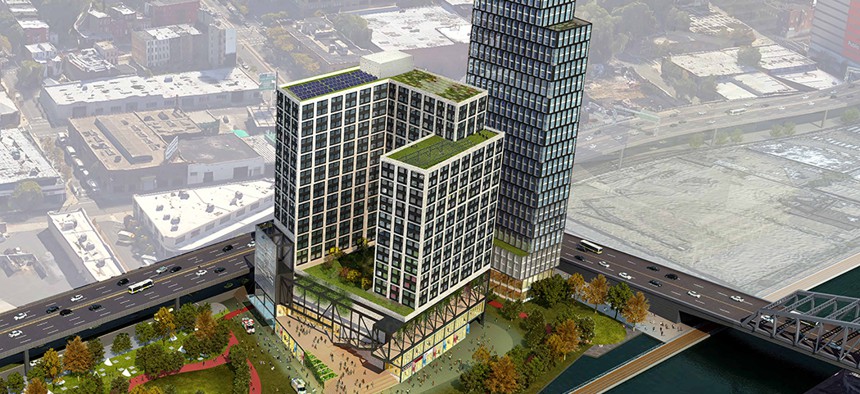 If all goes according to plan, the opening of Bronx Point, a mixed-use development, would bring up to 1,045 units of housing to the South Bronx. The development will be delivered in two phases. The first phase is set to include 600 units of permanent affordable housing as well as public spaces for performances, food, education and museums, which is expected to be done by 2022. The project is expected to create 915 temporary jobs and 100 permanent jobs once the site opens.
The project, which is part of New York City Mayor Bill de Blasio's $200 million investment strategy to strengthen the infrastructure of the Bronx's Lower Concourse neighborhood, has received support from community leaders who want an improvement of the socio-economic and cultural environment for South Bronx residents. "Bronx Point is a tremendous step forward for our borough," Bronx Borough President Rubén Díaz Jr. said in a press release last year announcing the project. "Not only will this project create much-needed affordable housing units, it will activate underutilized space, open up more waterfront to public access, create new public spaces and retail amenities for community use and, finally, bring the Universal Hip-Hop Museum to its rightful location in the birthplace of hip-hop, The Bronx."
Bronx Point also received a positive recommendation from Bronx Community Board 4, which approved the New York City Economic Development Corp.'s application to rezone the Harlem River Waterfront area north of the 145th Street Bridge for the project's construction.
Once new residents begin moving into Bronx Point, city officials anticipate an increase in the number of students attending nearby schools. To mitigate the impact, the district will either restructure its existing schools, relocate administrative offices to make space for new classrooms or construct an entirely new school. Should opening a new school become necessary, the plan is to build one in the New York City Council's 17th District after the first phase of Bronx Point is completed.
Powered By
NEXT STORY: Díaz hopes new Metro-North stations open by 2022