New York City
Momentum builds behind MWBEs
After a lackluster year, the rate of contracting for minority- and women-owned businesses is rising in New York.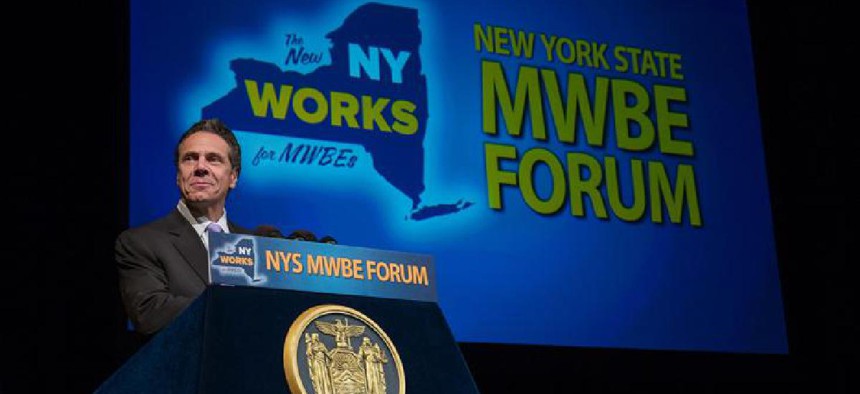 Efforts to provide a boost to companies owned by minorities or women are paying off in New York, as both the state and New York City increased the share of contracts awarded to such firms in the past year.
At the state level, Gov. Andrew Cuomo inched closer to his goal of awarding 30 percent of state government contracts to minority- and women-owned business enterprises, or MWBEs, hitting 28.62 percent in the 2017-18 fiscal year.
In New York City, Mayor Bill de Blasio's administration – which also has a 30 percent target – touted an increase to 19 percent in its own MWBE contracting rate.
Since de Blasio's office launched an official advisory council on minority- and women-owned businesses, the share of New York City contracts going to MWBEs has increased by 11 percentage points, up from 8 percent of city contracts in fiscal year 2014-15.
The increase in MWBE contracts comes just a year after city MWBE contracts dropped from 14.3 percent to 11.4 percent. That decrease was due to an atypical contract involving the Department of Sanitation, Senior Advisor and Director of the Mayor's Office of MWBEs Jonnel Doris told City & State last year.
This year, Doris says the city is "doing very well" when it comes to MWBEs. "We just recently hit our $10 billion OneNYC goal," he told City & State in a recent interview, referring to the city's total MWBE spending target. "The mayor set a goal of $20 billion for MWBEs and we're halfway to our target in just four years. So we're ecstatic about that."
Announced in 2015, OneNYC is the city's strategy to address population growth, aging infrastructure, increasing inequality and climate change. Under the OneNYC strategy, de Blasio originally set out to award $16 billion to MWBEs by 2025. After the 2017-18 fiscal year, he raised that number to $20 billion.
But according to New York City Comptroller Scott Stringer's office, the city could be doing a better job. Last year, the comptroller's office gave the city a D+ on MWBEs, finding that only 4.9 percent of the $21 billion procurement budget went to MWBEs in the 2016-17 fiscal year.
The de Blasio administration uses a different measure based on contracts in industries explicitly covered by a law governing the MWBE program.
"There's good news and bad news," Wendy Garcia, the city comptroller's chief diversity officer, said of the city's efforts. "The bad news is that we're seeing a small percentage of contracts being obtained by women- and minority-owned business. The good news is that if you look at the numbers from when (the MWBE program) originally started to now, we are seeing an increase in spending."
The comptroller's office has not yet released an annual report on MWBEs for the 2017-18 fiscal year, but its 2018 progress report showed that as of March, city agencies were not meeting local spending goals when it comes to minority groups.
Cuomo has made MWBEs a priority since early in his first term, and the state has seen a fairly steady upward climb over the years. State MWBE contracts rose from 27.20 percent in the 2016-17 fiscal year to 28.62 percent in the 2017-18 fiscal year. "Our nation-leading utilization rate is a testament to our unparalleled network of MWBEs that continues to grow in size and scope, reflecting the state's rich diversity," Cuomo announced earlier this month.
Despite the percentage change, some state officials recognize there's more to be done. "We still have a long way to go," said Assemblywoman Rodneyse Bichotte, the chairwoman of the Assembly Oversight of Minority and Women-Owned Business Enterprises Subcommittee. "We're still battling the personal net worth (cap) that has been stifling, in particular, MWBEs in the construction field – to grow, expand, and actually even be in the program. We're still battling the license certification that's taking, in some cases, two years – or even the appellate portion of it, where some people may want to appeal a decision that Empire State Development made on why they're not eligible to be part of the program."
Powered By
NEXT STORY: Playing politics with the NY1 picket line