Playing politics with the NY1 picket line
Gov. Andrew Cuomo's NY1 boycott amid a long-simmering standoff between the channel's parent company, Charter Spectrum, and IBEW Local 3 has not led to a breakthrough. But in the heat of election season, his move sends a clear message to the labor movement.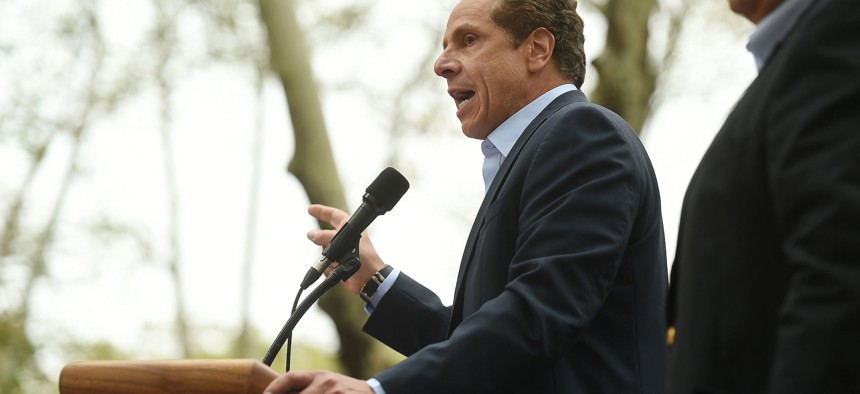 In July of 2012, Gov. Andrew Cuomo played a Capraesque role in personally stepping in and helping Con Edison and its striking workforce find common ground. But he had Mother Nature on his side, with the threat of a severe summer storm bearing down on the region.
Now, as he tries to bring an end to the bitter International Brotherhood of Electrical Workers Local 3 strike against Charter Spectrum, he has not been so lucky.
Cuomo's latest strategy, launched on Oct. 17, has been to encourage others to follow his lead and turn down appearances on NY1 in order to honor the IBEW Local 3 picket line of the Charter-owned news channel.
Using the leverage of his appearances on NY1, New York City's top local cable news channel, in the home stretch of his re-election campaign has not produced a settlement between the telecommunications behemoth and the strike-weary local. It did, however, get the two sides in the 19-month strike to start talking again.
On Oct. 22, Cuomo issued a statement announcing that he had convinced Local 3 "as a matter of good faith" to suspend its picket line for 72 hours because Charter Spectrum had agreed to negotiation and mediation.
A Local 3 spokesperson confirmed to City & State that Cuomo met on Oct. 25 with both sides and that he has named as a special mediator Peter Ward, the president of the Hotel and Motel Trades Council. A Charter Spectrum corporate spokesperson said, "Unfortunately, we do not discuss the status of negotiations."
Another meeting is scheduled for Monday. "As talks between the company and the union are ongoing, all action in front of NY1 and other related affiliates continue to be suspended pending further developments," the Local 3 union spokesperson said in a text. That insures that in the home stretch of the election season, incumbents and challengers won't have to contend with crossing a picket line to get free exposure on NY1.
Last year, the company said it had already offered substantial pay hikes to Local 3 but wanted to switch the union workforce away from Local 3's benefits plan to "excellent and reliable, company-sponsored health and retirement benefits" and "end their exposure to union plans in financial risk, because of wildly optimistic investment assumptions."
Following in Cuomo's footsteps, New York City Mayor Bill de Blasio declined to cross the union picket line and skipped an appearance on NY1, bringing new oxygen to the labor standoff that has undermined the Empire State's long held reputation as a pro-union bastion. "I have publicly stated my opposition to and outrage at Charter's conduct on numerous occasions," Cuomo said in a statement. "I applaud Mayor de Blasio for boycotting the network and encourage other officials to do the same."
Doug Muzzio, a political science professor at CUNY's Baruch College, said the move by Cuomo was a strategic success on two levels. "It shows solidarity with the union movement and a firm commitment not to cross the picket line," Muzzio said. "And when it's just two weeks before the election, you can't help but look at it through the lens of politics."
George Arzt, a political consultant and former press secretary for Mayor Ed Koch, sees Cuomo's move as a down payment on any potential presidential ambitions. "In the Democratic Party, the unions are powerful," he said. "If you have any semblance of national ambitions, you are not crossing a picket line."
At a massive rally to support Local 3 in Brooklyn last year, Cuomo gave a fiery speech that warned of the erosion of "respect for the working men and women" who have actually lost ground in terms of wages, as the concentration of wealth at the top has accelerated. "What we have seen is … the real wages of working men and women in the middle class have gone backwards over the past 20 years."
The local picket line skirmish is just one front in Cuomo's battle with Charter Spectrum. There is also the regulatory fight in Albany between the media behemoth and the state's Public Service Commission. At issue is whether the regulator should banish the company from the state for its alleged failure to deliver on its promise to roll out a broadband expansion to underserved parts of the state.
The Connecticut-based media giant has consistently defended the pace of its broadband rollout and pledged to resist efforts by the regulator to rescind its approval of Charter's 2016 acquisition ofTime Warner Cable. "We do have labor issues in New York City, which we believe have politicized the actions of the PSC, and so we are concerned about that," Charter CEO Rutledge told Wall Street analysts on a call in August.
On the same call, Rutledge took a more conciliatory tone in saying he was "hopeful" both the labor and regulatory issues could be resolved. But he also said his company could "litigate" because their position was defensible in court.
Charter Spectrum is the nation's fastest growing cable provider, and the second-largest, serving 25 million households across 41 states. Rutledge is the architect of Charter's meteoric ascendancy from bankruptcy in 2009 to a near monopoly in parts of the country. In 2016 he was awarded nearly $100 million in compensation, mostly in stock options, which made him the highest-paid CEO in the United States.
Whatever conciliatory signals being sent by Rutledge over the summer were eclipsed by the company's recent response to Cuomo's new picket line strategy.
"For more than 25 years, NY1 has been serving the citizens of New York with thorough and objective hyper-local news coverage," the company said in a statement to the press. "The boycott called for by the Governor accomplishes nothing except to deprive his constituents of the ability to better understand how their state works and create a smokescreen for him to avoid answering difficult questions about real issues. It is a shame to see NY1 used as a political prop, something its parent company has never done, at a time when there are fewer and fewer objective local news outlets."
On yet another front, lobbying is already well underway around the New York City Council's 2020 deliberations on the renewal of Charter Spectrum's municipal franchise agreement. (Local 3 supporters say they already have the support to send the company packing.)
The standoff, in what historically has been considered America's most pro-labor big city, has taken a toll on the 1,500 workers who have had to worry about fending off foreclosure and bankruptcy, according to New York City Councilman I. Daneek Miller. The chairman of the New York City Council's Civil Service and Labor Committee estimates there are 200 households directly effected in his Queens district alone.
"Charter Communications has betrayed the public trust and is not deserving of the right to do business with our city," Miller said at a rally on the City Hall steps over the summer. "Charter has an established pattern of deceit against its own workers and consumers in the name of boosting its profit margin, and it must be held accountable for its deception. … If Charter continues to engage in bad faith negotiations with Local 3 or sponsors any attempts to break the union, it'll be hard pressed to persuade the council to renew its franchise agreement."
But for the Local 3 workers and their families, who are looking forward to another bleak holiday season, 2020 is a long time away. For them, perhaps Cuomo can be the guy that saved Christmas.