New York City
What it means to be a 'Dreamer'
Assembly candidate Catalina Cruz has said she would be New York's first 'Dreamer' in office.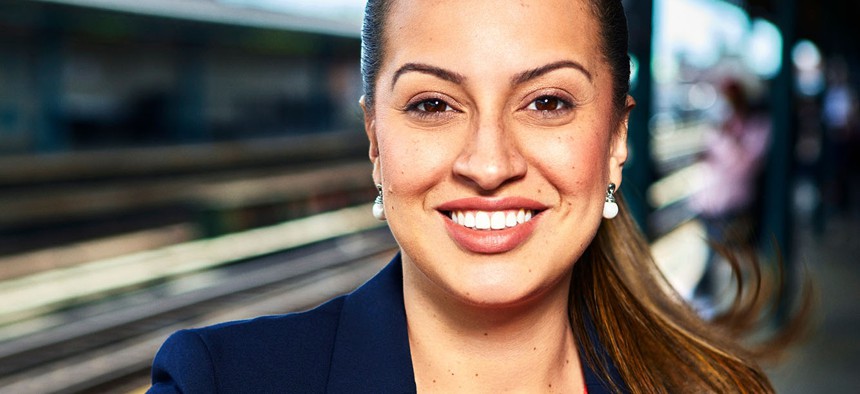 New York is poised to elect its first so-called "Dreamer" to public office. Catalina Cruz, the Democratic nominee for state Assembly in the 39th District – a staunchly Democratic area of Queens – has been heavily campaigning on her identity as a member of the cohort that immigrated here illegally as children and how she would be the first one to hold office in New York.
This is true, but there are still several things to keep in mind when considering what it means.
The term "Dreamer" references the federal Development, Relief, and Education for Alien Minors, or DREAM, Act first introduced in Congress in 2001. The bill would offer conditional residency to qualifying undocumented immigrants who were brought into the country as children, and eventually permanent residency. Among the requirements are that the person was younger than 18 when he or she entered the country, is between 12 and 35 years of age at the time of the bill's enactment and has lived in the country for at least four consecutive years. The legislation has been re-introduced several times over its nearly two decade existence, although it has never passed.
Cruz came to the country with a tourist visa at the age of 9 with her mother in 1992. That would have made her 18 when the DREAM Act was first introduced in 2001. If the bill had passed, Cruz would have been a prime candidate for conditional residency. Broadly defined, a Dreamer is a person who would theoretically qualify for protections under the DREAM Act. In this way, Cruz is a "Dreamer."
When asked by City & State how she defines the term "Dreamer," Cruz said in a statement, "When the DREAM Act was originally written, thousands of undocumented youth like myself pinned their hopes and dreams on action from the federal government. Today, many more continue to live in fear while facing uncertain futures. All are DREAMers, and Americans in every which way except on paper."
In an interview with Vice, Cruz has previously said there are "many types of Dreamers," including those like her from the original DREAM Act era and those who receive Deferred Action for Childhood Arrivals, or DACA. However, she added that what they share is "that our parents brought us here as kids and this country has become our home."
However, Robert Smith, a sociology professor at the CUNY Graduate Center with expertise in immigration, defines the term even more broadly. He said "Dreamer" could refer to anyone who was undocumented as a child, grew up in the United States and is "embodying the American dream." This would include people from before the first DREAM Act was introduced.
By this definition, Rep. Adriano Espaillat could be considered a "Dreamer" as well. He was elected to the Assembly in 1996, becoming the first formerly undocumented person elected in New York state. Like Cruz, he came to the country at age nine and was undocumented for a time as a child. However, the phrase itself came long after Espaillat had grown up, and he has never referred to himself as one.
So far, there have been two formerly undocumented lawmakers elected to New York state office: Espaillat and former Assemblywoman Gabriela Rosa, who came to the country when she was already an adult.
The term "Dreamer" has become perhaps most commonly associated with recipients of DACA, a program created by President Barack Obama through an executive order. While the program does not offer a path to citizenship like the DREAM Act would have, it makes young, undocumented immigrants who were brought to the country as children eligible for work permits while deferring deportation. Recipients must renew their application every two years to continue receiving the benefits.
The eligible pool of DACA recipients is very similar to those who would have benefited from the DREAM Act, as is the intent of the program. This led to the common reference of those recipients as "Dreamers." Cruz herself would actually be eligible for DACA if she had not gained her citizenship in 2009. But since she has never been enrolled in the program, she is not a "Dreamer" in this narrower sense.
But the fact that Cruz has become a citizen does not mean she is not a "Dreamer," according to immigration experts and advocates. Smith said the term can refer to someone who lacked legal status and gained it, lacked status and received DACA, or someone who still lacks legal status.
According to New York magazine, Cruz would only be the third "Dreamer" in the country to enter office. Wendy Carrillo was elected to the California state Assembly in 2017 and Ruben Kihuen was elected as to the Nevada state Assembly in 2006. Bothare formerly undocumented but are now citizens. Like Cruz, neither Carrillo nor Kihuen are or were DACA recipients, but they would previously have qualified for conditional residency under the DREAM Act. It should come as no surprise that New York, one of the most immigrant-heavy states, will become the third state – and the first on the East Coast – to elect a "Dreamer" to its legislature.