Andrew Cuomo
Who is for – and against – the Amazon deal
The online retailer's move into Queens is dividing elected officials and influential groups.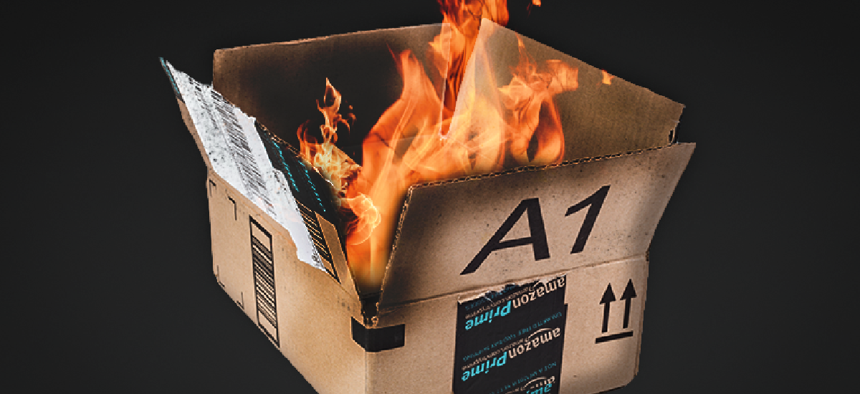 Amazon's announced move into Queens may have united Gov. Andrew Cuomo and New York City Mayor Bill de Blasio, but that does not mean that all elected officials are on board with using some $3 billion in city and state incentives to lure the online giant to Long Island City.
Officials representing the neighborhood, such as New York City Councilman Jimmy Van Bramer and state Sen. Michael Gianaris, as well as a few other politicians, are protesting the deal. They say that local residents will have little voice in shaping Amazon's presence if the company is allowed to circumvent the city's typical land use process by using a controversial planning process. But with other officials backing the terms of the deal, it's unclear if opponents of the deal will be able to extract concessions from the company beyond those already laid out in a memorandum of understanding between the city, the state and Amazon.
As the deal currently stands, Amazon will receive about $1.7 billion in subsidies from the state and $1.3 billion from the city – with most of the state support coming from the Excelsior Jobs Program. In exchange, the company plans to create at least 25,000 new jobs and invest $3.6 billion into the project over 15 years. The governor's office claims there will be a 9-to-1 return on government investment in project.
Cuomo and de Blasio have rallied a significant number of local officials to their cause, but opposition is continuing to build to the deal. Here's where elected officials stand on the issue.
Who is for the current deal?
The Amazon deal provides a rare opportunity for the governor and the mayor to highlight their cooperation in an otherwise combative relationship. They both highlighted how Amazon would bring jobs to Queens, bolster the city's growing tech center and ultimately prove to be a net gain for city and state coffers in the long run, following the announcement that the city had bested more than 230 other cities to win the "HQ2" contest to host the new headquarters. However, their statements had some noticeable differences.
Cuomo presented the deal as part of his self-proclaimed efforts to "build a new New York State" that is business-friendly and fiscally sound. This includes what he says have been more than $100 billion in investments in infrastructure, as well as initiatives like K-12 tech education and the Excelsior Scholarship program. "With an average salary of $150,000 per year for the tens of thousands of new jobs Amazon is creating in Queens, economic opportunity and investment will flourish for the entire region," Cuomo said, according to a press release. "Amazon understands that New York has everything the company needs to continue its growth."
De Blasio, meanwhile, praised the economic benefits of the project, but also acknowledged some emerging issues in a statement of his own: "We're going to use this opportunity to open up good careers in tech to thousands of people looking for their foothold in the new economy, including those in City colleges and public housing. The City and State are working closely together to make sure Amazon's expansion is planned smartly, and to ensure this fast growing neighborhood has the transportation, schools and infrastructure it needs."
Dozens of other elected officials, academics, nonprofit leaders and other private sector figures also gave supportive statement in a press release from the New York City Mayor's Office.
"The number one thing we can do for New Yorkers at every rung of the economic ladder is create jobs, and the number one way to do that is to bring companies like Amazon to New York," U.S. Sen. Charles Schumer said. "So, this a great opportunity to help New Yorkers at every income level, but we must make sure there are commensurate infrastructure and housing improvements to the neighborhoods to which Amazon is moving, and make sure community residents are hired when Amazon lands."
In addition to Schumer, the list of public officials in favor of the project includes elected officials like Queens Borough President Melinda Katz – who said Queens is "primed for Amazon" – and Assemblywoman Catherine Nolan – whose district includes the project – as well as Gary LaBarbera, president of the Building and Construction Trades Council of Greater New York, John Banks, president of the Real Estate Board of New York, Carlo A. Scissura, president & CEO of the New York Building Congress, and April Simpson, president of the Queensbridge Tenants Association.
Her inclusion is notable because of the proximity of the public housing project to the future location of Amazon. Some critics have said that city and state support should not be given to online retailer considering the needs of NYCHA. Simpson told The New York Times that residents of Queensbridge were "leery" about Amazon moving to the neighborhood, but she nonetheless issued a statement that was included in the City Hall press release.
"For decades, residents of the Queensbridge Houses in Long Island City didn't have access to new jobs created in LIC. They've had to commute into Manhattan and to other parts of Queens and Brooklyn to access good-paying jobs," Simpson said in the press release.
"Amazon's HQ2 announcement although exciting in its potential to create jobs for people who live in the Long Island City area, we also need to work closely together to ensure that residents in Queensbridge Houses will be guaranteed 100 percent access to these jobs and educational training in workforce development programs that will open the door to thousands of future jobs this partnership with Amazon will create. There's still a lot of work to be done and we definitely welcome the opportunity to work with Amazon, the City, and State representatives to ensure that this deal works for those who will and should benefit most: Queensbridge residents."
Rep. Carolyn Maloney's district includes Long Island City, and she said in a statement that while the deal will bring needed jobs and needed infrastructure investments to Long Island City, she still has concerns. "Public review is absolutely essential to assess the promised benefits of such a large project," she said in a statement to City & Statement. "That now must happen and I intend to make sure it does. A beneficial deal will withstand public scrutiny."
Who is against the deal?
A number of current and past public officials against the deal have thus far been Van Bramer, Gianaris, City Council Speaker Corey Johnson, former city Speaker Melissa Mark-Viverito, Rep.-elect Alexandria Ocasio-Cortez and state Sen.-elect Julia Salazar.
If the project were to go through the city's land use process, Van Bramer in particular would have a lot of leverage over Amazon's plans. While he has criticize the amount of subsidies that Amazon will receive, his opposition appears to be more premised on process. "They said not only are we going to give you anything you ask for, but then we're going to rig the process and we're going to change how we do this to guarantee that this can't be stopped," Van Bramer told the Daily News. "We're going to grease the wheels for you. That's what happened here, and that's what's so disgraceful."
Gianaris expressed similar sentiments when he said that Long Island City residents are "mad as hell" about the deal. While Van Bramer and Gianaris are the only elected officials against the deal who represent that part of Long Island City, they are hardly the only politicians with big soap boxes who oppose the deal.
Johnson said in a press release that he is "very concerned" about the lack of opportunities for community input.
"Amazon is one of the richest companies in the world," he said. "But you can't put a price on community input, which has been missing throughout this entire process. I find that lack of engagement and the fact that the negotiations excluded the City Council – which is elected by New Yorkers to guide land use projects with communities in mind – extremely troubling."
Assemblyman Ron Kim said he would propose a bill to block the Amazon deal and redirect that money towards student debt relief. "What's the point of having a full majority Dems in the Senate & Assembly when we can't (or won't) stop one man from giving away billions of taxpayers money to mega corporations & super monopolies?" Kim said in a tweet. Ocasio-Cortez praised that idea in a tweet of her own.
What's the point of having a full majority Dems in the Senate & Assembly when we can't (or won't) stop one man from giving away billions of taxpayers money to mega corporations & super monopolies?? #stopamazon #endcorporatewelfare #cancelstudentdebt https://t.co/jqMI1cs2IS

— Ron T. Kim (@rontkim) November 13, 2018
This is some legislation from @rontkim:

'If we have $1.7b to give to Amazon, then that means we have $1.7b to forgive NY student loan debt.' https://t.co/gPMmQ7QoZz

— Alexandria Ocasio-Cortez (@Ocasio2018) November 13, 2018
A number of elected officials, advocacy groups, union members and others rallied against the deal on Nov. 14, including Salazar, the Retail, Wholesale and Department Store Union, New York Communities for Change and Make the Road New York.