Andrew Cuomo
Congestion pricing, take two
Everyone agrees the MTA needs more money. If only the Democrats could agree on how to get it.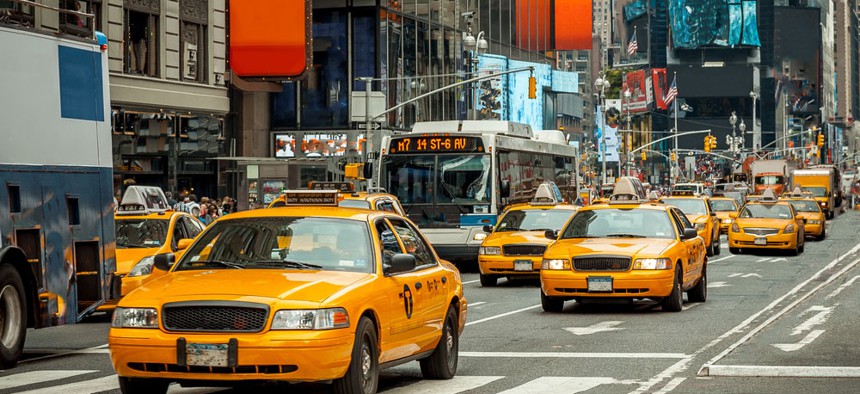 Gov. Andrew Cuomo has appealed to divine intervention in two notable ways in recent months. One was when he promised during his re-election campaign that he would serve out a third term as governor rather than run for president in 2020. "The only caveat is if God strikes me dead," he said. The second instance came in October when the governor said one way to secure billions of dollars in new funding for the beleaguered Metropolitan Transportation Authority. "God is going to send down $33 billion. It's going to descend from the clouds." In the absence of that, Cuomo said, there is congestion pricing. "We have to get it done," he said. "We have to get it done next year."
He has re-emerged as the most high-profile proponent of congestion pricing since Democrats won large majorities in the state Senate and Assembly in November. Many lawmakers agree that it is the only realistic way to provide much of the billions of dollars needed to repair the New York City subway system, but not all Democrats are on board. These opponents – including outer-borough lawmakers – say that the idea unfairly affects their constituents and whether they succeed or fail in stopping congestion pricing in the coming years could determine whether one-party rule in Albany can bring a solution to the subways.
Key to any deal would be incoming state Senate Majority Leader Andrea Stewart-Cousins and Assembly Speaker Carl Heastie, who, along with Cuomo, will likely decide the fate of congestion pricing in budget negotiations this spring. Heastie has said he supports some form of congestion pricing, and Stewart-Cousins has signaled a willingness to reconsider the issue. "We obviously do need a sustained revenue source for the MTA. There's no question about it," she said during a November appearance on "The Brian Lehrer Show." "We will be fighting towards finding that sustainable revenue for the MTA because it is important to all of us."
The underlying idea behind congestion pricing is to charge drivers who enter Manhattan's central business district – in previous proposals that has been about $11 per car and $25 per truck. That would raise an estimated $1 billion or so each year that could help pay for new signals, increased accessibility at subway stations and other improvements outlined in the Fast Forward plan put forward by Andy Byford, the president of New York City Transit, an agency within the MTA. But about $40 billion over a decade is needed to modernize and repair the subway system. "Congestion pricing will go a lot towards our needs. Will that suffice? No," Byford said at a recent New York City Council hearing. "We still will need other mechanisms."
Additional funding could come in a number of ways. New York City Mayor Bill de Blasio has long championed a so-called millionaires tax – which Cuomo has derided as a nonstarter in the state Legislature – as a better way to fund the subways, and the mayor has been lukewarm on Cuomo's efforts to get the city to increase its funding for the subways. Some proponents of recreational marijuana legalization, such as public advocate candidate Melissa Mark-Viverito and Council Speaker Corey Johnson, have suggested that tax revenues from the drug could be directed toward the subways, The New York Times reported. "Why would we not try to include as many funding streams as possible without having to raise taxes, which a lot of people quite frankly are afraid of doing," state Sen.-elect Alessandra Biaggi told the Times. Those fears could doom proposals to help fund the MTA by increasing gasoline, sales or income taxes, or fees on auto registrations.
Congestion pricing has a particular appeal to transportation advocates not only because it can raise money for the MTA, but also because it discourages people from driving through the crowded streets of lower and midtown Manhattan, decreasing road congestion and improving safety for pedestrians and cyclists. "It hits a lot of birds with one stone," said Tom DeVito, director of advocacy at Transportation Alternatives. The nonprofit is one among dozens of groups that are pushing for congestion pricing as part of the Fix the Subway Coalition.
The looming battle over congestion pricing comes after proponents failed to pass the idea during budget negotiations in the early spring. Ultimately, lawmakers could only agree on imposing a surcharge on for-hire vehicles, which some – especially taxi drivers under financial distress – want to postpone until a more "comprehensive plan" for congestion pricing is put in place.
Adding to the headwinds against congestion pricing are the concerns of outer-borough and suburban legislators. Queens Assemblyman David Weprin, a leading opponent of the congestion pricing effort last year, said that he still opposes the idea. "It would just be an addition tax and burden on middle-class people and businesses," he argued. Instead, he would rather see a 1 percent commuter tax pay for repairs to the subways.
However, Weprin's idea could have trouble winning support from suburban Democrats who say that taxes are already too high for their constituents, many of whom face higher tax bills in the upcoming year because of the federal tax plan that capped the deduction of local and state taxes. Furthermore, Hudson Valley and Long Island Democrats say that they have MTA-related infrastructure needs in their own areas, which are serviced by the Long Island Rail Road and the Metro-North Railroad. "My concern is with any type of congestion pricing that's not being allocated to the areas that need it most," said state Sen. David Carlucci, who represents a district in Rockland and Westchester counties.
Though Democrats have some disagreements on how to fund the MTA, there is widespread agreement that some sort of solution is needed in the upcoming session, especially since the party will no longer have Republicans to blame if they fall short. Some lawmakers remain optimistic that one way or another a plan will emerge among Democrats to fix the subways. "I feel like we have diversity," said incoming Hudson Valley state Sen. Jen Metzger. "But I also feel that the other new senators that I've met are eager to work together so I really feel confident that we will have a productive session."
We have to get it done. We have to get it done next year. – Gov. Andrew Cuomo
Whether that approach will ultimately result in an agreement on congestion pricing remains to be seen, but thus far the loudest voices talking about fixing the subways are fixated on the concept as the place to start. Chief among them is Cuomo, a governor who has a reputation for pushing hard for ideas that he supports. As the next legislative session approaches, the governor has not wavered from vows to move as fast as he can on congestion pricing, and lawmakers say how he approaches the issue will likely set the course for the upcoming debate.
"Everyone agrees that the MTA has capital needs that are large," Weprin said. "We will see what the governor proposes in his State of the State address and his budget address and that may set the agenda on the matter."