Health Care
Has single-payer health care's time finally come?
Democrats are coming out of the woodwork to back the New York Health Act.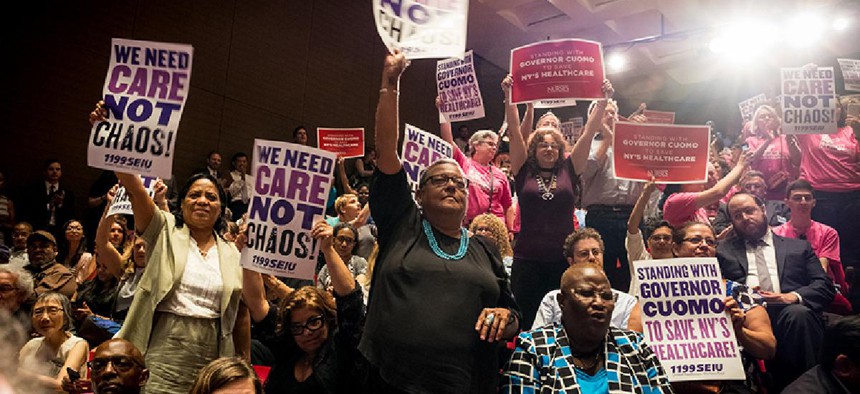 With their new majority in the state Senate, Democrats are finally preparing to pass long-stalled progressive legislation. Perhaps the most expansive and expensive item on the agenda – and among the most controversial – is the New York Health Act, which would establish a single-payer health care system in the state, and one study estimated it would cost $139 billion in 2022. Many incoming lawmakers campaigned on the promise that they would get it done, but even if it does pass, it likely won't be implemented right away.
The Democratic-controlled Assembly has passed the legislation every year since 2015, but in that time it never came up for a vote in the state Senate thanks to the Republican majority. Now that the chamber will be in Democratic hands, the legislation seems far more likely to pass.
A single-payer health care system means that a single entity covers the cost of all health care, which is still delivered by private or nonprofit providers. Everyone pays into a single plan run by the government, which in turn is the only provider of coverage paying claims. Assemblyman Richard Gottfried's single-payer bill has proposed one public option and a ban on the sale of private insurance unless it offers additional coverage not included in the state plan.
One major obstacle the New York Health Act must overcome is a less than enthusiastic governor. Although Gov. Andrew Cuomo has expressed support for single-payer health care as a concept, he has repeatedly said that it would be better implemented at the national level. In a recent interview on WCNY, he expressed doubt that the state would be able to finance the $150 billion program, since that would nearly double the state's budget. "There will be rhetorical desire to do things," Cuomo said. "Governmentally there will have to be a reality test to get all things to fit in the budget."
Although this sounds like it could put a serious damper on the future of the legislation, Gottfried called the governor's stance "a perfectly reasonable position for a governor," noting that Cuomo is already far more progressive than other governors by simply supporting the concept of single-payer health care. Gottfried said he has been in talks with the administration and expects those conversations to accelerate now that passage is more realistic.
Gottfried said that stakeholders who have remained quiet in the past are coming forward to voice their concerns. Most recently, Gottfried and state Sen. Gustavo Rivera, the bill's Senate sponsor, have been negotiating with New York City public unions over concerns that union members would pay more or have fewer benefits. "What we're talking about is modifications just to accommodate concerns that people are raising now that it looks like it can easily pass both chambers this session," Gottfried told City & State. "People who we haven't heard from are starting to come forward and say, 'Gee, could you add this nuts and bolts?' or 'Tighten it up here.''"
Gottfried said making tweaks to the bill will continue at least a couple weeks into the session, which begins in early January. However, Gottfried said that he and Rivera will not make any major structural changes to the bill and said the Assembly is "well positioned" to pass the bill this upcoming session.
People who we haven't heard from are starting to come forward and say, 'Gee, could you add this nuts and bolts?' or 'Tighten it up here.' – Assemblyman Richard Gottfried
Rivera expressed more caution, telling City & State that he feels confident that the chamber will engage in meaningful conversations about the bill, which it has never done before, but did not want to make any promises about a timeline for passage. "This is not a simple thing that we're trying to do," Rivera said. "We want to make sure that we don't put anything up for a vote, to be signed by the governor, unless it's ready to go."
Bill Hammond, a health policy expert at the right-leaning Empire Center for Public Policy, argued that no amount of change to the New York Health Act would actually make the legislation viable. "I think (Gottfried and Rivera's) posture right now is not to acknowledge the sacrifice, it's to make it even more attractive to whatever interest group thinks they're going to lose," Hammond told City & State. He added that any changes would likely add to the already astronomical cost of the bill.
But Gottfried maintained that a single-payer system will lead to lower overall health care spending despite the introduction of a new payroll tax because the average New Yorker would no longer pay insurance premiums and copays. He cited the Rand Corp. study, commissioned by the New York State Health Foundation, which found total health care spending could be lower under the New York Health Act than under the status quo. "To me, the issue is not about where your check goes," Gottfried said. "What people really care about is how much are they going to have to spend, and how much they will be able to keep under the New York Health Act."
However, Hammond pointed out that since there is no precedent for the system in the country, the details of the new tax plan have not been worked out yet and it is hard to accurately predict the cost of the program, so the Rand study could be wrong. He added that it also hinges on the federal government providing waivers to in order to divert Affordable Care Act, Medicare and Medicaid funding into the single-payer system, an unlikely prospect with the current administration. "There's all kind of doubt and uncertainty about who's going to pay more and who's going to pay less," Hammond said.
Rivera dismissed the idea that the New York Health Act depends on receiving those federal waivers, saying they would be helpful, but not necessary. "We believe, both my colleague and myself, believe that there are ways within the system that we could actually extend the New York Health Act as a wraparound service that would ultimately not require waivers," Rivera said. He added that since the single-payer system would take years to put into place, he remained hopeful that a different, more sympathetic administration would be in the White House by then.
Another sticking point in evaluating and passing the New York Health Act is the fact that the previous legislation contained no specific language on tax rates for the proposed payroll tax, forcing Rand to use a hypothetical tax schedule. Gottfried said no language about tax brackets will be added to the legislation that he and Rivera will introduce and that it will be worked out after the bill's passage since the program will take years to implement. He added the absence of this information will not pose an impediment to passage and that it could be easily added in if it becomes necessary.
Despite the many obstacles the legislation appears to face, Gottfried said that he and Rivera have learned from their previous mistakes, such as not including a revenue stream, and they remain confident New York will lead the country in single-payer health care. "Anything has to start with somebody," Gottfried said. "And New York is ideally suited to be the state that begins single-payer coverage."