Andrew Cuomo
The Greatest Showman: Are Cuomo's projects just window dressing?
Gov. Andrew Cuomo has rolled out one marquee project after another. But has he neglected the state's less flashy infrastructure needs?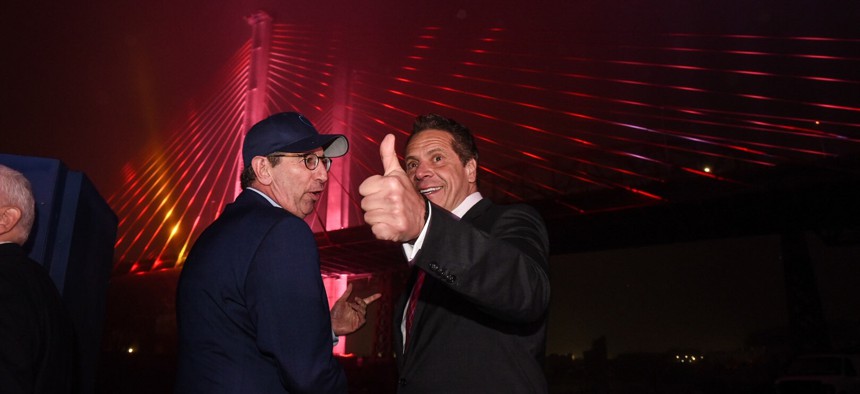 Step right up ladies and gentlemen, to see the unstoppable construction governor in action!
See Gov. Andrew Cuomo in a tunnel under the Hudson River, kicking with his work boots at metal corroded by flooding from Superstorm Sandy!
Watch him drive President Franklin Delano Roosevelt's 1932 Packard across a new bridge with colored lights! See him driving the Packard across another magnificent new bridge, this one named for his father!
Ring in the new year with the governor in a gleaming new subway station! See him break ground at the site of a solar panel factory in South Buffalo! Posing atop a trucked-in pile of dirt on the tarmac at LaGuardia Airport, his elegantly shod foot on a shovel!
Cuomo is kicking off his third term armed with a thick portfolio of photo ops like these and an agenda for more of the same. More than any New York chief executive in recent memory, he has embraced the role of builder, repeatedly throwing his considerable political muscle behind big-ticket items.
His determination to build a record of achievement cast in concrete and steel, in the face of ongoing federal disinvestment, has won him approval from some corners. "The business community is definitely enthusiastic about the governor's priorities," said Kathryn Wylde, president and CEO of the Partnership for New York City. "He definitely has their support when it comes to his infrastructure programs."
"It's kind of a remarkable just what a high priority it is to him, how he wants to see himself in the history of New York," said Tom Wright, president and CEO of the Regional Plan Association. "It's becoming a stronger and stronger argument for him as he builds up the legacy of the projects."
That legacy now includes the completion of the first phase of the long-delayed Second Avenue subway, the Gov. Mario M. Cuomo Bridge to replace the Tappan Zee, and the new Kosciuszko Bridge on the Brooklyn-Queens Expressway (that's the one with the pretty lights).
For his next act, Cuomo is gearing up for a $13 billion renovation of JFK Airport to go along with the $8 billion redo of LaGuardia Airport – the airport then-Vice President Joe Biden famously said was reminiscent of "some Third World country" – that's already underway. He's pushing for an AirTrain to LaGuardia from the subway and Long Island Rail Road in Queens. Also in progress? The $1.6 billion transformation of the old James A. Farley Post Office into the Moynihan Train Hall, a grand new entrance for Penn Station in Manhattan and a $1.5 billion revamping of the Jacob K. Javits Convention Center.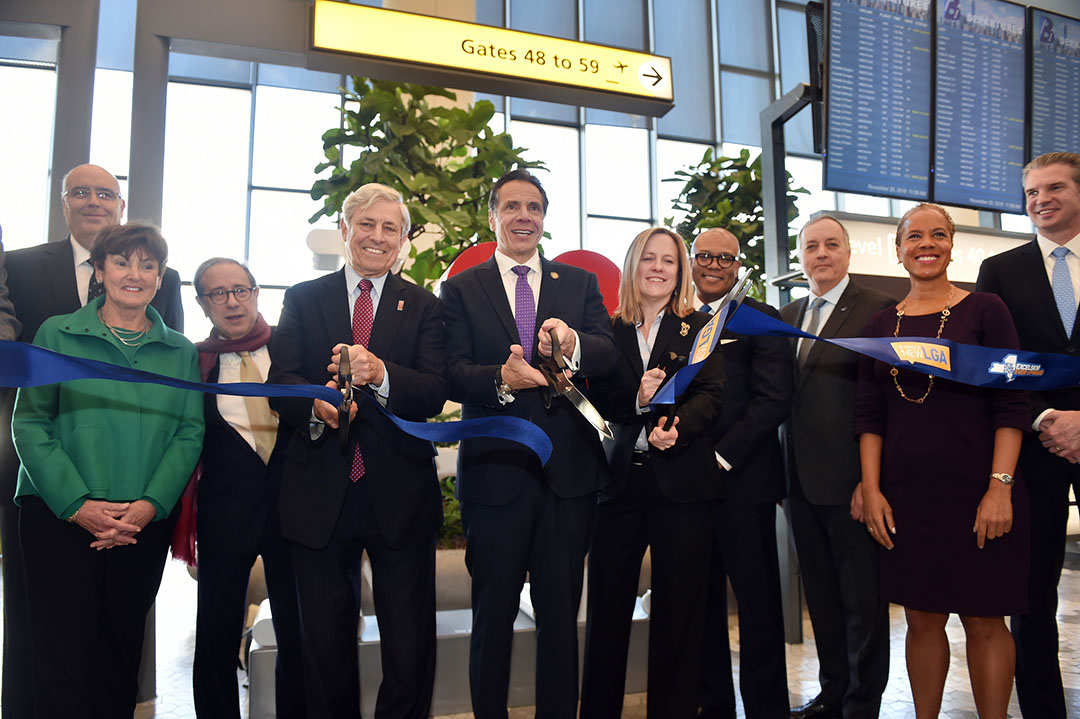 All this, even as the Trump administration has failed to deliver on campaign promises to rebuild and improve American infrastructure. "The governor's actions are a stark contrast to (the) total failure of the federal government to put forward an infrastructure agenda and funding for it," Wylde said. "Unlike some in public office, he has enormous respect for government and what it can accomplish."
Not everyone is dazzled by Cuomo's approach to public works, however. His critics charge he has often neglected the nuts and bolts maintenance of complex systems, such as with the New York State Thruway or the subway system in favor of glitzy construction projects that are easier to define and win.
"He's building a lot of big, exciting projects around the state," said Michael Elmendorf, president and CEO of the Associated General Contractors of New York State. "When you move beyond the big, exciting projects, though, there is maybe less of a stellar record in terms of focusing on the mundane, boring stuff in between."
Nick Sifuentes, executive director of the advocacy group Tri-State Transportation Campaign, said, "In order to have an unalloyed reputation as the governor who rebuilt New York, those projects need to be the exact right projects, and I think some of them just aren't."
Sifuentes cites the LaGuardia AirTrain as one project that could go on the chopping block. The governor should be focusing instead, Sifuentes said, on fixing the subways, improving commuter rail service and figuring out how to fund the long-delayed Gateway rail tunnel project underneath the Hudson River. "At the end of the day, the average New Yorker is using the subways and commuter rail much, much more than airports," he said.
John Kaehny, executive director of watchdog group Reinvent Albany, is harsher in his assessment of Cuomo's approach to infrastructure over the past eight years.
"The governor is enamored of marquee projects and pushing them along," Kaehny said. "But when you talk about a policy, you're talking about a plan, and people to execute it, the funding to execute it. And as far as I can tell, there is no abiding philosophy or plan or policy here."
To hear the governor tell it, of course, there's a very coherent policy in place, one to which he is devoting significant financial resources and political capital. And he's boasting about its benefits. When announcing Amazon's choice of Long Island City, Queens, as one of two locations for its second headquarters – a prize for which the state offered up to $1.7 billion in tax breaks and cash grants – Cuomo said, "Amazon talked about the infrastructure and improving infrastructure. No state and no city is improving infrastructure as much as New York state and New York City or as quickly."
That's an impossible claim to check, in part because New York City and the surrounding region has certain infrastructure that, while struggling, unreliable and even crumbling in some places, is still the best in the nation – in particular, with the country's most extensive subway and commuter rail system. No doubt that rail access was a draw to Amazon – but is it fair to say the subway system and LIRR are improving?
The term "infrastructure" also encompasses the enormous network of less discussed underpinnings of modern life that we take for granted, unless something goes terribly wrong: water and sewer systems; the energy grid, power plants, hydroelectric dams and transmission lines; roads, sidewalks, bridges, tunnels; airports, seaports, freight rail lines, public school buildings and libraries; and much more.
The sums of money involved are equally hard to fathom. In June, Cuomo announced a five-year, $150 billion infrastructure investment plan that included $66 billion for transportation; $32 billion for environmental facilities, parks and clean energy; $11 billion for economic development; $9 billion for affordable housing; $19 billion for schools; and $13 billion for SUNY and CUNY facilities.
Like the $100 billion plan that preceded it and is ongoing, Cuomo's latest infrastructure wish list sprinkles spending upstate and downstate, rewarding all regions and, presumably, aiming to please as many voters as possible.
There are certain projects, however, that are personal for the governor. One of these was the $4 billion twin-span bridge over the Hudson that replaced the dangerously decaying Tappan Zee, which Cuomo named after his father. The bridge opened in September, amid much hoopla, under charges that Cuomo rushed construction in order to have the bridge debut days before his primary with Cynthia Nixon, which the Cuomo administration denies.
Philip Plotch, a transportation planner and now professor at St. Peter's University in New Jersey, had been studying the protracted Tappan Zee planning process for his doctorate when Cuomo brought his weight to bear on the project. "To me it was really fascinating to watch how he completely took over that project," said Plotch, who published a book on the bridge in 2015, "Politics Across the Hudson: The Tappan Zee Megaproject." "He finalized the study, got things moving, got construction underway before the end of his first term, and got it finished before the end of his second term. It was totally him."
When Cuomo took office in 2011, New York had come to seem like a state where big projects were planned, debated and litigated for years, but rarely completed. That led to dangerous decay and obsolescence in major parts of the state's physical plant, which Cuomo approached both as a challenge and an opportunity. "Infrastructure is something that has to be done continuously, and if you take a 10-year hiatus, you create an enormous backlog which is then harder to deal with," said Wright, from the Regional Plan Association. "In some ways, the governor has been dealing with a backlog from prior administrations and prior times, and he's managing both to finish projects and tee new ones up at a pretty impressive clip."
Making that happen has required the governor to use all the tools at his disposal. Kaehny pointed out that many of Cuomo's signature projects were financed through the state's authorities, which he controls and which exist outside of the legislative budgeting process.
"By funding stuff outside of (the) budget via authorities, he's able to get away with acting unilaterally," Kaehny said. "Because the governor is extremely adept at using the levers of power, extremely confident about using power, he doesn't even worry about what his own appointed boards think about stuff. Unilateralism, lack of planning, lack of consensus is the hallmark of Cuomo. Democracy is messy and consensus-building is messy, but it has a lot of benefits."
Plotch is now working on another book, about the completion of the first phase of the Second Avenue subway, the long-stymied project that the governor muscled to completion in time for a festive New Year's 2017 ribbon-cutting. Plotch sees parallels in the way Cuomo handled those two tasks – and in the price paid in the process. "He changed the priorities of both the Thruway Authority and the Metropolitan Transportation Authority to get those things done," Plotch said.
"He poured resources into those projects and took them away from other things. He takes the focus of people's attention from a much broader aspect of what they need to do to focus on what his goal was. There's repercussions that happen when you take all those people and start focusing somewhere else."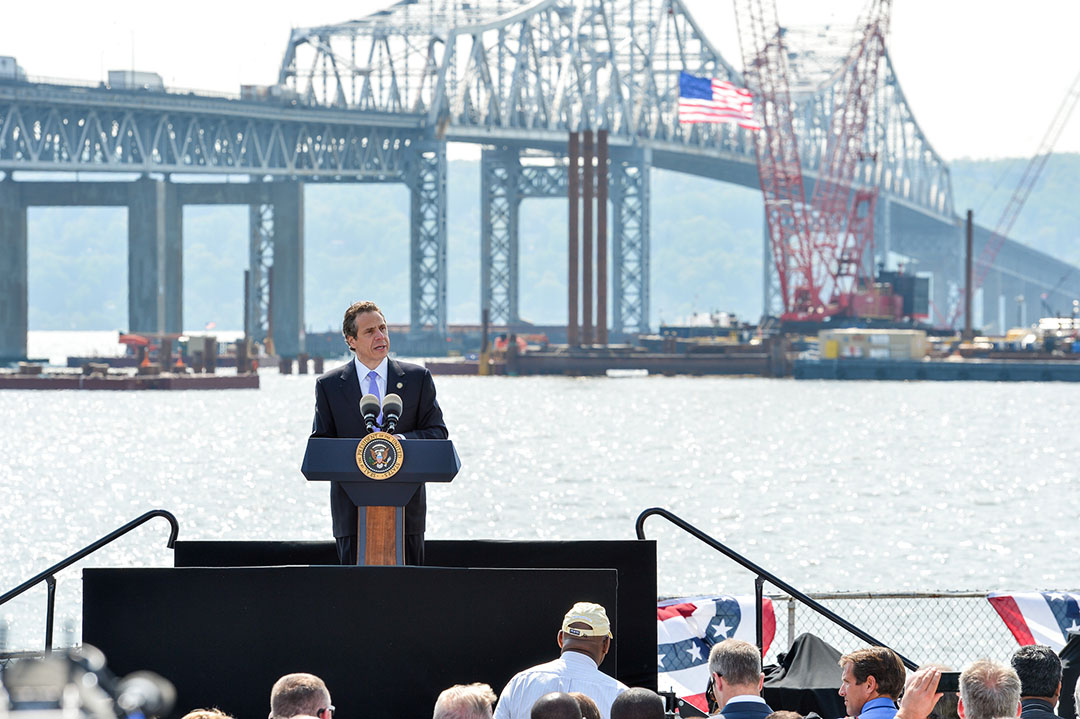 Michael Elmendorf said you will rattle over those repercussions as you drive down the New York State Thruway. Elmendorf, who is based in Albany, drives the Thruway all the time. He appreciates the governor's determination to replace the Tappan Zee Bridge, as well as his commitment to a cashless tolling system on the Thruway, scheduled for full implementation by 2020. That doesn't obviate the need, Elmendorf cautioned, for routine maintenance on the state's highway system. "There were billions of dollars invested in the Tappan Zee Bridge, which needed to be done," Elmendorf said. "But you've got pavement conditions along the rest of the Thruway declining fairly substantially."
Elmendorf pointed to numbers from the state's Department of Transportation that showed a dramatic change in the state of repair on the Thruway. Ten years ago, 90 percent of the system's 570 miles were in excellent or good condition, and only 10 percent were in fair or poor condition. Now, those numbers have almost flipped: Only 38 percent of the roadways are in excellent or good condition, while 62 percent are rated fair or poor. The percentage of roads rated poor or worse has ballooned from less than 1 percent to 34 percent.
This fall, a report from the American Society of Civil Engineers rated New York among the 10 worst states for its road conditions. "Pavement does not just hold up on hopes and good thoughts; it lasts a finite amount of time," said Elmendorf, who added that paving material is being literally spread thin over the past several years as the governor has emphasized spending on megaprojects. Elmendorf cautioned that the aging Thruway system needed to be seen as a whole. "Those projects all become a lot less exciting if the Thruway on either end of the Tappan Zee Bridge is falling apart," he said. "High-speed electronic tolling becomes less exciting if you can't travel at full speed on the Thruway."
In a written response, Thruway Authority acting Executive Director Matthew Driscoll said big upgrades like the Cuomo Bridge and cashless tolling haven't shortchanged the rest of the system. "Infrastructure investment is not a zero-sum game," he wrote. "Investing in the future does not mean sacrificing the present. We have systematically funded our transportation infrastructure across New York, everything from our roads to our bridges, our airports to our canals. The Thruway Authority alone has reinvested more than $2.3 billion into its 570-mile system in the last ten years."
If Cuomoism is anything, it's the idea of the imperial governor that has no oversight." – John Kaehny, Reinvent Albany executive director
The governor himself is often soaring thousands of feet above the Thruway, which may be one reason that he seems particularly enamored of airport projects. "The governor's obsession is with airports and aircraft," said Kaehny, of Reinvent Albany. "The governor flies everywhere all the time, in helicopters and fixed-wing aircraft that are at his disposal. The governor has airplane perspective."
Perhaps that "airplane perspective" explains Cuomo's seeming obliviousness or indifference to the way some working-class or middle-class New Yorkers might feel about the richest man in the world, Jeff Bezos, being promised a helipad as part of the deal to attract Amazon – while they're sitting on a stalled No. 7 train that struggles to make it from Queens to Manhattan.
Or maybe it's a different kind of elevated viewpoint. "If Cuomoism is anything, it's the idea of the imperial governor that has no oversight," Kaehny said. "Part of Cuomo's greatness is his grandiosity. He's not afraid."
Cuomo isn't the only one who flies a lot more – and takes the subway a lot less – than the average New Yorker: So do wealthy business executives. Many among them welcome the attention to modernizing New York's airports, which – like Penn Station – have long been unpleasantly chaotic and cramped.
The renovations of the airports, again like the Penn Station project, will improve the aesthetic experience of affluent business travelers and suburbanites without delivering much in the way of daily service improvements for the vast majority of middle-class and lower-income New Yorkers.
"I would say that for the business community, LaGuardia Airport and Kennedy Airport coming up were absolutely top priority," Wylde said. "We did a survey a few years ago that demonstrated the number of people not taking a business trip to or from New York because of the condition of our airports was very high. For a business traveler, who's flying often several times a week, having airports that are in terrible condition, planes that are chronically late, congested skies – it ends up making a very big deficit in the regional economy."
In his Amazon announcement remarks, Cuomo proudly referred to JFK as "the first international new airport in this country in 25 years." The governor's JFK plan, however, conspicuously shies away from an airport's most important feature: runway capacity.
JFK, which served nearly 60 million passengers last year, has one of the worst records in the nation for delays. The airport's position in the marshlands of southern Queens, immediately adjacent to the Jamaica Bay Wildlife Refuge, makes any runway expansion problematic. The Regional Plan Association's plan to upgrade the airport proposed a compromise, whereby runway expansion would be offset by restoration of wetlands in other parts of the refuge. Cuomo's plan forgoes new runways altogether, focusing instead on new terminals, reconfigured roadways, enhancement of existing taxiways and new aircraft landing systems technology. According to Benjamin Branham, a spokesman for the Port Authority of New York and New Jersey, which manages the airport, the governor's plan will increase the airport's capacity by 15 million passengers a year without building new runways. "That capacity will be realized through an increase in the number and size of gates and an array of airside taxiway improvements that together will allow for bigger planes and reduced gate congestion," Branham wrote in an email.
Wright, of the Regional Plan Association, sees the Cuomo project as necessary and achievable, and potentially part of a longer game. "Eventually, improvements at Kennedy need to include runways and runway capacity," Wright said. "I think to be critical about the way the governor goes about this misses the point that sometimes you have to take these first steps to tee up those later ones."
Critics argue, however, that Cuomo has a general tendency to make things look spiffy without sufficiently expanding capacity. The Moynihan Train Hall should be a gorgeous public space, for instance, but concerns remain that it won't fix the underlying problems of inadequate tunnels and operational snafus that regularly make Penn Station a commuter hell. "We can't just fix things aboveground," Sifuentes said. "I know that's the sexy thing that everybody sees. But the critical thing is the underground infrastructure as well. We can make Penn Station pretty, but that will not solve the actual problem we have now with capacity and the growth we can expect over the next 10 to 20 years coming across the Hudson."
We can make Penn Station pretty, but that will not solve the actual problem we have now with capacity." – Nick Sifuentes, Tri-State Transportation Campaign executive director
In order to be remembered as the governor who rebuilt New York after decades of neglect, new bridges aren't going to be enough. Even new roads and airports won't suffice. Although he has tried to avoid it for as long as possible, Andrew Cuomo is going to have to figure out how to fix the New York City subway and bus system. And that will be a bigger job than any bridge or tunnel.
In 2017, after a derailment in Harlem, Cuomo declared a state of emergency in the subway system, and has shown a new willingness to tackle the problem. He hired Andy Byford, an administrator with a track record of improving troubled systems in Toronto and London, to head New York City Transit, and Byford's Fast Forward plan has drawn measured praise from advocates and business leaders.
"I think Cuomo's got the best team we've ever seen at the MTA," said Wylde, of the Partnership for New York City. "They are absolutely committed to restoring the highest quality of service, and in fact surpassing anything they've done before."
Yet the perception that Cuomo isn't fully invested in what happens to the subway lingers. "What I think is frustrating to transit riders to this day is that I think the governor isn't quite sure how closely he wants to be associated with the subway," said Danny Pearlstein, of the Riders Alliance – which in 2015 went so far as to carry a cardboard cutout of the governor around the system for riders to vent their frustrations to, not the kind of photo op Cuomo usually seeks out.
"Whether that's because he has doubts about his own ability to fix it, or about anyone's ability to fix it, or about the Legislature's willingness to fund it – that's a huge cause for concern."
The agency's modernization plan, which doesn't even include many desirable expansions or added features, would cost an estimated $40 billion over 10 years. (Meanwhile, Cuomo's appointees to the MTA board have, according to critics, spent too much on cosmetic enhancements to stations instead of service-related needs like signal modernization or disability access.)
Even Cuomo's preferred revenue generator, a congestion pricing system for cars entering Manhattan's central business district, won't be enough. Cuomo hasn't put any muscle yet into whipping the votes among suburban state legislators needed to pass congestion pricing, and many of the other options, including a millionaires tax and a commuter tax, he either dismisses as unrealistic or seems unlikely to embrace. He also has remained notably silent on reforming the bloated costs of construction at the MTA, even though he effectively controls the agency.
In October, when he was announcing his grand plan for JFK, Cuomo took some time to address the subway issue. He insisted then that it was within his power to get the job done, if the state Legislature would only help him come up with $33 billion. "If we get the funding, we will get it done," he said.
Where will the money come from? The governor joked that one option would be that "God is going to send down $33 billion and it is going to descend from the clouds." He then acknowledged that God is unlikely to come up with the cash. The question is, will Andrew Cuomo?