New York City
Will it be tenants' turn in Albany?
What's on the table in next year's rent regulation debate.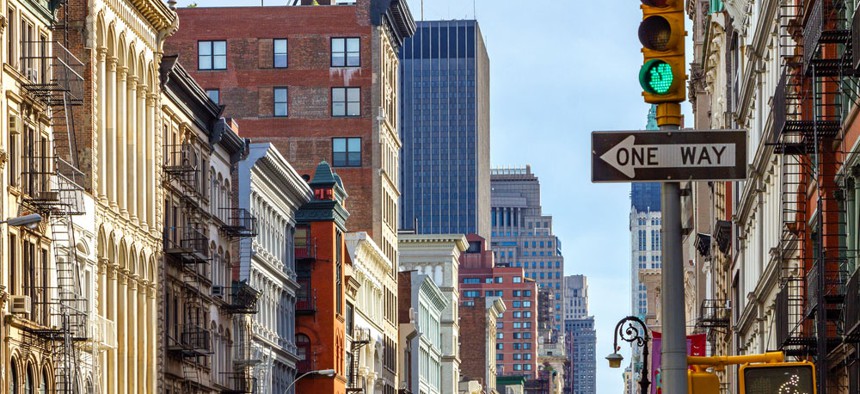 With the Republicans losing the majority in the state Senate, New York City tenant advocates are hopeful that the Democrats will go to bat for renters – and the real estate industry is bracing for the worst. Here's some of what lawmakers will be debating this session.
Universal rent control
This was the buzzy term of the Democratic primaries, with candidates like Cynthia Nixon saying they would push for the policy. Apartments have to meet certain criteria to be rent stabilized under current laws, such as being in a building with six or more units built before 1974, with rent below the current maximum of $2,734. There is no strict definition of universal rent control, but it broadly means legally capping how much landlords could raise any tenant's rent during the lease renewal process – in any apartment.
Some legislators, such as state Sen.-elect Julia Salazar and Assemblywoman Linda Rosenthal, are all for it. "We need to give tenants as much power as we can when the dynamics are so unbalanced," Rosenthal told City & State. But other Democrats, like state Sen. Luis Sepulveda, reflect the feelings of other legislators who are concerned about the policy's potential effects, especially on small-time landlords, and are keen to see a bill in writing. "I want to protect people that need rent regulations," Sepulveda told City & State. "But let's see what's brought before us before we start deciding for it or not."
Ending vacancy deregulation
As long as state legislators don't enact universal rent control, perhaps the biggest question is whether to raise threshold for high-rent deregulation or cut out that option entirely. The last two times lawmakers extended rent regulations, they raised the upper limit of the monthly rent beyond which an apartment can be deregulated upon vacancy. The threshold is currently $2,734, up from $2,000 in 2011. Raising the so-called vacancy decontrol threshold is seen as a compromise measure to please landlords, but Salazar said tenant advocates – and she herself – won't accept that this year. "The only acceptable thing is to end vacancy decontrol altogether," she told City & State.
This would mean that all rent-regulated apartments would stay that way, and some deregulated apartments would be brought back under the provision. This scenario seems likely, since a bill doing so passed the Assembly last session and state Senate Democratic Leader Andrea Stewart-Cousins is the lead sponsor of the Senate version of the bill. Cuomo, notably, has also expressed his support. Asked on WNYC in November if he would sign a bill ending vacancy decontrol, the governor said he would. "Reforming the rent regulation system – especially vacancy decontrol – can make a major difference," he said.
Ending the vacancy bonus
Even if apartments stay under rent regulation, current laws let landlords raise an apartment's rent as much as 20 percent when a tenant leaves. Cuomo promised to limit or eliminate the so-called vacancy bonus in an August campaign questionnaire from the Metropolitan Council on Housing. That's a bit stronger than his 2015 promise in a Daily News op-ed to "further limit vacancy bonuses to ensure landlords aren't rewarded financially for schemes to force tenants out." Eager to be seen as helping tenants, legislators are expected to favor elimination instead of higher limits. "For years and years, empowered by the Republicans, the state Senate has given landlords a blank check," Rosenthal said.
Closing the preferential rent loophole
Newly empowered Democrats are also taking aim at the so-called loophole that allows landlords to raise the cost of rent at the time of a lease renewal far more than they would normally be allowed to in rent-regulated apartments by charging an initial rent below the legal maximum. These lower-than-allowed rents are called "preferential rents" – and though it sounds positive for tenants, the rent spikes are often used to encourage tenants to leave, which can ultimately net the landlord more money. The Assembly passed a bill last year that would prohibit such spikes, and the state Senate and Cuomo would be expected to sign on this year, since Cuomo pledged to the Met Council to make the "preferential rent the rent for the life of the tenancy."
Ending major capital improvement bonus
Landlords can raise stabilized rents up to 6 percent to pay for "major capital improvements" to the building. Tenant advocates often accuse landlords of making cheap or superfluous changes as an excuse to hike the rent, which can then remain high long after the investment has been paid off. But to minimize the risk of disincentivizing landlords from caring for old buildings, state Sen. Michael Gianaris, Stewart-Cousins' deputy, has a bill to pay for those improvements through tax credits instead of rent increases. Tax credits for landlords may prove controversial though, and a slight tightening of regulations on major capital improvements might prove more palatable for Cuomo, who hasn't said anything publicly on the issue lately.
RELATED: With Democrats taking the state Senate, real estate fears the worst
Powered By
NEXT STORY: The Greatest Showman: Are Cuomo's projects just window dressing?