New York City
Amazon opponents bring in the big guns
New York and Seattle lawmakers, advocates, and Amazon workers gathered to rail against the company's HQ2 plans.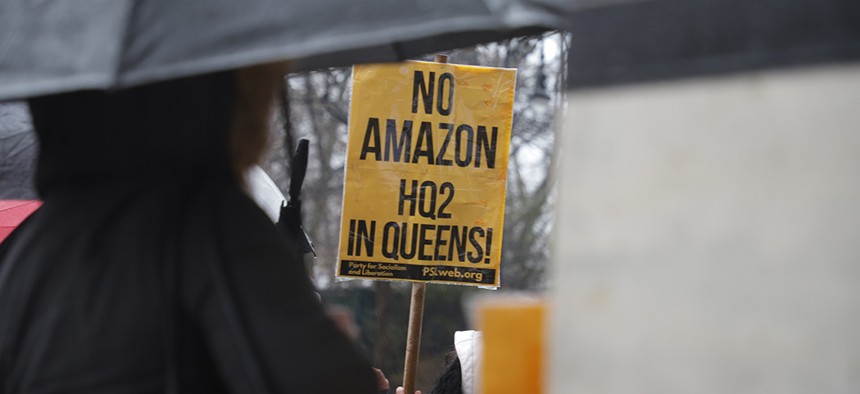 The most popular spot in town Monday morning was the office of the Retail, Wholesale and Department Store Union, where New York lawmakers, Seattle City Council members, advocates, and an Amazon fulfillment center worker gathered to rail against the city and state's roughly $2.5 billion deal to lure Amazon – and to warn of the damage the company's new headquarters in Long Island City would cause. A throng of city and state officials, including Council members Jumaane Williams and Rafael Espinal Jr., and state Sen.-elect Julia Salazar, came not to speak on the issue but to hear advocates and colleagues detail the dangers of the deal and how to fight against it.
The forum stuck to opponents' usual points regarding the massive tax benefits offered, the likelihood of gentrification in Long Island City, and concerns about the company's labor practices. The mic was also passed to those who have already lived or worked with Amazon. Seattle City Council members attested to the income inequality and gentrification that the company's headquarters has been associated with in their city, and Rashad Long, a worker at Amazon's new Staten Island warehouse, told the audience that he has been made to work long hours and weeks in unfavorable conditions.
"The fight is not over," City Council Speaker (and acting public advocate) Corey Johnson said of efforts to contest the deal. "This is not a fait accompli." There are only a few remaining possibilities to oppose the deal, including allowing the tax benefit programs that Amazon has been offered to expire, and hoping that the Public Authorities Control Board will vote against the deal. Judging by Monday's forum, there's no sign that the deal's opponents are slowing down.
For the rest of today's tech news, head over to First Read Tech.
Powered By
NEXT STORY: How rent regulation depends on closing the LLC loophole