Andrew Cuomo
Cuomo's design-build expansion slowly chugs along
Gov. Andrew Cuomo's proposal to expand design-build procurement authority to more state agencies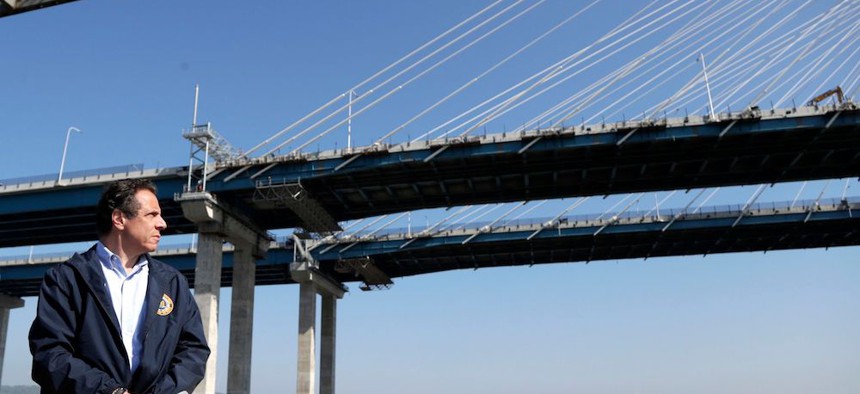 Legalizing marijuana, passing the DREAM Act, pushing through congestion pricing – these are all standout features of Gov. Andrew Cuomo's budget unveiled earlier this month. But among the more overshadowed details in the governor's budget is a proposal to expand design-build procurement authority to more state agencies, an issue where experts say New York has fallen behind.
Design-build is a method of procurement which combines the design and build phases of a project into one step completed by a single company, a process which can save time and money. The traditional approach is known as design-bid-build and uses two separate companies to do each phase one step at a time, giving the state total control throughout the process. While design-build has been hailed as a more efficient and cost-effective method, it also takes some oversight away from the state.
At City & State's P3 Summit – referring to public-private partnerships, the umbrella term that design-build projects fall under – speakers weighed in on why the expansion of design-build procurement has gone slowly. "In general, there is a level of sophistication that is needed even to do design-build," said keynote speaker Derek Utter, chief development officer of the Port Authority of New York and New Jersey, which has long had the ability to utilize public-private partnerships.
In Cuomo's budget for fiscal year 2020, the state agencies newly authorized to use design-build procurement for projects include the Department of Health and Empire State Development, along with the Dormitory Authority of the State of New York, the Office of General Services and the Olympic Regional Development Authority.
Currently, only a few other agencies and projects are authorized to use design-build procurement, including the Port Authority, the Metropolitan Transportation Authority and the state Department of Transportation. The Thruway Authority also has design-build authority, and used it on its marquee Governor Mario M. Cuomo Bridge project, which replaced the Tappan Zee Bridge. In other cases, specific projects – like the reconstruction of the Brooklyn-Queens Expressway, building new jails to replace Rikers Island, and New York City Housing Authority projects – have been granted authority.
The governor's proposed budget also makes permanent the Infrastructure Investment Act, which originally permitted the limited use of design-build procurement in 2011.
The move to expand broad design-build authority to a few state agencies falls short of calls to authorize fully fledged P3s, which involve ceding even more control to private companies to design, build, finance, operate and maintain infrastructure projects. Only certain projects in New York, like the reconstruction of the LaGuardia Airport overseen by the Port Authority, have operated as P3s. More than 30 states, as well as the District of Columbia and Puerto Rico, have enacted statutes which either authorize limited or broad use of P3s as of August 2018. In 2017, a bill to authorize the broad use of design-build procurement in New York City passed in the Assembly but later died in the state Senate, and outlook for similar legislation advancing any further today is dim.
"There has been a real reluctance to approve anything but very specific projects in the state budget in the past, and that was with a more conservative Senate," said Assemblywoman Amy Paulin, chair of the Committee on Corporations, Authorities and Commissions, during a panel discussion at City & State's event. "So I don't really see that shifting."
The use of design-build procurement is currently limited to specific state agencies, but New York City agencies, including the city Department of Transportation, are left out of the broad authorization for design-build that some state agencies have. The omission has exacerbated tensions between Mayor Bill de Blasio and Cuomo in the past, as the mayor has asked for design-build authorization and the city has been repeatedly left out of its expansion. There is no mention of New York City in the governor's budget for the next fiscal year. 
"The city will be advocating for more design-build authority from the New York State Legislature," a New York City DOT spokesman said in a statement. "Design-build has been proven to deliver projects faster and save taxpayers money." 
But public-private partnerships are individual in nature, Paulin said, which makes lawmakers hesitant to give all agencies – city or state – the broad authorization to use them for whichever projects they like. In addition to deciding whether a P3 is the right fit on a case-by-case basis, legislators are also faced with concerns from labor unions about being cut out of contracted work and ensuring that the private actors continue to maintain and upgrade infrastructure on behalf of the public.
Despite what looks to be a landmark year for legislation in Albany, it doesn't seem likely New York will join dozens of other states in fully embracing P3s anytime soon.