New York City
Everything that could derail the new Bronx Metro-North stations
Lawmakers across the Bronx and Westchester County came to an agreement with the MTA, Amtrak and Empire State Development that will lead to the construction of four new Metro-North stations in the east Bronx.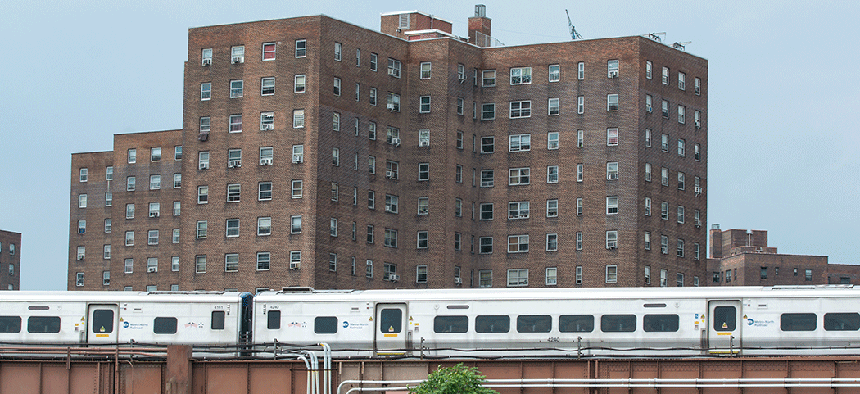 A contingent of lawmakers across the Bronx and Westchester County hailed an agreement among the Metropolitan Transportation Authority, Amtrak and Empire State Development that will lead to the construction of four new Metro-North stations in the transit-starved east Bronx.
But commuters will have to wait years for the new stations to open – and even then, there are doubts about how many riders will be able to afford a ride on the line and concerns that the project could be plagued by delays.
The agreement already has been two decades in the making. Officials from all levels of government, beset by the lack of progress at the final stage of talks, mounted an unrelenting pressure campaign for the two rail agencies to hammer out a deal. Now a memorandum of understanding has cleared the way for the project to begin, which includes a $35 million contract for HNTB Corp., an architecture and engineering firm, to define the design of each station. (As Gothamist reported last month, the firm isn't starting from scratch: Stations along this route still exist and were last active in 1931.)
The project was dubbed Penn Station Access because the tracks, which are used for Amtrak trains along the Northeast Corridor, would take Metro-North trains to Penn Station instead of their usual endpoint at Grand Central Terminal. The stations, to be built in the neighborhoods of Co-op City, Morris Park, Parkchester and Hunts Point along Amtrak's existing tracks, are aimed at reducing travel times for commuters in the east Bronx and portions of some communities near the Long Island Sound in Westchester County. It will also ease an already-cramped rail system, in which Metro-North's New Haven Line and subway trains often only have standing room during the morning and evening rush hour.
More broadly, the announcement aligns with the increased need for alternative transportation, as a growing population has prompted worries that the New York City region's current infrastructure can't handle the demand. Elected officials have created new services, such as New York City Mayor Bill de Blasio's citywide ferry system, and new transit hubs, such as Gov. Andrew Cuomo's pursuit of a renovated Moynihan Train Hall and an expanded LaGuardia Airport, which will include the construction of an AirTrain.
The Bronx's new Metro-North stations, when built, could do more than just give people far from the nearest subway station access to rail transit. The commuter rail stations may serve as anchors for economic development, new housing and job growth, according to a 2014 report by the New York City Department of City Planning. Westchester County residents would enjoy the convenience of a one-seat trip to Manhattan's West Side. Sound Shore towns in Westchester could also see a boost in property values.
But before Metro-North trains roll through the east Bronx, major questions ranging from logistics to frequency of service to affordability loom for the estimated $1.3 billion project. (Just over half of that amount has been earmarked in the MTA's 2015-19 capital budget. The MTA said it's committed to earmarking the rest of the funds in its 2020-2024 capital budget.)
On the surface, it might seem easy for the MTA to build stations and run Metro-North trains on existing lines, but the MTA's complicated relationship with Amtrak can create impediments. "The project is straightforward from a construction standpoint, but it can be complicated from an operational standpoint because you have different services that are using the same facility," said Chris Jones, chief planner for the Regional Plan Association, a nonprofit transportation research group. Jones said the project is "good and needed," but the frequency of service will greatly depend on the outcome of a feasibility study determining how often Amtrak and Metro-North trains can run on the line. "There's certainly enough room on that line to run both services," Jones said. The question is whether service will be frequent enough for commuters.
Penn Station Access also isn't imminent for reasons that have nothing to do with Amtrak. Metro-North trains won't be able to run along Amtrak's line until another colossal project, East Side Access – in the throes of delays and described recently by de Blasio as "the poster child of inefficiency" – is completed. East Side Access, now expected to cost at least $11.1 billion, up from its original $4.3 billion construction budget, would divert Long Island Rail Road trains to its own eight-slot terminal currently being built underneath Grand Central Terminal. East Side Access – estimated to be finished by 2022, 13 years behind schedule – would free up spaces that the LIRR currently uses at Penn Station for Metro-North trains.
Beyond Grand Central, work on the tracks is happening at the Harold Interlocking at Sunnyside Yard, a complicated cluster of largely Amtrak-owned rails. Amtrak has been criticized for failing to adequately provide the LIRR with help on reconfiguring the tracks to speed up the project or simply not helping at all. With the Metro-North project hinging on the completion of an LIRR terminal at Grand Central, Metro-North will remain at the mercy of Amtrak. Despite the MTA's long trail of delays and generally slow-moving, uneconomical construction practices, an authority spokesman insisted to City & State that East Side Access will meet its 2022 deadline.
On top of East Side Access, rail systems that use Penn Station are launching other projects that could cause a chain reaction of potential disruptions, including Amtrak's expansion of service along the Northeast Corridor via the Gateway rail tunnel project, expanded double-tracked LIRR service on the Ronkonkoma Branch, and expanded service to the new hockey arena at Belmont Park, pending the outcome of an environmental study.
Perhaps the biggest question mark will be the impending closure of two of the four tubes that make up the rail tunnel under the East River due to damage from Superstorm Sandy. The lone passageway to Penn Station from Long Island, which LIRR trains use and new Metro-North trains would pass through, could cause service disruptions for riders.
Larry Penner, a retired employee who spent 31 years at the Federal Transit Administration, said the major tunnel repair project and other side projects will increase rail congestion and make service unsustainable. "You really can't safely even think about Metro-North service coming into Penn Station until Amtrak initiates their major overhaul of the East River tunnels," Penner said. "Based on past experience, it would take a considerable number of years."
The MTA has been unclear regarding how many slots it is guaranteed to receive at Penn Station, opening up the possibility that there could just be a handful of slots that ultimately become available.
Even if the Penn Station Access feasibility study produces a positive result, sharing tracks with Amtrak could be a challenge, according to Sandy Johnston, a transportation planner for the Boston area who writes an independent blog on transit issues across the country. "They've got trains coming from Boston and Washington, D.C., and those trains can be delayed at any point along the route," Johnston said. "And on a particular set of tracks you have what the railroad calls a slot. Each train has an assigned time limit where they're supposed to be on a particular set of tracks and if a train misses its slot, as the Amtrak trains sometimes do, then it might end up taking a slot from a different train. And if the rule is that Amtrak trains get priority, they'll be able to kick the Metro-North trains out of their slots. That means the Metro-North trains get delayed."
"If Amtrak trains get priority, they'll be able to kick the Metro-North trains out of their slots. That means the Metro-North trains get delayed." – Sandy Johnston, Boston-area transportation planner
A spokesman for Amtrak did not respond to requests for comment over how the study's findings may affect service. But ridership surveys typically determine future train service, and with areas like Co-op City, home to the world's largest cooperative housing complex, where the average commute is 50 minutes, Metro-North will likely see a lot of demand.
But just because a train station exists doesn't necessarily mean it will be used, particularly for low-income residents in the Bronx. For Penn Station Access to be a success, according to New York City Comptroller Scott Stringer, Metro-North's ticket costs will need to be reduced. In an October report, Stringer said a Metro-North ride would be very costly for a borough where nearly one-third of residents live below the poverty line. A current one-way off-peak Metro-North ride from a Bronx station roughly an equal distance from midtown Manhattan as the new ones will be, like Fordham, is $6.75 to Grand Central. That's $4 more than the current one-way subway fare. At rush hour, Metro-North tickets to and from the same area run $9.25.
Getting on Metro-North from the new stations could pose a major financial burden for residents, particularly in Hunts Point, a low-income neighborhood slated to receive a station. Half the residents there qualify for discounted subway rides through the city's Fair Fares program, suggesting that a Metro-North ride, with its hefty ticket prices, would be out of the question.
One-third of Bronx residents live below the poverty line. At rush hour, Metro-North tickets to and from the area run $9.25.
Stringer recommended that the MTA offer reduced Metro-North fares for all commuter rail trips inside the city limits. "New York City's transit system is in crisis. While commuter rail tracks carve through the Bronx, Brooklyn, and Queens, working New Yorkers are stuck behind an unacceptable paywall, forced to pay an exorbitant amount or spend extra hours stuck on overcrowded subways and buses," Stringer said in his report. "New Yorkers shouldn't be held hostage by the MTA to get home to their families, and they shouldn't have to spend extra hours crammed on the subway and bus to make ends meet."
The Regional Plan Association has also advocated for reduced fares, arguing that commuter rail is an underutilized resource for Bronx riders. "There should be some premium over a subway ride just because it's better service and you want to make sure you're balancing ridership, but something less than what it is now would make sense," Jones said.
Subsidizing Metro-North fares to Manhattan would require action from the state-controlled MTA. The MTA's chairman at the time of the report's release, Joseph Lhota, said a recommendation to offer a discount without identifying how to pay for it is "fiscally irresponsible." The agency currently offers discounted rides for LIRR customers traveling between Brooklyn and Queens as part of a pricing study to see whether reduced fares attract riders to board LIRR over subways and buses.
The MTA has long insisted that Penn Station Access would greatly benefit Bronxites who reverse commute to the suburbs, more so than those traveling to Manhattan, citing studies at 13 of its existing Metro-North stations in the Bronx that show more commuters from those stations head north rather than to Manhattan. This is helped by the substantially cheaper price of a Metro-North ticket to the suburbs from the Bronx. For instance, the cost of a monthly Metro-North ticket from Fordham heading north to North White Plains is $77.75, compared to a monthly Metro-North ticket from Fordham to Grand Central Terminal, which is $208.
Aaron Donovan, an MTA spokesman, explained the huge discrepancy in prices by saying the agency has lowered prices where there is excess capacity. Since commuter trains were running back to the suburbs at rush hour with empty seats, they lowered the price to attract New York City residents who work in the northern suburbs. "The growth of the reverse commute market from the Bronx is a real Metro-North success story, linking Bronx residents with employment opportunities throughout the region, not just the Central Business District," Donovan wrote in an email to City & State.
The push for cheaper tickets will fall largely on Cuomo, who controls the MTA and was able to finally get Penn Station Access in the capital budget. He has three years until his current term expires, just after East Side Access is supposed to launch, giving him time to make the case for cheaper Metro-North fares on the new line.
On the federal side, legislators like U.S. Sen. Charles Schumer, who stepped into the Amtrak-MTA fray toward the end of the negotiations, implied that the threat of cutting Amtrak's funds is there, though he wouldn't "cut New Yorkers' nose to spite their face." The engagement of these politicians would line up with a city planning report that concluded a rail line could come to fruition through a "commitment of political will."
Powered By
NEXT STORY: What would Cuomo's internet sales tax do?