Andrew Cuomo
How Polly Trottenberg is improving transportation in NYC
Transportation Commissioner Polly Trottenberg discusses bus funding, the NYPD targeting bicyclists but neglected to discuss her feelings about Gov. Andrew Cuomo's public callouts.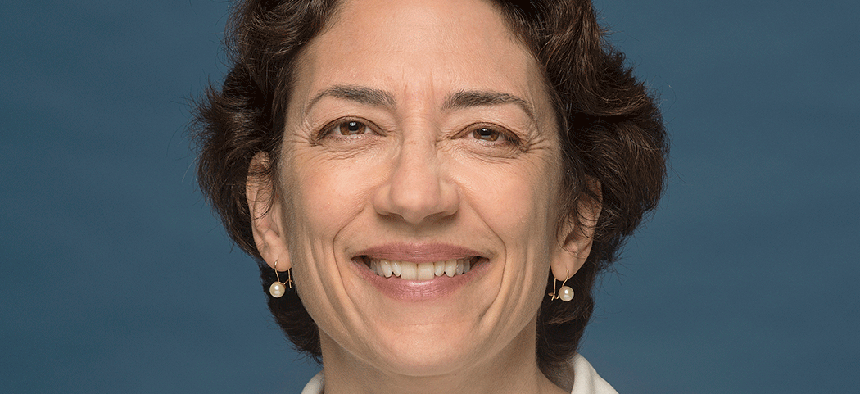 Transportation Commissioner Polly Trottenberg is one of New York City's movers and shakers – and she fits that description more literally than most. On her watch, traffic fatalities in the city hit a 100-year low last year, but Trottenberg still has a lot of work in her bike basket as she enters her sixth year on the job.
She talked with City & State about bus funding and the NYPD targeting bicyclists, but stayed mum on how she feels about Gov. Andrew Cuomo's public callouts.
The mayor's preliminary budget devoted an extra $2.7 million to speeding up buses. That's a very small expense, relatively - 
Well, it's on top of a lot of existing funds we have. I'm happy to say there's pretty big bang for the buck in what the city invests in bus lanes. Stepped up enforcement is tremendously important. Designing dedicated bus lanes and improved bus infrastructure – we can do it at a relatively low cost. Some of our (Select Bus Service) projects, we've done at $3 (million), $4 (million), $5 million. There is the challenging work of working with local communities and merchants and community boards to work out the design details of the routes, but it's a very cost-effective project.
So is that additional money for signal priority, coordinating stoplights with city buses?
Well, it's more than that. On our SBS routes, we'll often build new bus islands, put up bus shelters, put out pedestrian islands, re-stripe the street, put in that distinctive red paint. And also do the re-signalization of the traffic light, sometimes putting in transit signal priority and in some cases, installing bus lane cameras as well.
A man riding his bike was hit by a car and killed near Times Square on Feb. 4. The NYPD responded by setting up at a corner and ticketing bicyclists, including, allegedly, for not wearing a helmet, which isn't actually a law. Does the NYPD coordinate that response with the Department of Transportation? Are you happy to see that response?
P.D. does enforcement all over the city, and we certainly coordinate with them. One of our big focuses under Vision Zero has been these borough pedestrian safety action plans, where we analyzed all the streets of the city and found the ones with the highest crash corridors, with the highest rates of people killed and seriously injured. Over the past few years, the DOT and the NYPD have focused some really coordinated efforts on those corridors – education, enforcement and engineering redesigns. We've seen some really impressive drops in the crash and injury and fatality rates on the corridors we've targeted. And we're actually going to be updating those pedestrian safety action plans pretty soon, so stay tuned for that.
Separate and apart from that, obviously whenever there is an incident – particularly a fatality – both agencies go on scene. We in particular look to see if there are immediate fixes we need to do in terms of infrastructure or striping. And P.D. will have their own approach to enforcement. Sometimes what they do can be more popular than other times. But I think it represents, for both agencies, hopefully, our best efforts to try and make safer conditions where there's been a tragedy.
So it's not against DOT's position to ticket bicyclists in these situations?
I don't really tell the NYPD – the NYPD in the end sets their own enforcement targets. We work on stuff together. The best thing I want in terms of enforcement and education is that we're being as strategic as possible.
I sympathize with the frustration. I don't think the way this one went down has proven particularly popular. But I will make a positive note. Two years ago, we had 24 cyclist fatalities. Last year we had 10. And I'm not saying that we always get it right, or that NYPD always gets it right. There's always room for improvement, and these jobs are challenging. But I think we're getting some things right, because we've seen a very heartening drop in cyclist fatalities. It was the fewest ever since we've been keeping records in the city.
I cycle around the city too. And I sometimes share the frustrations. But if you look at the big picture, both agencies have done a lot of great work to make this city safe for cycling.
Gov. Andrew Cuomo called you out by name in a Feb. 7 speech, saying that you, as a Metropolitan Transportation Authority board member, should have proposed an alternative to the L train shutdown. Was it fair for him to single you out in that public way?
I want to try and have a thoughtful discussion about all the MTA issues. I would say this for me, and for my fellow board members: We all care deeply about the institution. We try and do the best job we can. We all ask a lot of questions. And we want what's best for the agency. We have a tremendous appreciation for the men and women who work there – the incredible work they do keeping the subway system running, our buses, our commuter rails. There's no question the city, this region and the state would grind to a halt without their good labor. I want to preface this whole discussion with that.
As this whole L train debate has unfolded – I personally started working on it in 2015 when (then-MTA Chairman and CEO) Tom Prendergast said we need to close this tunnel down and we want the city's help. And the city has tried to do everything we can to be helpful. We worked very closely to try to understand the MTA's challenges and needs and do what we can to reduce the impact on the traveling public.
You just thanked the workers, while Cuomo has been tough on the rank and file lately. Is that hurting morale as far as you can tell?
I don't know if that's a question I'm going to answer. I think that would be better coming from the MTA folks themselves. They're a hardworking group of people. They deserve our thanks.
At an MTA board meeting last month you seemed bothered that the decision to change the L train shutdown plan was made from on high, without board input. Is that still the situation?
I think since that board meeting – and by the way, I was just asking the question: "Does the board have a role?" Honestly it sounds like the only formal role is if the contract amount goes up, then the board gets to vote. That said, the MTA leadership has committed to briefing the board more regularly and to engaging in the services of an outside consultant to analyze the plan. There has been a considerable effort to do a better job of consulting with the board, but it doesn't sound like we're likely to have a formal voting role.
An environmental impact study was just approved for the Brooklyn-Queens Connector. Will the DOT have any role in that study?
We will certainly have a role. A lot of it will be addressing issues that are very much in DOT's jurisdiction: traffic and the street infrastructure, and what we would need to do in terms of geometric design, etc.
I think it's an important next step that the city is taking. It's probably going to be about a two-year process. There will be a lot of public input and engagement, and we'll analyze (it) very deeply.