New York State
Has marijuana legalization fallen out of the state budget?
New York Governor Andrew Cuomo said he'd "try like heck" to legalize recreational marijuana in the upcoming state budget, but it's starting to look doubtful that he's putting in the energy to push legalization forward.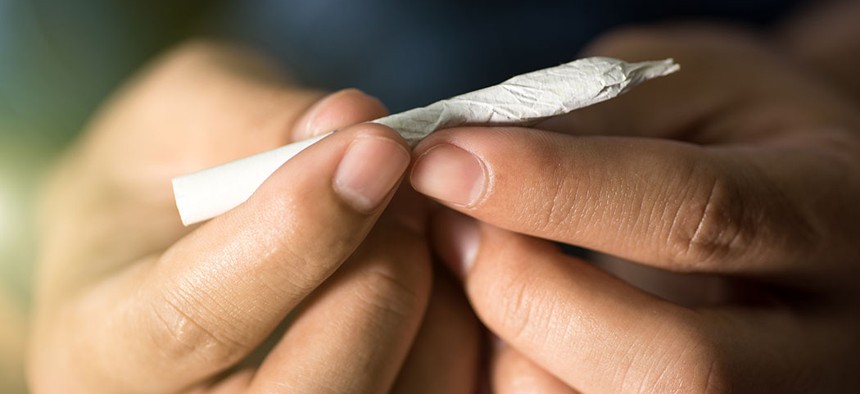 Gov. Andrew Cuomo said more than a month ago that he would "try like heck" to legalize recreational marijuana in the upcoming state budget. But with a little over a week until the April 1 budget deadline, it appears that he might be giving up.
The governor said on March 19 that he was removing marijuana legalization – or at least its projected revenues – from his state budget proposal, surprising lawmakers and activists alike. While the governor said that legalization will likely have to wait until later in the spring, leading lawmakers in the state Senate and Assembly say that they are not done pushing for legalization through ongoing budget negotiations.
"Budget negotiations are full of back and forth," state Sen. Liz Krueger said in a statement. "There is no reason this cannot be a part of the final budget."
Although Assembly Speaker Carl Heastie and state Senate Majority Leader Andrea Stewart-Cousins have raised doubts before that a deal on marijuana legalization could be reached by April 1, both chambers included legalization in their one-house budget resolutions earlier this month. "I'm disappointed that the governor appears to have indicated an unwillingness to keep this discussion in the budget," Assembly Majority Leader Crystal Peoples-Stokes – a leading proponent of legalization in the Assembly – told City & State. "It was a surprise to me given that we are in conversations with his staff and I thought it was going pretty productively."
Legislative leaders and the governor agree in principle that New York should join other states in legalizing recreational marijuana, but differ in how it should be done. Among the biggest outstanding issues are to what extent tax revenues should be invested in minority communities most affected by prohibition and what should be done with people already convicted of marijuana-related offenses. While Cuomo said in February that he would not accept "deferral" of the matter until after the budget, he blamed lawmakers this week for delaying legalization rather than himself. "I think it was clear early on that the legislative leaders signaled that it was going to be (done) outside budget," he said. "I think the speaker was quite clear of that, that it would be best to do it outside the budget, that it was complicated and it will take time."
By Cuomo's own admission, waiting on legalization has its own risks. If the measure is included in the budget, lawmakers can avoid going on record as either for or against it. "When it's not done in the budget, then it is, in my opinion, harder to do as a stand-alone bill because it's now just marijuana," Cuomo said.
While a January Quinnipiac University poll found widespread support for legalization statewide, some counties have made moves to prevent the sale of marijuana in their jurisdictions, suggesting a political risk for upstate or Long Island lawmakers who might support it. Plus, waiting until after the budget could throw the proposal into a competition with other issues that will be debated this spring, such as single-payer health care.
The governor is not the only barrier to passage, according to Doug Greene, legislative director of the Empire State National Organization for the Reform of Marijuana Laws. Some members of the Assembly appear to be at odds with leadership on the issue, he said, but his organization is continuing efforts to "focus like a laser beam" on the chamber through phone calls and emails to lawmakers.
However, it appears that the issue has become a "bargaining chip" in budget talks as far as the governor is concerned, Greene added. That does not mean though that it will fall out of the budget, according to Melissa Moore, deputy state director at the Drug Policy Alliance. "I don't think it's actually out (of the budget)" she said. "It seems like the thing that happens in Albany when people say things externally that are not really the reality."
In a March 20 appearance on "The Brian Lehrer Show," Cuomo did say that "it would be great" to legalize marijuana as part of the budget. While it was one of many issues that he outlined as critical parts of his political agenda in the first 100 days of his term, Cuomo has not pursued it with his same trademark gusto that has characterized his push for congestion pricing, criminal justice reforms and making the local property tax cap permanent.
There is still time for Cuomo to deliver, Moore said, especially since marijuana legalization is "intersectional" with his other legislative priorities. It could help fund repairs to New York City subways, improve the lives of people harmed by drug laws, and add to the bottom lines of state and local governments. "Why not actually hold true," she said, "and have the governor do good on his word and get this over the finish line?"
Correction: Empire State NORML Legislative Director Doug Greene's name was misspelled in an earlier version of this story.