New York State
A guide to New York's vaccination policy
City & State breaks down where New York stands on mandatory vaccination – and how some lawmakers are trying to change that stance.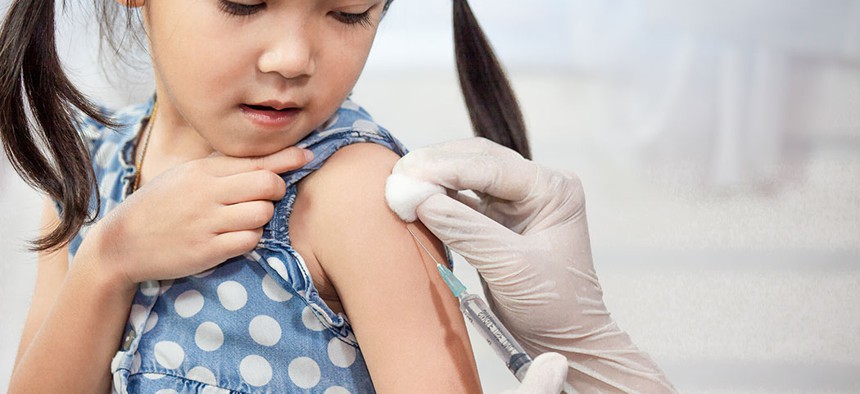 Debate over vaccination policy has always been contentious, between those who claim religious exemption or who believe now-debunked theories that vaccinations lead to higher risk of autism or other illness on one side, and those who say that "anti-vaxxers" put whole populations at risk when they don't have their children immunized on the other side. Tensions have been running especially high in New York for the past few months, with 285 confirmed cases of measles infections in New York City alone, as part of a larger outbreak across the country. The problem has been concentrated in ultra-Orthodox Jewish communities in parts of Brooklyn and in Rockland County.
On Tuesday, New York City Mayor Bill de Blasio declared a public health emergency after previous citywide efforts to stem the outbreak fell short. Under that declaration, all unvaccinated people who live, work or go to school in Williamsburg in Brooklyn are mandated to receive the measles vaccination, with those who don't comply being subject to fines. The order – following a similar one in Rockland County – and the continuing outbreak of measles has reenergized a debate over New York's rules for mandatory immunization. With new policies proposed at the city and county level, City & State broke down where New York stands on mandatory vaccination – and how some lawmakers are trying to change that stance.
What is New York's policy on vaccinations?
Like every other state in the country, New York has legislation mandating vaccinations against certain diseases for school-aged children, but states vary on who can claim a legitimate exemption to those rules. In New York, the mandate is laid out in Section 2164 of the Public Health Law, requiring immunization against against poliomyelitis, mumps, measles, diphtheria, rubella, varicella, Haemophilus influenzae type b (Hib), pertussis, tetanus, pneumococcal disease, meningococcal disease and hepatitis for all children entering school or any kind of childcare. The law also lets parents unable to pay for the services of a private health practitioner receive immunization from the county health office.
But New York also outlines two key exemptions from the law. First, if a medical professional licensed in New York says that immunization would harm a certain child's health, such as if he or she has a compromised immune system, thoseindividuals can forgo vaccinations until cleared by the medical professional. The second – more contentious – exemption is based on religious liberty. New York's immunization policy does not apply to children whose parents hold "genuine and sincere religious beliefs" that go against the mandated vaccinations.
Why are exemptions coming into question now?
The religious exemption in New York's public health law has been the subject of debate as measles infections rise. In the Williamsburg neighborhood of Brooklyn, more than 250 cases of measles have been recorded since September 2018, and in Rockland County some yeshivas have vaccination rates as low as 60%.
De Blasio's order mandating vaccination in Williamsburg follows a move by Rockland County last month to ban unvaccinated children from public places. Rockland County Executive Ed Day declared his own state of emergency, and the barring of kids from public places was noted by experts as an extraordinary step, though a judge eventually ruled to halt the order. In December, de Blasio also banned unvaccinated children from attending public schools in certain areas of Brooklyn.
Across the country, anti-vaxxers base their opposition on a whole host of beliefs, some of them not religious. But in New York, measles cases are mainly occurring in Hasidic neighborhoods, even though most ultra-Orthodox rabbis have urged vaccination. Similarly, one of the largest outbreaks in recent years was in 2014, among Amish communities in Ohio.
Who is against non-medically necessary immunization exemptions?
This year, legislation was introduced in Albany to strip New York's Public Health Law of its religious exemption. In the Assembly, the bill is sponsored by Jeffrey Dinowitz and co-sponsored by Assembly members including Walter Mosley, William Magnarelli, Al Taylor, Patricia Fahy and Deborah Glick, all of whom are Democrats. State Sen. Brad Hoylman sponsors the bill in the Senate along with state Sens. Alessandra Biaggi and Liz Krueger. The bill's sponsors note that parents who refuse to vaccinate their kids threaten the health and even life of children they may come into contact with, such as a child with leukemia who cannot be vaccinated because he is receiving immune system-suppressing drugs.
"Twenty years ago, measles were virtually eradicated from the United States. Today, New York is facing a state of emergency with its worst measles outbreak in four decades," Hoylman said in a statement about the bill last month. "Parents who refuse to vaccinate their children put the health and safety of every other vulnerable New Yorker at risk.
In March, an 18-year-old student from Ohio testified before Congress about his decision to get vaccinated even though his mother believed in disproved rumors that vaccinations can cause autism and brain damage. Soon after, Krueger and Fahy backed legislation that would allow children 14 and older to receive immunization without parental consent. No one opposes medical exemptions from immunization, and de Blasio's Williamsburg order for mandatory immunization still exempts those for whom vaccinations are found to be dangerous to health.
Who is in favor of voluntary exemptions?
Even with renewed support to remove non-medical exemptions and the outbreak intensifying in pockets of New York City, some in Albany still support the religious exemption. "The measles outbreak in Brooklyn is truly alarming, and has created an urgent need to look at how vaccinations are handled moving forward. No one ever wants to put public health at risk," said Assembly Minority Leader Brian Kolb in an emailed statement. "But the freedom to practice one's religion is among the constitutional protections upon which our democracy was founded. The question is: where do we find a balance? This is obviously an emotional issue for people on both sides. It's time to have a thorough public discussion to identify possible solutions and prevent a crisis like this from happening in the future."
In 2015, some lawmakers wanted to ease New York's immunization policy even further by enacting an exemption based on "personal objections of a philosophical nature." Sponsored by Democrats Thomas Abinanti in the Assembly and former member of the state Senate, Martin Malavé Dilan, the legislation didn't move beyond committee. The bill's co-sponsors included Assembly members Kolb, William Colton, a Democrat who represents many largely Orthodox neighborhoods in Brooklyn, and Republican David McDonough. Assemblywoman Carmen Arroyo also backed the philosophical exemption, but more recently, she was listed as a co-sponsor on Dinowitz's bill to repeal the religious exemption.
At the time, Abinanti, who has a son with autism, told Politico that he believes that vaccines may cause harm and that parents should not be forced to vaccinate their children because of the perceived risk of illness. "I believe that it is the right of parents to determine who invades the body of their children and the logic that says the state can determine that a foreign substance can invade a child means that anything can invade the child no matter how dangerous," he told Politico. Those beliefs – while still popular among anti-vaxxers – are based upon studies that have been entirely debunked.
Abinanti, Colton and McDonough did not respond to City & State's requests for comment.
Correction: This article originally referred to Assemblywoman Patricia Fahy as a state Senator. 
Powered By
NEXT STORY: Revised Airbnb-backed home-sharing bill debuts