New York City
New York City to pass water tank reforms
In a rebuke of city health officials, the New York City Council plans to pass seven new laws tightening oversight and regulation of thousands of rooftop drinking water tanks, citing evidence of contamination, widespread neglect, and lax oversight by agency officials.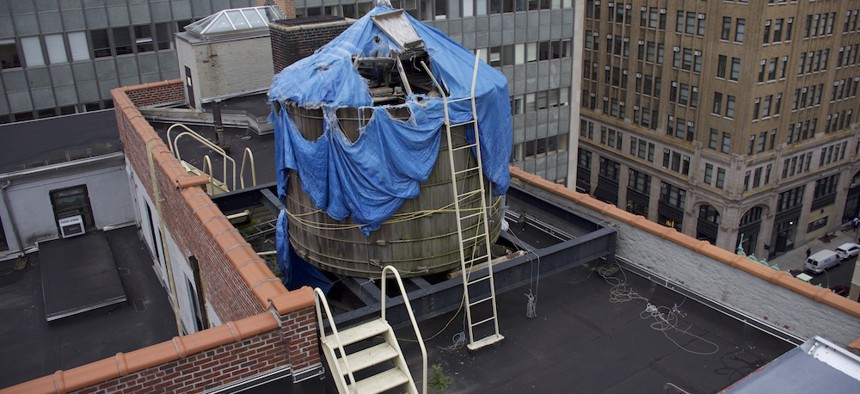 In a striking rebuke of city health officials, the New York City Council plans to pass seven new laws tightening oversight and regulation of thousands of rooftop drinking water tanks, citing evidence of contamination, widespread neglect, and lax oversight by agency officials, city legislators told City & State.
After lawmakers decried the city's "failure to enforce" its public health laws, pointing to reports by City & State that documented cases of dead animals in New York City Housing Authority wooden water tanks, health officials repeatedly downplayed and dismissed the health risks posed by contamination of the drinking water supplies. Despite the pushback, lawmakers plan to pass the water tank laws by Tuesday.
"While our existing laws are strong, this Council is committed to ensuring that there are no loopholes or any opportunities to tamper with inspection results when it comes to our drinking water," Council Speaker Corey Johnson said in a statement. "These new laws will further ensure compliance, allowing New Yorkers to continue to feel confident that their water is always safe, clean, and protected."
Health officials declined to answer questions from City & State and responded in a statement: "New York City's drinking water is of the highest quality, and the Health Department has never linked an outbreak to water from a drinking water tank. The Department is reviewing the legislation and any additional resources that may be needed for implementation."
The reforms require that water tank inspectors submit reports with photos or video directly to the health department. Currently, inspectors often scrub away any evidence of contamination in their clients' water tanks before testing freshly-bleached tanks and noting what they see. Also, for the first time, health officials will now be required to perform on-site inspections and investigate violations.
Council members touted the package of legislation, which will require more transparency and accountability – both from the thousands of building owners who have neglected their water tanks as well as from health regulators who have shown little interest in ratcheting up enforcement.
"DOH seems to take lightly the public health risk of bacterial growth in water tanks," said City Councilman Ritchie Torres, explaining the need for stricter regulations.
During an oversight hearing last October, health officials repeatedly argued that the regulations were unnecessary. The officials dismissed concerns about faulty water tests and the health risk posed by dead animals decomposing in water that New Yorkers were drinking and bathing in.
"That's OK as a public health matter," said Corinne Schiff, the city's deputy commissioner of environmental health, addressing Levine's concerns that dead animals might be stewing in water tanks for months at a time. "This system is set up to be finely calibrated to the very, very low risk that we see."
New York City Councilman Mark Levine, who chairs the health committee, balked at that response, cutting in to say that "the public health interest is that people aren't grossed out and therefore stop drinking tap water."
With the passage of the new water tank laws, the council will roundly repudiate the health department's dismissive posture on water tank sanitation and oversight.
"I wonder if the policymakers at DOHMH would be willing to drink water from a tank filled with pigeons, insects and vermin," Torres said, adding sarcastically, "You know, if there's no connection between the condition of a water tank and water quality."
After the October hearings, Torres said that health officials fought to kill his bill requiring photos or video of the water tank be included in publicly-available annual inspection reports to ensure honest reporting on sanitary conditions. Taking photos would be a burden, Torres recalled health officials arguing.
"We had to let them know there was something called an iPhone," Torres said. "Everyone has a camera in the 21st century."
Specifically, the seven bills aim to strengthen existing law in various ways, including new requirements that tank inspectors submit annual reports directly to the health department (Intro 1053); that inspection and cleaning results be reported electronically (Intro 1150); that only specially-trained plumbers could inspect and clean tanks (Intro 1157); that damaged tanks be repaired and reported to the city (Intro 1167); that photo or video evidence of the tanks' condition be submitted with the annual inspection (Intro 1169); that health officials conduct their own unannounced spot checks of water tanks (Intro 1056); and that additional spot checks be performed after harmful bacteria or a violation is found (Intro 1138).
The preamble to the package of laws cited a series of investigative reports by City & State that revealed false certifications by city agencies that hid ramshackle roofs, exposing water to the elements and decomposing animals found in public housing drinking water supply tanks year after year. At the time, U.S. Environmental Protection Agency scientists warned that the city's poorly maintained water tanks could be the source of unreported disease outbreaks.
An EPA water tank expert reviewing the new package of laws noted that while they are an improvement, city health officials should consult EPA's updated standards and consider the case of an outbreak linked to a rabbit carcass found in a water tank in Northamptonshire, England in 2008. The EPA expert, who requested anonymity to speak candidly, also criticized the health department's characterization of drowned animals in New York City water tanks as "low risk."
"Tanks that have breaches that have allowed birds, rodents and insects to nest in the space between the two roof systems do pose a risk to public health," the EPA expert said. "This public health risk would have been shown had we had the proper testing protocol in place to capture the slug of pathogens being released from these dead birds, rodents and insects."
Officials estimate that millions of New Yorkers drink tap water that flows through the weathered wooden barrels that crown the tops of skyscrapers and apartment buildings. Nevertheless, the city does not inspect or test drinking water tanks and has not studied them for two decades – in fact, after more than 100 years of using the rooftop wooden vessels, public health officials still do not know how many there are or where they all are, although officials have said an effort is being made to locate them after the council passed a law in 2017 requiring the health department to do so.
Health officials rely on annual inspection reports generated by water tank cleaners hired by building owners to report unsanitary conditions. However, these vendors have rarely reported such contamination and several large companies only document conditions in the tanks after they are cleaned and disinfected, often leaving no record of any contamination they find. These new laws seek to address those issues.
While local lawmakers hope the laws will make a difference in the state of the city's drinking water tanks, not all are optimistic.
"Legislation is one thing. Enforcement is something else," said Torres. "The laws are only as good as the enforcement – and I worry that DOH's enforcement will continue to be complacent."
Correction: An earlier version of this report incorrectly said that the legislation would require inspectors to conduct water quality tests before tanks are cleaned and disinfected, and that damaged tanks would have to be repaired within 90 days. Both measures were originally included in draft legislation, but were removed in the final package.
Powered By
NEXT STORY: Automated Decision Systems under study