New York City
What's next for e-bikes?
State Senator Jessica Ramos and Assemblywoman Nily Rozic introduced legislation on Tuesday that would benefit delivery workers by legalizing e-bikes and e-scooters, but opponents have raised concerns about safety and street clutter.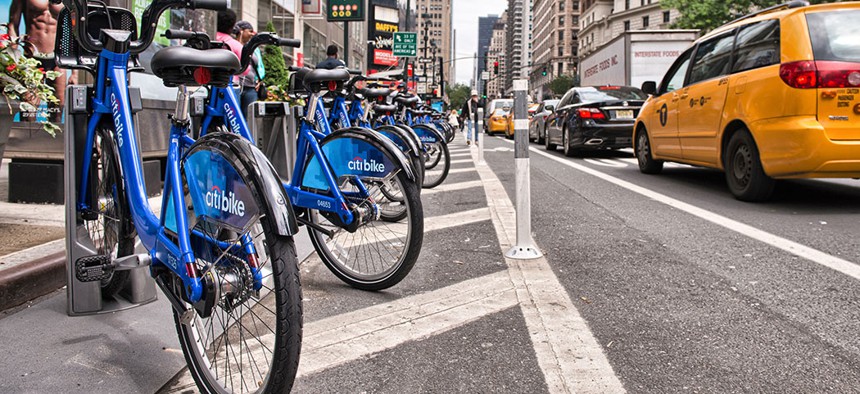 Lime, Bird, Lyft, Jump, Bolt: These four-letter companies all want the same thing – to put their electric bicycles and scooters in New York, specifically New York City. When a measure in Gov. Andrew Cuomo's proposed budget that would have taken a step in that direction failed to make it through the budget process, it may have seemed like it wasn't going to happen in this legislative session. But, with only a couple months left in the session, legislators in Albany are racing to pass bills that would legalize the high-tech transportation.
State Sen. Jessica Ramos and Assemblywoman Nily Rozic introduced legislation on Tuesday that would legalize e-bikes and e-scooters throughout the state. The legislation follows a measure in Cuomo's proposed budget in January that would have amended vehicle and traffic laws to create official classifications for e-bikes and e-scooters and then allowed municipalities to decide whether to allow the devices on their streets.
But legalizing e-bikes and e-scooters failed to make it into the final state budget due to safety concerns – especially in New York City. The e-bikes in question are commonly referred to as throttle e-bikes, which are different from the pedal-assisted e-bikes that are currently legal in New York City and used, barring mechanical failures, by Citi Bike. While pedal-assisted bikes provide a boost as riders pedal; throttle e-bikes require no pedaling.
Now, Ramos and Rozic's bill is a Hail Mary to fully legalize e-bikes and e-scooters. Ramos, though, is quick to clarify that her legislation is in no way related to the language in Cuomo's budget proposal. "What we're trying to do with this is increase mobility for New Yorkers in a way that is affordable and safe," Ramos said. "We've been working on legislation to legalize e-bikes and e-scooters for several months now."
That effort will be welcomed by the companies trying to take advantage of the vast opportunity that New York City presents as a transportation market. While any town in New York could welcome e-bikes if the bill passes, it's primarily in New York City, where residents are most interested in cheaper, smaller alternatives to cars, in which the issue has been most contentious.
Companies like Lime and Jump – which are currently participating in the city Department of Transportation's dockless bike sharing pilot in the outer boroughs – have presented their devices as a way of getting around transit deserts in parts of the outer boroughs. Even within Manhattan – as the popularity of Citi Bike's pedal-assisted fleet has demonstrated – there's no shortage of demand for bikes that will get riders to their destinations a little faster. Electric bikes and scooters can also serve some New Yorkers who may not currently be able to ride a traditional bike. From an environmental standpoint, the question of whether e-bikes and e-scooters help or hurt depends on whether they replace cars, cabs and ride-hailing services – or if they mostly supplant bicycles, walking and mass transit use.
Perhaps the biggest issue that proponents have raised in this debate is the fact that throttle e-bikes are largely used by the food delivery workers, and that a New York City Police Department crackdown on the illegal vehicles unfairly targets an already vulnerable population. "This is a New York bill, but a very Queens-centered bill, given who uses e-bikes – which is largely immigrant delivery workers," Ramos said. "The fact of the matter is that New Yorkers want to get their delivery orders on time. Older delivery workers want to be able, and should have the right, to work comfortably."
Since at least 2017, New York City Mayor Bill de Blasio has maintained that the penalties for using throttle e-bikes – which can include $500 citations – should be leveled on the owners of businesses, not the workers themselves. Despite this, Gothamist reported last month that the NYPD has continued to confiscate workers' e-bikes and impose $500 fines on the cyclists. In 2018, the NYPD seized 1,215 e-bikes, up from 1,005 the previous year.
The mayor has not cited specific data to prove throttle e-bikes and e-scooters are more dangerous than pedal-assisted bikes, though some studies have suggested that they pose a risk to pedestrians, other cyclists and drivers because they go faster than normal bicycles. A recent analysis of the NYPD motor vehicle collisions database, however, found that in 2018, e-bikes injured 32 people – only 0.05% of the 61,939 motor vehicle injuries that year. The data doesn't specify if that count includes legal pedal-assisted bikes. Of course, the number of e-bikes is dwarfed by the number of cars in the city, so it makes sense that they would cause fewer accidents. But with 1,000 pedal-assisted Citi Bikes, and tens of thousands illegal e-bikes estimated to be in operation, 32 injuries is still a small number.
Proponents also argue that because e-bikes would allow more people, including some older individuals or people with physical limitations, to become cyclists, having the devices on streets would make all cyclists safer. Citing the theory of critical mass, they argue that the more cyclists there are, the safer they all are. But like riders of traditional bikes, who sometimes cycle in the wrong direction, run red lights or ride on sidewalks, e-bike and e-scooter riders can also take advantage of their small size to violate traffic law. Critics argue their faster speeds could make those violations more dangerous. "They don't conform to the way, you know, a car, a truck, a motorcycle would to traffic rules. It's just a known fact," de Blasio said of e-bikes during a press conference earlier this month. "You don't tend to see motorcycles going the wrong way on a street, or sometimes going on the sidewalk. You do with e-bikes. And it's just a different reality. And I think it's a problematic reality." The mayor's office did not respond to a request for comment.
Even proponents of legalizing e-bikes and e-scooters acknowledge that any law needs to craft regulations to address some of the potential unique safety challenges they might pose. "I think there's still a fair amount of unease about just a blanket 'OK' to throttle bikes, without at least some kind of power or speed cap on them," said Jon Orcutt, a spokesman for cycling advocacy group Bike New York and a former policy director for the New York City Department of Transportation. "The places that have actual legislation on this take a pretty sensible approach. They pretty much establish a threshold of power or speed, and say anything below that line is a bicycle, and anything above that line is a motorcycle. And you'd register them that way. And I think that makes a lot of sense."
Ramos and Rozic aren't the only ones trying to usher in the new transportation technology. Last fall, New York City Councilman Rafael Espinal Jr. introduced a series of bills that would legalize throttle e-bikes and e-scooters, including some of the regulations that Orcutt mentions. One bill that would create a pilot program for e-scooters has 30 sponsors. Another bill, which would create a program to assist individuals with incomes below a certain threshold with the conversion of throttle-operated electric bicycles to pedal-assisted electric bicycles, has 31 sponsors. Councilmen Fernando Cabrera and Ydanis Rodriguez have also introduced legislation supporting legalization of e-bikes and e-scooters.
There are also concerns about the city's bike lanes, and whether or not they could accommodate the addition of e-bikes and e-scooters. If not, riders may use sidewalks instead, putting pedestrians at risk. E-scooter sharing services are usually without docks, meaning that riders can and drop them wherever they please, possibly cluttering sidewalks, as other cities have seen. "It's a pretty obvious concern in New York," Orcutt said. "The places where scooters are getting a lot of high uptake are not high walking places, like Los Angeles or Austin or other Sun Belt cities."
Some of those concerns have been taken into consideration by advocates and lawmakers. The micromobility startup Charge has unveiled a docking model that it says could help keep e-scooters and e-bikes off the sidewalks. Ramos and Rozic's bill would also cap throttle e-bike speeds at 20 miles per hour. Legislation in the City Council would limit throttle e-bike speeds at 20 miles per hour and e-scooters to 15 miles per hour. Still, the throttle e-bikes that most delivery workers use have the capacity to go up to 28 miles per hour, and traffic enforcement agents would be given the difficult task of monitoring speed if those vehicles remained in use. Orcutt mentioned this as a potential pitfall. "We don't have very good traffic law enforcement, period, in this town," he said.
Ramos, too, said that she is aware of these concerns, but said that she hoped both hearings in the state Senate Transportation Committee and engaging with the public would help to address some of those. "I do have quality-of-life concerns around where the e-scooters will be parked," she said. "But I can assure you that we plan on engaging the public to ensure that we are passing this bill in a responsible way that ensures that our streets are not cluttered."
A spokesman for Assembly Speaker Carl Heastie said that the reason Cuomo's budget proposal to create categories for e-bikes and e-scooters didn't make it into the state budget was because the measure had no fiscal impact. Opponents in Albany have raised the concerns about safety and street clutter, raising doubt that Ramos and Rozic's bill will pass. State Sen. Liz Krueger, who represents parts of Manhattan, has advocated against e-bikes. "Sen. Krueger does not feel that Manhattan streets and bike lanes can handle throttle e-bikes or e-scooters," Krueger's spokesman, Justin Flagg, told Streetsblog NYC. "She does not have a position on other boroughs or communities outside of New York City." Krueger's office did not respond to requests for comment.
Marco Conner, interim co-executive director of the advocacy group Transportation Alternatives, said that resistance is largely coming from New York City legislators. "It's my sense that the main concerns are from the Manhattan-based state electeds who have constituents that complain about people – for example on e-bikes, who deliver food," Conner said. "The irony is that they then receive food delivered by those on an e-bike."
New York City Council Speaker Corey Johnson – who recently took a spill on a Lime e-scooter while on vacation in Mexico City – had previously hesitated to voice support for the bills, citing both safety concerns and a need for the state to act first to permit the operation of throttle e-bikes and e-scooters. De Blasio has also said that the state would need to act before the city. A request for comment from the state Department of Motor Vehicles was directed to the New York City Law Department, which confirmed that state action is needed.
But a spokesman for Espinal said his office believes the city could act even if the state Legislature fails to advance legislation. Espinal's bills would categorize e-bikes and e-scooters as devices, rather than vehicles, giving the city authority to regulate them, instead of subjecting them to state licensing requirements.
Espinal and other City Council members will have to wait to see what happens with Ramos and Rozic's bill to determine if that step is even necessary. "We support stand-alone legislation in Albany to legalize – or authorize municipalities to legalize – e-bikes and e-scooters," Espinal said in an emailed statement. "I am encouraged by recent reports that Senator Ramos and Assembly Member Rozic plan to introduce legislation to do just that, and we feel confident that our bills can be adapted to assist with legalization in New York City if Albany passes the law this term. But even if Albany declines to advance legislation on e-bikes and e-scooters this session, we intend to move forward with my bills at the city level, and we believe we have the legal authority and the votes to allow the city to regulate them on our own."
Given the fact that Ramos and Rozic's legislation is just now being introduced, it may stall in Albany this session, leaving the fight to the City Council. Even so, Ramos said she's hopeful that Albany can act soon. "There are only eight weeks left of this session, so we are going to work our hardest," she said. "Time is not in our favor. But I have had conversations with many of my colleagues, and I expect to have several co-sponsors over the next few weeks. We'll see where it goes."
Powered By
NEXT STORY: Why tech cares about the Census