New York State
Will New York enact climate laws before it's too late?
Nearly every Democratic state senator and about 60 members of the Assembly have signed on to sponsor the Climate and Community Protect Act, but supporters have to overcome concerns from business groups and Gov. Andrew Cuomo.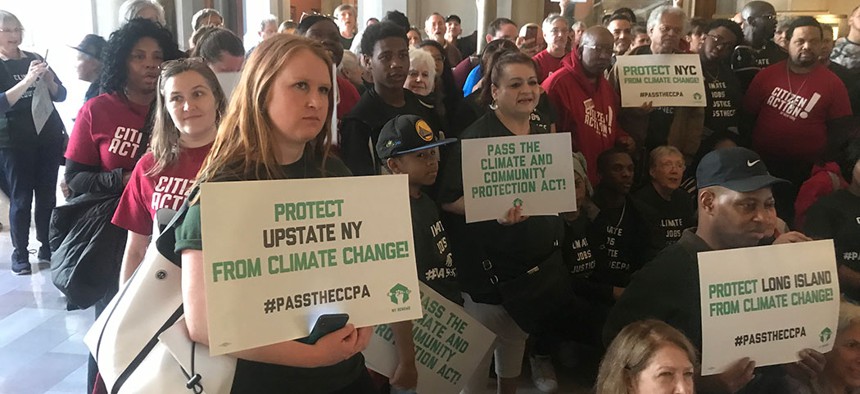 A nun, a professor and an aspiring politician walked into state Sen. Alessandra Biaggi's Albany office, but it wasn't the setup for a joke. The trio arrived on April 9, alongside a dozen other activists from Buffalo, Albany, the Bronx and elsewhere to deliver a message.
The freshman lawmaker was not in the office, so the activists – Sister Honora Kinney, Barnard College adjunct professor Claire Ullman and Albany County Legislature candidate Steve Wickham and the rest – left her some parting words. "We're here to protect the people and places we care about from climate change and environmental racism," said Geovaira Hernández, an energy organizer with Push Buffalo, one of more than 170 groups in the New York Renews coalition promoting the Climate and Community Protection Act, often shortened to CCPA. On cue, the rest of the activists joined in: "It's time to vote 'yes' on the CCPA." Then they moved on to the next legislator's office and the one after that – until they visited some 200 members of the state Senate and Assembly.
While their focus was on state legislators that day, the federal government's approach to climate change was very much on the activists' minds. President Donald Trump has derided climate change as a "Chinese hoax" and reversed his predecessor's efforts to mitigate its effects. "One of the best ways to work against the devastation in Washington, D.C., is to work to shore up the protections in New York state," Ullman said. "Starting local is the way to have a national impact."
Activists have pledged to come back for more rallies until the state Legislature passes the bill, which would make New York the first state to write into law a plan to effectively eliminate greenhouse gas emissions. It aims to do this by 2050 while earmarking funds from a potential carbon tax for historically disadvantaged communities and those most threatened by climate change. It would also expand the prevailing wage to workers on renewable energy projects that are supported by the state.
The CCPA is not the only bill before the Legislature that aims to codify the state's commitment to combating climate change, but it appears to be the one with the best chance of passing. But first, supporters of the bill have to overcome concerns from business groups, manufacturing interests and – most importantly – Gov. Andrew Cuomo.
Nearly every Democratic state senator has signed on as a co-sponsor to the legislation, along with more than 50 members of the Assembly, which has passed the bill each of the past three years. "We have been clear," Assembly Speaker Carl Heastie said on WCNY's "The Capitol Pressroom" on April 10. "We're hopeful that we'll come to an agreement on the CCPA." While Cuomo in particular has objected to the specific deadlines the legislation would set for the state's transition to renewable energy, he remains largely supportive of its wider goal of reach zero net emissions.
Heastie and state Senate Majority Leader Andrea Stewart-Cousins resisted the governor's efforts to reach a broad deal on climate change policy in the budget, according to the bill's sponsor Assemblyman Steve Englebright. "Both the Senate and the Assembly leadership were strongly of the opinion that … it was so important to get it right that it should not be shoehorned into the complexities of trying to sort out everything else," he said. "(Now that the budget is done) what comes next is, I believe, to touch base with many of our advocate voices. We've had some voices that basically would beguile us into taking the sense of urgency and dumbing it down." By this, he meant that business and industry lobbyists are looking to make sure that any action on climate does not hurt their bottom line.
By writing into New York state law even more aggressive policies toward climate change, the thinking goes that other states would follow and push the country toward dramatically reducing its gree­nhouse gas emissions despite hostility from theTrump administration. "It will fall to the states to help define collectively the direction that our nation will take on the issue," Englebright said. "What New York does will be noticed."
As things currently stand, New York has climate goals that are hardly set in stone. Climate scientists say that greenhouse gas emission must be reduced by 80% from 1990 levels by 2050 in order to avoid the most catastrophic effects of climate change. One of the biggest innovations of the CCPA is that the state would not only set its goal as a total elimination of net greenhouse emissions but it would be written into state law. Other states likeCalifornia have made similar goals though executive action, as Cuomo didlast year in pushing the state toward a 40% reduction in greenhouse gases by 2030. "New York state is behind when it comes to setting its climate and clean energy goals into law," said Peter Iwanowicz, executive director of Environmental Advocates of New York. "It has been behind for more than 10 years."
A 2018 report by the UN Intergovernmental Panel on Climate Change recommended that worldwide emissions reach "net zero" by mid-century in order to prevent the most catastrophic effects of global warming. The CCPA lays out state climate goals in five-year increments, mandating net greenhouse emissions be equal to 85% of 1990 levels by 2020 and be eliminated by 2050, with some exceptions. According to the New York State Energy Research and Development Authority, reducing emissions from four sources is key to meeting those benchmarks: transportation (44% of current emissions) buildings (31%), electricity generation (19%) and industry (6%).
With more than half of thestate's electricity coming from nuclear and hydropower, state efforts have focused on replacing natural gas largely through wind and solar. While the state generates just a tiny sliver of its electricity from wind and solar, the rates of technological advances are accelerating, according to NYSERDA President and CEO Alicia Barton. "The rates of growth can be really high once you get the ball rolling," she said. In the past two years, 46 projects across the state are aiming to bring 3,000 megawatts of renewable power online, enough to meet 10% of the state's energy needs. Eliminating emissions in industry is trickier, especially in chemical processes like those used to make cement, which create greenhouse gases without using fossil fuels at all. "That is going to be the hardest nut to crack," Barton said.
Under the CCPA, two advisory committees and the state Department of Environmental Conservation would be key to figuring out the state's climate strategy. The heads of more than two dozen state agencies would serve on a "climate action council" that would issue recommendations to the department on how to implement the law, which would take full effect within three years. While the department, and by extension the governor, would ultimately have authority over the climate plan, many of its details would be based in statute. Just how much influence it would have on exempting small businesses from some emission limits – a topic the legislation states it should consider – remains to be seen.
A "climate justice working group" made up of agency heads, local officials, activists and residents meanwhile would focus on advising the department on what areas and groups qualify as historically disadvantaged or most affected by climate change. Potential metrics could include race, income, education level, elevation and proximity to areas damaged by fossil fuels.
The stakes are high because communities that ultimately receive recognition would receive at least 40% of the eventual proceeds from the sale of future carbon credits from the state. "We know that climate change has a disproportionate impact on low-income communities, on communities of color," state Sen. Julia Salazar said at an April rally in the state Capitol in support of the CCPA. "It's beyond time to finally implement a just transition."
The focus on social justice does not end with the working group. Another provision in the bill would expand the use of the prevailing wage in any project receiving more than $100,000 in state financial assistance, or with a total value of more than $10 million – a key provision aiming to win union support for the bill.
"I don't mean to sound glib. But whenever an environmental law is proposed, certain business groups push back." – state Sen. Pete Harckham
The GOP can do little to stop Democrats from passing the bill, but representatives from the business and manufacturing sectors are pushing lawmakers to limit how the legislation would affect them – if they cannot block it altogether. It is "simply not practical" to eliminate industrial emissions by 2050, Darren Suarez, senior director of government affairs at the Business Council of New York State, said during a February hearing on the CCPA. If rising costs or "uncertainty" drive up the costs of manufacturing to places with weaker standards, "it will serve to increase global greenhouse gas emissions in the long term."
Opponents of the legislation also said at the hearing that the CCPA would hurt the upstate economy and lead to hundreds of dollars per year in increased energy costs for households. Yet, when asked by state Sen. Pete Harckham at the hearing to substantiate that claim, Michael Kracker, executive director of Unshackle Upstate, a pro-business advocacy group, demurred from specific examples. "I don't mean to sound glib," Harckham said. "But whenever an environmental law is proposed, certain business groups push back."
With strong support from the state Senate and Assembly, it appears that the CCPA could very likely pass the state Legislature before it adjourns in June. However, many of its provisions mirror the "Green New Deal" that Cuomo proposed at the beginning of the year. Upcoming negotiations among Cuomo, Heastie and Stewart-Cousins will ultimately determine to what extent the CCPA will have to evolve in order for it to gain Cuomo's signature. But activists say they want action this year – and lawmakers including Englebright and state Sen. Todd Kaminsky, who is sponsoring the CCPA in the Senate – said they are aiming to get something done in the upcoming weeks given the stakes. "This is arguably the most important issue on Earth," Englebright said. "Literally."
After a day of rallying outside the legislative chambers and knocking on doors in the Legislative Office Building in April, dozens of activists from the New York Renews coalition went to the second floor of the state Capitol. As they marched in circles outside Cuomo's office, they repeated a surprisingly optimistic chant for a movement facing a steadily worsening ecological catastrophe: "We believe that we will win."
Powered By
NEXT STORY: Can the state Legislature save the planet?