New York State
Why civil rights advocates say decriminalization of marijuana isn't enough
Some opponents of marijuana legalization argue that the concerns of criminal justice reform advocates would be resolved by decriminalization, but the civil rights community disagrees, arguing enforcement would still disproportionately affect minority communities.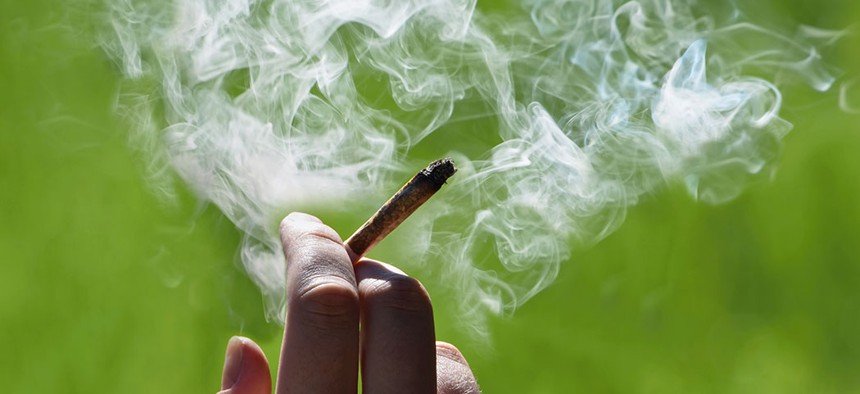 Advocates for marijuana legalization have been making a last ditch effort to pass the Marijuana Regulation and Tax before the state legislative session ends in June, but their opponents have been pushing equally as hard to ensure the bill does not become law. Instead, groups like Smart Approaches to Marijuana, or SAM, and the Medical Society of the State of New York have said they support decriminalizing the drug's possession. But civil rights advocates say decriminalization does not fully address the racial disparities that are behind the push to legalize, while offering no path forward to create a safe, regulatory system.
Opponents of marijuana legalization who support decriminalization argue that, if people will no longer face jail time, the concern of criminal justice reform advocates would be resolved. The Medical Society of the State of New York, for example, said that it supports removing criminal sanctions for possession and ending unequal enforcement of drug laws. SAM has a similar position, adding that any policy should still discourage drug use and prevent the commercialization of the marijuana industry.
In theory, decriminalization could appease moderate or suburban New Yorkers who don't want to see continued racial disparities in marijuana enforcement, while not allowing the drug's sale in their communities. Both counties on Long Island have already introduced legislation to opt out of sales should marijuana get legalized.
But legalization advocates have long warned that, while this may reduce overall arrests, decriminalization does little to address the deeper disparities within drug policy enforcement that disproportionately affect minority communities. "For the past 40 years, New York has experimented with decriminalization of possession of low amounts of marijuana, and we've seen, even with decriminalization in that context, there has still been consistent targeting, ticketing and arrests for that low-level decriminalized possession," Michael Sisitzky, lead policy counsel at NYCLU, said. "And that has disproportionately fallen on communities of color."
Despite the decriminalization of possession of small amounts of marijuana and New York City Mayor Bill de Blasio's ordering the NYPD to drop it as enforcement priority, marijuana related arrests remained high for years thereafter. Analyses by both Politico New York and The New York Times also found that people of color still made up the vast majority of arrests despite research that shows black and white people use the marijuana at about the same rate. The Times investigation also found that even when neighborhoods complained about marijuana at the same rates, predominantly black ones still saw far higher rates of arrests.
When New York City Mayor Bill de Blasio announced last year that police would typically issue criminal misdemeanor summonses rather than arrest those smoking in public, advocates for legalization warned that minority communities that have been overpoliced in the past would still get disproportionately harassed under the new policy and that the exceptions – such as arresting pot smokers who are on parole – would overwhelmingly target blacks and Latinos. Several months after the policy change took effect, overall arrests had dropped, but the racial disparities remained. While legalization may more fully address racial disparities in marijuana-related policing according to advocates, New York City's current policy has still lead to a dramatic decrease in the overall number of people facing any sort of penalty for low-level marijuana crimes.
While summonses are much less severe than arrests, they still carry consequences – missing a summons appearance can lead to an arrest warrant, for example. Opponents of legalization have not provided a detailed plan for what the penalties would be under decriminalization and how they'd be enforced, and no lawmaker has introduced decriminalization legislation. Without a clear idea of what exactly statewide decriminalization would look like in effect, such exceptions could continue to lead to arrests for those who have previously had encounters with the criminal justice system.
Both opponents and supporters of marijuana legalization share concern over the the corporatization of the marijuana industry in the state. They fear large companies dominating the market, much like the tobacco and alcohol industries, and potential marketing towards children and other vulnerable communities. They differ in that opponents do not want to see any legal commercialization, while many supporters hope to use the revenues reinvestment in the communities most hurt by marijuana enforcement so they may enter the industry and benefit from sales. While decriminalization may prevent the rise of "big marijuana," legalization activists argue that it would still leave a large illegal market. "It increases demand and increase the power of unlicensed operators," Doug Greene, legislative director of the marijuana consumer advocacy group Empire State NORML, said. "You're still feeding money into criminal enterprises. You're still dealing with a market where consumers don't know what they're getting in terms of contaminants, potency and purity." Legalization would allow for the introduction of safety standards, and a legal sales market could reduce the size and influence of black market dealers.
On the other hand, the Drug Policy Institute asserts that decriminalization can help steer people with marijuana use disorder to get treatment or other services rather than get sent to jail. In Portugal, which decriminalized all drugs in 2001, drug use has remained about the same as arrests and overdoses steadily decreased. Research about states with medical marijuana suggests that fully legalizing marijuana for recreational use may lead to increased use.
State legislators have just 11 session days to act on a bill to legalize marijuana for recreational use before its chances go up in smoke.