New York City
Media turns Garner fury on de Blasio and O'Neill
Five takes on the federal decision not to press civil rights charges.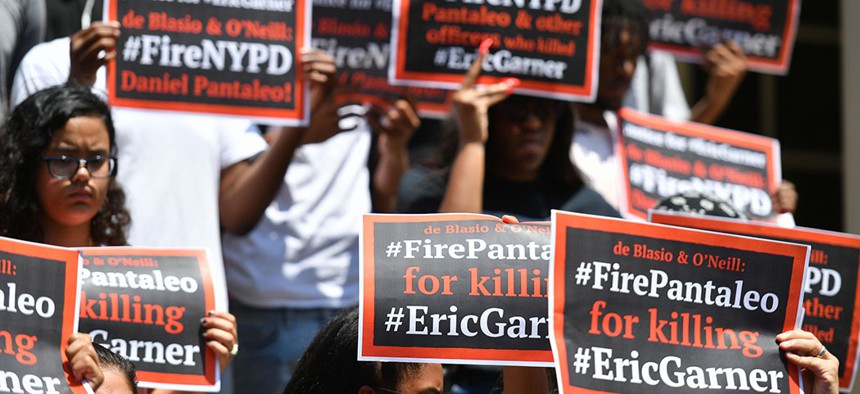 In the wake of the Department of Justice's decision not to press federal civil rights charges against New York Police Department Officer Daniel Pantaleo for his fatal use of a chokehold on Eric Garner, multiple publications – and one lawmaker – have offered their takes on the department's decision. Many of the local outlets took the opportunity to direct their anger and frustration not at the DOJ, but at the city officials who – five years later – haven't so much as fired Pantaleo from the force. 
Here are some of the most prominent and scathing editorials published since the DOJ announced its decision not to charge Pantaleo on Tuesday.
The New York Times' editorial board published an op-ed Tuesday asking why Pantaleo has yet to be fired, calling the city's glacial response to Garner's death and reliance on federal prosecutors "offensive." The board detailed the drawn-out legal proceedings over the past five years that have ultimately made zero impact on Pantaleo's career, despite medical examiners ruling Garner's death a homicide, and the fact that the chokehold had long been prohibited by the NYPD at the time Pantaleo used it on Garner. "Given the facts of the case, it's hard to see his continued employment by the Police Department as anything but an insult to the people of New York," writes the board.
New York City Public Advocate Jumaane Williams brought fighting words in an op-ed for Newsweek saying the struggle for justice in the case is a "fight against a system of white men – many of them Democrats – who proclaim themselves to be for progress while undercutting that declaration with words and inaction," laying the blame on de Blasio, O'Neill, Manhattan District Attorney Cy Vance and former Police Commissioner Bill Bratton. He then called on de Blasio and O'Neill to fire Pantaleo from the NYPD. "Termination, prosecution, conviction – these actions cannot undo the loss of five years ago," writes Williams. "But they can show that there are consequences for taking a life."
CNN's legal analyst Joey Jackson called the Department of Justice's decision not to charge Pantaleo a "disgrace," arguing that it will create even more racial tension and mistrust between people of color and law enforcement. "Communities throughout the country continue to see black men brutalized at the hands of police – without consequence or recourse," writes Jackson. "This does nothing but further the racial divide and lead to ongoing mistrust between communities and law enforcement." 
The New York Post sided with U.S. Attorney General William Bar's decision not to charge Pantaleo with federal civil rights charges, stating that prosecutors have "repeatedly failed to find evidence" that Pantaleo intentionally used force to end Garner's life. But the Post doesn't let Pantaleo off scot free, saying that Garner's death was a "tragedy" and that Pantaleo should no longer work on the city's police force. The Post also appears convinced that O'Neill will ultimately terminate Pantaleo. "Commissioner James O'Neill will almost certainly fire him, as will be right and proper: That day ended his value as an active-duty officer, even if union protections have let him work at a desk in the interim," writes the Post's editorial board. 
Leonard Greene of the Daily News expressed disappointment with de Blasio's relative inaction in the Garner case, admonishing his decision to rely on the DOJ to serve justice, when he is technically O'Neill's boss and could push him to fire Pantaleo. "Because as much as de Blasio wants to bond with the black community and share in the family's outrage over the Justice Department's decision … the horrible, senseless, unnecessary death of Eric Garner happened on his watch," Greene writes.