Andrew Cuomo
New York's limited power to resist ICE raids
While New York's elected officials have vowed to "fight back" against ICE's planned immigration raids this weekend, their powers are mostly confined to "know your rights" campaigns, legal assistance and non-cooperation with ICE. Here's what the city and state can and can't do.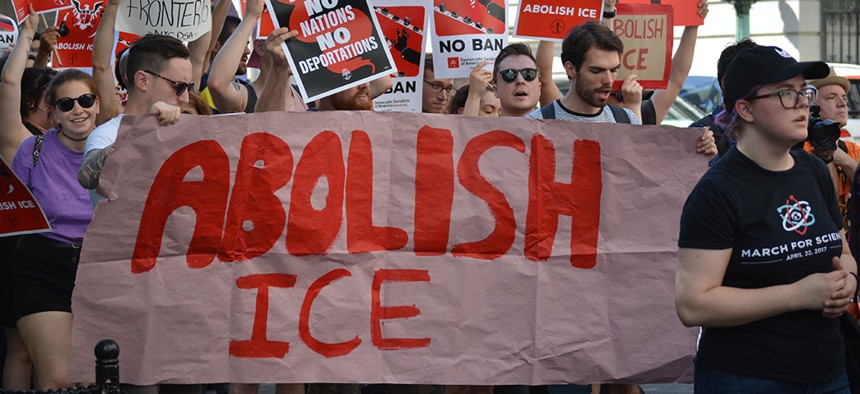 President Donald Trump's plans to arrest thousands of undocumented immigrations across the country this weekend have drawn sharp rebukes from New York's elected officials, including Gov. Andrew Cuomo, state Attorney General Letitia James and New York City Mayor Bill de Blasio. 
For weeks, Trump has teased raids by U.S. Immigration and Customs Enforcement, targeting immigrants who have been ordered deported and remain in the country illegally, though the raids are expected to include "collateral deportations" – immigrants who are not being targeted but who happen to be on the scene when the targets are apprehended.
While Cuomo and de Blasio have vowed to "fight back" against the planned raids, much of their power to do so is confined to "know your rights" campaigns, legal assistance and non-cooperation with ICE's enforcement efforts. "As far as I know, there's nothing specific that a city or state can do if the ICE agents have a proper warrant," said Stephen Yale-Loehr, a professor of immigration law at Cornell Law School. "There's nothing that state can do to stop them from executing that warrant to go try to find that person and arrest them."
"Know your rights" campaigns focus on things like the fact that ICE agents need a judicial warrant to enter a home, though they sometimes arrive with only administrative warrants. New York also recently barred ICE agents from making arrests inside courthouses without a judicial warrant.
Non-cooperation, however, is a tool that could have some weight. The feds seem to value cooperation from local officials, and some localities are happy to help. In some states, mostly conservative ones such as Georgia and Texas, local law enforcement offices have signed on to 287(g) agreements, which deputize state and local officials to aid federal immigration enforcement in local jails and prisons, allowing them to investigate, detain and transport people facing deportation. The Atlanta Journal-Constitution reported that as of May of this year, 80 such agreements exist in 21 states. 
De Blasio has directed New York City to take the opposite approach. The mayor said this week that no city agency, including the NYPD, would assist ICE in any way, and a spokeswoman for the Mayor's Office of Immigrant Affairs stressed the New York City local law that prohibits city agencies from partnering with the U.S. Department of Homeland Security to enforce federal immigration law. A memo issued to the NYPD by Commissioner James O'Neill around that time emphasizes that the "NYPD does not inquire about the immigration status of crime victims, witnesses or others who call or approach the police seeking assistance," and does not conduct civil immigration enforcement. 
But Alina Das, a professor of law and co-director of New York University's Immigrant Rights Clinic, said that the city and state could be doing more to ensure that agencies – and the people working for those agencies – aren't sharing information with ICE. Documented reported earlier this year that the state Division of Criminal Justice Services provides information about certain immigrants to ICE, though the agency has denied the practice. "Government officials should take a good hard look at their databases, at what DHS still has access to, and whether their law enforcement officers know how they're supposed to respond when they are asked to provide information for the purposes of immigration enforcement," Das said. 
For the planned nationwide ICE raids starting on Sunday, public awareness campaigns and legal assistance are the primary weapons in New York's arsenal. "One thing that the city and the state could do would be to proactively have Know Your Rights presentations for immigrants generally, and provide legal assistance for people who are picked up and put into deportation proceedings," Yale-Loehr said.
Cuomo and de Blasio are on top of both those efforts, with spokespeople for the Mayor's Office of Immigrant Affairs and the New York state Department of State pointing to Know Your Rights fact sheets published in multiple languages, and various city and state-led legal assistance programs. New York's Liberty Defense Project – a public-private partnership led by the state that assists immigrants in obtaining legal services – received a $10 million boost in the 2020 budget to expand. The project also runs a Rapid Response Program, specifically designed to better respond to unexpected or short-notice ICE enforcement actions. 
Some of those vulnerable in this weekend's sweeps could begin the deportation process in a matter of hours, days or months, Das said, depending on how long it takes ICE to obtain travel documents for the individual and permission from the country to which they plan to deport the person. "The concern is, in a typical case, if somebody has been given a final deportation order without them being present in court, then it's ICE's position that deportation can happen very quickly," she said. "It makes it all the more important for people in these situations to have access to information and understand their rights before something takes place."
Powered By
NEXT STORY: Amazon tax breaks debate continues