New York State
Republican senators can't hold up 9/11 victim funding forever
Jon Stewart's viral speech pretty much guaranteed an early-August vote.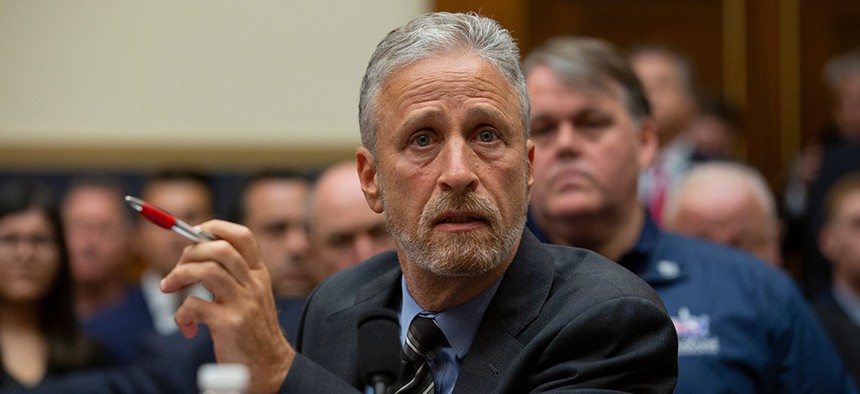 Can the U.S. cough up some cash for 9/11 victims in need? Republican U.S. Sens. Rand Paul and Mike Lee don't seem to think so.
Despite overwhelming support in the Senate for extending the 9/11 Victims Compensation Fund, Paul and Lee placed a procedural hold on the fund's renewal on Wednesday, preventing it from coming to a floor vote, according to Newsweek. The $7 billion fund which provides aid to those suffering or dying from 9/11-related ailments is quickly being depleted, and benefit payments have already been slashed by 70%, according to The Associated Press. The bill to extend the funding would safeguard the fund's ability to supply victims and their families with benefits for the next 70 years.
You'd think that legislation supporting New York's finest and bravest would be a no-brainer for both the right and the left. But when U.S. Sen. Kirsten Gillibrand attempted to get the Senate to approve the House-passed bill by requesting a unanimous-consent agreement, which could have expedited proceedings, but only if no senators object, Paul and Lee did. Paul cited the country's growing debt as a reason to take pause, preventing the bill from being passed unanimously. 
"It has long been my feeling that we need to address our massive debt in the country," Paul said on the Senate floor, according to The Hill. "And therefore any new spending … should be offset by cutting spending that's less valuable. We need to, at the very least, have this debate."
Paul continued to say that if the bill had been brought to the Senate for a vote he would have offered up an amendment that would address some of his financial concerns. 
"As with any bill, Senator Paul always believes it needs to be paid for," a spokesperson for Paul told The Hill. "Senator Paul is simply offering an amendment, which other senators support, to pay for this legislation."
Paul is adamant that he is merely waiting to vote on an amendment. 
Not blocking the 9/11 bill - simply asking for a vote on an amendment to offset the cost.

— Senator Rand Paul (@RandPaul) July 17, 2019
In a statement to The Washington Post, Lee's office, meanwhile, said that he "fully expects the 9/11 compensation bill to pass before the August recess and he is seeking a vote to ensure the fund has the proper oversight in place to prevent fraud and abuse."
It's worth noting that both Paul and Lee voted for President Donald Trump's $1.5 trillion tax cut in 2017, which is currently contributing to the country's growing budget deficit. Maybe numbers just aren't their forte?
Despite the senators' decision to stall the bill, the Senate is expected to hold a vote on it before breaking for recess Aug. 2, which U.S. Senate Majority Leader Mitch McConnell agreed to following a meeting with 9/11 first responders, advocates and comedian Jon Stewart in late June – whose impassioned speech during their visit quickly went viral. 
Stewart, alongside activist and 9/11 first responder John Feal, blasted Paul and Lee on Fox News.
"Rand Paul presented tissue paper avoidance of the $1.5 trillion tax cut that added hundreds of billions of dollars to our deficit, and now he stands up at the last minute after 15 years of blood, sweat and tears from the 9/11 community to say that it's all over now, now we're going to balance the budget on the backs of the 9/11 first responder community," Stewart said.
It seems likely that when the bill hits the Senate floor for a vote Paul will offer up his amendment, the details of which are currently unavailable. And once on the Senate floor, only a majority vote is needed to pass the bill. Considering the bipartisan bill passed 402-12 in the House, it would be surprising if the vote wasn't a slam dunk.
Powered By
NEXT STORY: New York's drone conundrum