New York City
Bill de Blasio's rough start to the week
New York City Mayor Bill de Blasio was greeted with headlines on Sunday and Monday accusing him of ethically questionable fundraising and misuse of his security detail. Here's what they said and how government accountability experts responded.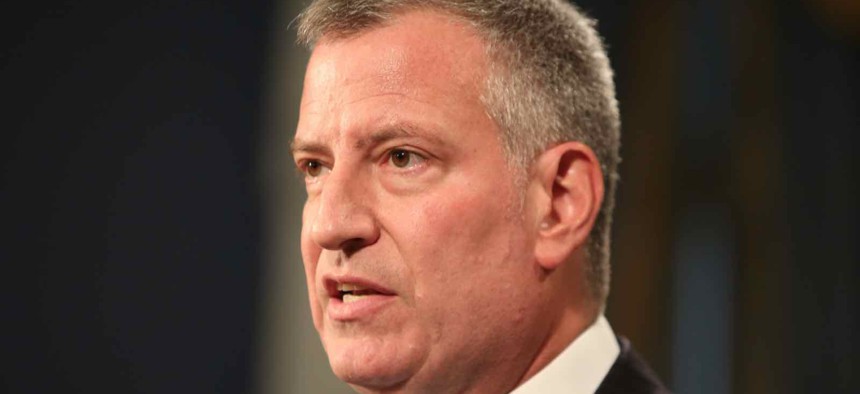 It's no secret that New York City Mayor Bill De Blasio has gone a few rounds with the press over stories about shady connections and questionable fundraising practices. Coming off the Democratic presidential primary debates last week, de Blasio was greeted with headlines back home on Sunday and Monday calling his leadership into question. 
While the reports do not demonstrate – or even suggest – legal wrongdoing, government watchdogs still see cause for concern. "Mayor de Blasio is a walking ethical disaster. This should not be the example we set for national politics," Susan Lerner, executive director of Common Cause New York, told City & State via a spokeswoman.
When asked about the reports, Citizens Union Director Betsy Gotbaum said that stricter rules about campaign finance and transparency would clear up many insinuations about the mayor. "The law has got to be changed: It should either be illegal or not illegal to take money from people doing business with the city," she said. "Everybody does it, but it doesn't mean it's right. If it is going to weigh so heavily on everybody who is running for office or an elected official, you have to make it clear."
These are the most recent reports of ethical gray areas in which de Blasio has been found:
The owners of the Chelsea Hotel have been fundraising for Hizzoner
De Blasio has sworn off receiving campaign contributions from donors included on the "Doing Business" database, and he recently returned some donations. That, however, only includes companies with city contracts, not all of those with a regulatory request. Back in March, before he formally announced his presidential bid, the owners of the Chelsea Hotel threw a fundraiser for the mayor, raising $90,000 for his federal political action committee. The catch is that the owners, Ira Drukier and Richard Born, had very recently petitioned the city's Department of Housing and Development to allow them to continue renovating the building in spite of a lawsuit filed by tenants of the building. Their request for a formal Certificate of No Harassment has yet to be approved. 
De Blasio's spokeswoman declined to comment on the mayor's fundraising connection to the hotel owners and pointed to his pledge to decline money from those included on the city database. 
A two-parter: De Blasio's mortgage, the Podolsky brothers and their lawyer
In two separate stories, the New York Daily News reported that the bank de Blasio received a mortgage from has multiple connections to the infamous real estate moguls Jay and Stuart Podolsky. A recent deal raised concern over their past when the city bought 17 properties, to be converted into housing for homeless families, from the brothers for $173 million.
The first connection is that the bank, Wall Street Mortgage Brokers, was originally founded by Jay and Stuart's brother, Abraham Podolsky. The three brothers apparently do not get along, following a family rift in the 1980s, and representatives for all parties maintain that Jay and Stuart Podolsky knew nothing about the mayor's mortgage and Abraham Podolsky was not involved in the affordable housing deal.
The second connection muddies those waters, because Jay and Stuart's legal advisor, Frank Carone, also worked for Wall Street Mortgage Brokers until 2008. While the mayor received approval for his mortgages after the lawyer left the firm, Carone is a supporter of de Blasio and had a hand in the $173 million the younger Podolsky brothers received from the city. 
City Hall denied that anything was amiss in the property sale. "The only thing that factored into this deal was the best interest of our homeless New Yorkers," de Blasio spokeswoman Freddi Goldstein told the Daily News. 
George Arzt, a spokesman for the Podolsky brothers and Carone, sent the following statement to City & State: "Lewis Carroll, of Alice in Wonderland fame, could not create a work of fiction like this. The facts are: Stuart and Jay Podolsky parted ways in business with their brother Abe in the 1980's. They do not know, nor did he ever know anything about any mortgage the mayor may have received, nor did Frank Carone. Mr. Carone had nothing to do with Wall Street Mortgage since 2008."
His NYPD executive protection unit moonlight (literally) as personal moving men
Apparently a year ago, members of the mayor's security detail packed up his daughter's belongings in the middle of the night, put the boxes into government vans and transported everything to Gracie Mansion. Unnamed sources report that the first lady, Chirlane McCray, was there directing the move. This piles onto recent reports of the Executive Protection Unit breaking protocol for the mayor, including covering up a car crash and losing a bulletproof vest. 
Regarding the latest story, Phil Walzak, an NYPD spokesman, told the Daily News, "There have been a number of lawsuits filed by former members of the security detail, and there have been rumors and innuendo regarding people named in those civil actions, much of it unfair and inaccurate. There is no information available regarding this inquiry."
Powered By
NEXT STORY: Ride-hail apps fret over New York City's new regulations