New York State
How is Raise the Age working?
The state missed the deadline for a report that would answers the question.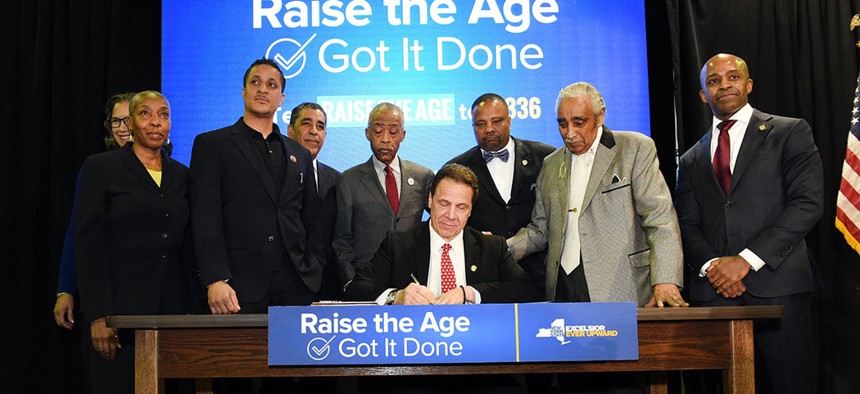 Gov. Andrew Cuomo prides himself on getting stuff done on time, whether it is building a bridge or passing the state budget by the April 1 deadline. That same zealousness for punctuality has not extended to a promised report on the implementation of Raise the Age.
The landmark 2017 legislation aims to get 16- and 17-year-olds who commit nonviolent crimes out of adult prisons. Whether or not local governments have succeeded in doing this remains unknown. A task force appointed by the governor in April 2018 was tasked with researching that question, but it is still compiling a report on the issue despite an Aug. 1 deadline. Lawmakers have been silent on the issue and the reasons for the delay remain unknown. A Cuomo spokesman said the report would be released "soon," but did not elaborate on whether this means the report will be released in days or still could be months away.
"The report is being finalized and includes input from at least seven agencies and several advocacy organizations to ensure that the report has input from all the appropriate stakeholders," Cuomo spokesman Don Kaplan said.
The Chronicle of Social Change, citing a spokeswoman for the New York State Division of Criminal Justice Services, reported earlier this month that the report could be released as soon as the end of August. While its conclusions remain unknown, previous reporting suggests that two years after Raise the Age passed, its implementation has been shaky. Data collected by The City shows that only a third of eligible teens were being sent before judges that were trained for juvenile cases. 
Prosecutors across the state also say they are still struggling to keep up with the costs of implementing the law. While some local communities have set up the new facilities required by the law to deal with young offenders, others have struggled to do the same. Violence at one New York City facility also shows that even when local communities have opened new facilities, many outstanding issues remain. 
Research conducted by the state has shown negative effects on recidivism rates and mental health among youth in adult facilities. The expected task force report would shed light on how well the state has done in making its criminal justice system less harmful for young people, particularly people of color who are disproportionately affected by law enforcement. 
Before passage of the law in 2017, New York and North Carolina were the only states that automatically charged 16- and 17-year-olds as adults when they are accused of felonies. A new Youth Part of the state Unified Court System was set up to try such cases, and the law will apply to 17-year-olds once it is fully implemented in October 2019. Similar legislation will take effect in North Carolina in December 2019. 
Powered By
NEXT STORY: Big Tech is listening