New York City
New York's stronger safety net will magnify Trump's new public charge rule
The Trump administration's recent change to the "public charge" rule could have an outsized impact on New York's immigrants because federal social welfare programs that are administered at the state level can vary widely in their rules over who qualifies for assistance, and New York's programs tend to be generous.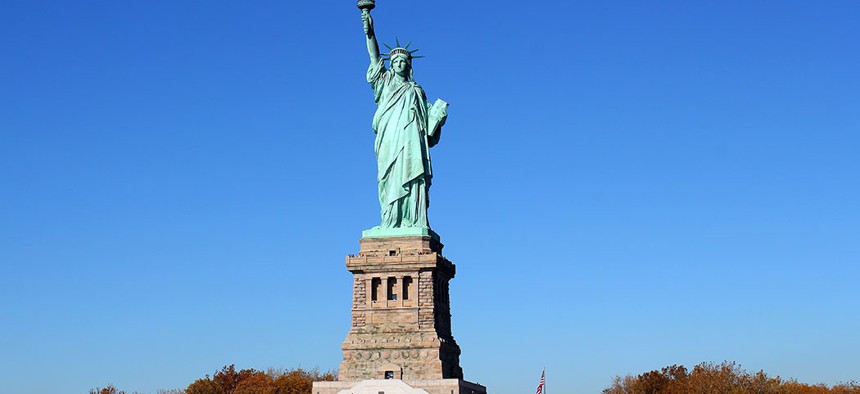 In a city where nearly 40% of residents are foreign born, New York City officials say the Trump administration's recently announced revision of the "public charge" rule could affect hundreds of thousands of local immigrants. The new rule due to start Oct. 15 would expand the U.S. Department of Homeland Security's right to label someone a "public charge" and deny a green card if he or she receives Supplemental Security Income or Temporary Assistance for Needy Families, penalizing applicants for using public programs such as Medicaid, food stamps and Section 8 Housing Assistance. 
New York state has one of the largest immigrant populations in the country. It is estimated that nearly 23% of New Yorkers are foreign born, including about 56% who are naturalized citizens and 3.6% who are undocumented. 
But the rule change could have an outsized impact on New York for another reason: Federal social welfare programs that are administered at the state level can vary widely in their rules over who qualifies for assistance and how much they receive. As a high-tax, liberal state, New York's programs tend to be more generous. That will now become a double-edged sword, as it may increase the proportion of immigrants at risk of being deemed a public charge, compared to a conservative state with skimpier programs, such as Virginia or Georgia, where income cutoffs for Medicaid are the lowest nationwide. 
New York state offers Medicaid to anyone earning an income within 138% of the federal poverty level and spends the second highest amount on Medicaid funding behind California. In one of the 14 states such as Alabama and Mississippi that have not adopted the Affordable Care Act's Medicaid expansion, the median eligibility limit for parents is as low as 40% of the poverty line. 
Comparing state administration of programs such as food stamps are a bit more complex, because states define income and household assets differently. States can only set the gross income thresholds to be a food stamp recipient, but not the net-income requirements. Between Gov. Andrew Cuomo's elevation of the income cap for food-stamp eligibility from 130 to 150% of the federal poverty line and the de Blasio administration's work to streamline the benefit application process to incentivize enrollment, New York state and New York City have been relatively aggressive in combating food insecurity. New York is also one of the 18 states participating in Double Up Food Bucks, a dollar-to-dollar match program that provides users with coupons to purchase locally grown food when they use their SNAP benefits. 
Given the state's generous public programs, immigration policy experts say the effects of the new public charge rule are likely to hit harder in New York. "More adults get Medicaid in states that have expanded Medicaid, therefore the chilling effect is likely to be greater in those states, even though very few of those adults will ever go through a public charge assessment," wrote Shelby Gonzales, director of immigration policy for the Center on Budget and Policy, a liberal economic think tank based in Washington-D.C., in an email to City & State. According to Gonzales, in states that use state-only funds to provide Medicaid or Medicaid-like coverage to individuals that don't meet the very restrictive federal immigration-related requirement, individuals enrolled in this coverage may not know that their coverage is state-only funded and immigration authorities may not understand this as well.
The rule will, of course, also have disproportionate effects across states because of the number of immigrant families varying across states. "In 2016, New York was home to 733,000 citizen children with noncitizen parents (16.6% of all children in the state, 6th highest in the country), and 23.8% of children enrolled in Medicaid/CHIP in New York (498,000) were citizens with non citizen parents. So if chilling effects lead parents to disenroll their eligible citizen children from Medicaid/CHIP, the impact would be expected to be larger in states like New York than states with smaller immigrant populations," wrote Jennifer Haley, an expert at the Urban Institute, a think tank based in Washington D.C., in an email to City & State. Haley added that one cannot be certain as to how effects are likely to differ across states, as it depends partly on factors such as how well a state informs its residents of their options and the income of green card applicants. 
New York City and myriad nonprofit organizations are urging immigrants to consult a lawyer amid confusion that already has some New Yorkers opting out of programs they are otherwise qualified to receive. 
Carlyn Cowen, the chief policy and public affairs officer of the Chinese-American Planning Council, a nonprofit that promotes economic empowerment of Chinese Americans and immigrants, said New York City, as a sanctuary city with a large immigrant population, risks being one of the states most heavily hit by this rule. "We're talking about individual New Yorkers who could no longer have SNAP benefits, but we're also talking about the service delivery industry, another level where organizations will see a financial hit in funding," Cowen said. 
According to Cowen, a level of distrust among immigrant residents largely exists because of a language barrier. "Because of (this), people don't know what's safe and there becomes this broad fear of public programs," Cowen said. "Seniors are removing themselves on affordable housing waitlists and parents are pulling their kids out of day care in fear that their names are being taken down and shared with the government." 
While the rule casts a wide net, it still excludes asylum seekers, refugees, victims of domestic violence and "extreme cruelty," and certain U-Visa holders from being denied green cards. Besides a few exceptions, those who already own a green card cannot have it taken away based on past or future receipt of government benefits, nor will one person's benefits be counted against someone else in their household who is not listed as a beneficiary. Seniors receiving Medicaid Part D discounts, pregnant women, women up to 60 days after pregnancy and children under 21 covered by Medicaid are also excluded.
The new law is hardly forgiving, though, largely targeting poor blacks and Latinos across the U.S. Critics say it represents a radical shift in practice for a country that prides itself on being the land of opportunity. 
New York City Mayor Bill de Blasio has vehemently opposed the plan's modifications since last year, when he declared the city would fight the "un American" policy "tooth and nail" in a statement from October 2018. 
Seth Stein, a City Hall spokesperson, said the mayor's office will soon have more to say on plans the mayor has for legal challenges. In a statement on Aug. 12, de Blasio referred to the rule as an assault on immigrants. "We'll see you in court," the mayor said, directly addressing President Donald Trump at the end of the statement. While the city is providing legal advice about the plan's impact through ActionNYC's 311 service, elected officials like state Attorney General Letitia James are also on the frontlines with plans to file a lawsuit over the new rule.
"States like New York that have taken their own initiative to fill the gaps for their residents or citizens are obviously going to feel a greater impact by a rule that specifically targets government assistance," said Nathan Kasai, senior policy counsel for the Social Policy & Politics team at Third Way, a centrist think tank. 
Becca Telzak, the director of health programs for Make the Road New York, an immigration advocacy group, commended the city and state's elected officials for their advocacy. "There's also going to be a lot of effort to litigate in the next 60 days and we're hoping that through litigation efforts, the bill will never actually get implemented," Telzak said.
According to Telzak, there currently exists a culture of confusion about the plan among immigrants, particularly surrounding food stamps, Medicaid and hospital services. "We want to be very clear that people can still go to a doctor," she said. "If people start to disenroll in benefits, it will have a huge health impact. If they stop going to the doctors for primary care, those people will wind up going to emergency rooms and this will have a greater chilling impact for a state like New York with such a concentrated immigrant population." 
Estimates from a study conducted in October 2018 by the Fiscal Policy Institute suggest that the public charge rule's economic ripple effect is set to result in the loss of $2.2 billion in federal funds coming into the state, if an estimated 25 percent of people withdraw from programs they are otherwise qualified to receive. Using this 25 percent withdrawal estimate, FPI predicts that the loss could create a ripple effect of $3.6 billion felt through the health care and food industries and elsewhere, and up to 25,000 jobs lost in New York state, whereas larger states with high immigrant populations, including California and Texas are looking at losses up to $4.2 billion and $1.5 billion, respectively. 
Cowen said nonprofits need to consider how the rule can be fought on both a federal and local level. "Whether or not the public charge will impact other New Yorkers who might not necessarily be at risk, it's going to hurt all of us," she said. 
According to a December report from the city's Department of Social Services, Mayor's Office for Immigrant Affairs and the Mayor's Office for Economic Opportunity, up to 400,000 immigrants residing in the New York City could be deemed inadmissible or ineligible for an immigration status adjustment.
Allison Sesso, the executive director of the Human Services Council, a service organization for nonprofits said she's concerned about the financial strain the public charge rule could place on nonprofit organizations. "Though New York City has a robust system of nonprofits, those institutions will have additional burdens and mass confusion about what this means for them," Sesso said. "We're going to really be testing the limits of our system if our city and state doesn't take a leadership role in terms of how to work with nonprofits and public hospitals."
She added that this increased reliance on nonprofits will require attention from multiple parties to foster the connection needed to create an additional safety net for immigrants. "I think there's efforts in general to try to better connect our public hospital systems, as well as our health care system in general to community-based organizations, but we're really not there yet, and so the more we can do to foster those connections," Sesso said.