New York State
Why the prevailing wage didn't prevail
Should construction workers get paid more for projects that get tax breaks?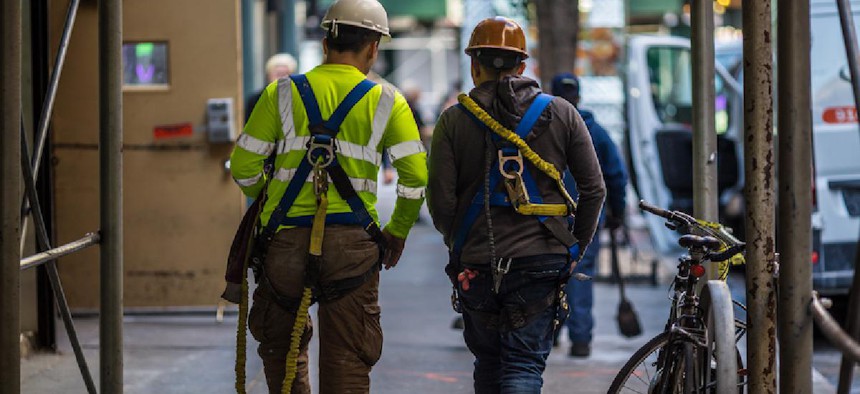 Democratic control of the state Legislature worked out pretty well for organized labor in 2019. Local public sector employees got collective bargaining rights enshrined in state law. Farmworkers won the right to unionize. Student test scores were decoupled from the evaluations of public school teachers.
However, this political momentum did not deliver an expanded definition of public works – a top priority for the building trades in recent years.
For the past 120 years, state law – and later the state constitution – has required that projects receiving public funding pay workers what is called a prevailing wage, a set rate of pay based on the location and nature of the project. The state Department of Labor uses three criteria to determine which projects must give workers a prevailing wage. The first is the involvement of a public agency. The second requires that a contract include construction labor paid for by government funds. Third, the project must benefit the general public.
But the current definition of public works leaves out many projects that receive public support, whether through tax breaks, subsidies or other means.
There were high hopes that a prevailing wage bill would pass this year after falling short the previous two years. A majority of the Assembly and 31 state senators – one shy of a majority – had signed on as co-sponsors of an expansive bill that would make prevailing wage requirements apply to any project that receives financial support from the state. While lawmakers were opposed to compromising with Gov. Andrew Cuomo on a more limited expansion of the prevailing wage to industrial development agencies – public benefit corporations that promote local economic growth – during budget negotiations, the issue remained a top priority going into the final weeks of the legislative session. But once the governor began pushing for limits on the expansion of the prevailing wage in the final days of the session, everything fell apart. This included a controversial provision that would have exempted New York City from the proposed changes, as well as another proposal to set a minimum size for projects to qualify as public works. Cuomo said at the time that this had to be done in order to mitigate potential cost increases for economic development projects and affordable housing – concerns shared by the business community and some liberal lawmakers. While political dynamics helped doom the bill, the issue of carve-outs would be the sticking point that kept lawmakers and Cuomo from making a deal.
Opponents of the prevailing wage make what appears to be a simple argument: Higher labor costs mean higher construction costs – even as much as 25% higher in New York City, according to a 2017 study by the fiscally conservative Empire Center for Public Policy. These cost increases can be compounded because the prevailing wage not only raises basic pay rates, but benefits as well. The study argues that by requiring higher wages and benefits on projects, prevailing wage requirements effectively give unions a leg up against cheaper, nonunionized competitors, whose advantage is undermined by prevailing wage requirements. "The inflexible and arbitrary divisions created by union contracts also require more intensive, time-consuming managerial coordination on construction worksites, reducing productivity and hindering adoption of more efficient practices," according to the study. One union-backed rule forbids the pre-cutting of pipes and requires that steamfitters – who make upward of $55 per hour in the city – be hired to do that task. Elevator buttons must be pushed on many projects by a member of the operating engineers union who can cost even more than a steamfitter. The report also includes a claim that some public contracts include a requirement that three construction unions are used to install drywall even though one team of nonunionized laborers could get the job done. Higher wages, more benefits and other increased costs associated with the prevailing wage appear to add to a project's bottom line.
There are other factors to consider as well. For starters, labor costs are a much lower percentage of total costs in construction compared to other economic sectors, according to Kevin Duncan, a professor of economics at Colorado State University-Pueblo who has written numerous peer-reviewed articles on the prevailing wage over two decades. In other words, an increase in labor costs would only affect a relatively small part of a project's overall cost. "What do you see when you drive by a highway construction site?" he said. "You see miles worth of material – if they're resurfacing asphalt – and you see some very large pieces of equipment and you see a few workers." All in all, labor makes up about a quarter of the costs on an average public works project compared to about two-thirds of costs in other economic sectors, he added. In short, increasing wages in construction does not hurt a business's bottom line as much as it would at a restaurant or a manufacturer. Paying workers more could increase a project's cost, but "contractors tend to employ more productive workers if they're going to pay workers more," Duncan said. Increasing labor costs can also incentivize contractors to address their costs in a more holistic way. "Additional research indicates that as wages increase, contractors spend less on materials, supplies, fuels, etc., and earn lower profits," according to a 2018 study by Duncan on the prevailing wage in New York. "All of these changes tend to mitigate the effect of prevailing wage rates on total construction costs." An analysis of peer-reviewed research included in the 2018 study found that, by and large, the prevailing wage is "not associated with increased construction costs."
It gets a little trickier with affordable housing, an issue that prompted some Democratic state senators to withhold support for the prevailing wage bill. Housing construction generally requires lower skilled workers compared to other public projects. Thus, there is less room to boost efficiency when swinging hammers and installing windows compared to operating a multimillion-dollar boring machine or placing giant I-beams on bridge traversing the Hudson River. Add to this idea the fact that the hiring of undocumented workers, wage theft and other unscrupulous behavior by developers cuts down on costs in ways that unionized projects cannot. Once the prevailing wage enters the picture along with increased reporting requirements, prices are likely to go up for affordable housing projects. This can be as low as 5% and as high as 37%, according to the 2018 study by Duncan. Either way, this was too much for lawmakers facing enormous pressure from business groups and housing advocates to do everything possible to encourage the construction of more affordable housing, particularly in New York City and on Long Island.
In the final stretch of the session, a compromise appeared to be forming to exempt affordable housing projects from the prevailing wage requirement and limit how much public investment would be needed for a project to qualify as a public work. Media reports at the time stated that a proposal from Cuomo would have required that a project would have to cost at least $750,000 and get at least 30% of its funding from a public source – including tax breaks, subsidies or grants – before the prevailing wage would apply. What doomed the compromise was the governor's insistence that New York City be exempt.
"That was a real sticking point to those of us who believe prevailing wage should be a statewide issue," Assemblyman Harry Bronson, who sponsored the legislation along with state Sen. Jessica Ramos, told The Buffalo News in July about the proposed carve-out for New York City. "The constitution doesn't just apply to Long Island, the downstate suburbs and upstate. The constitution also applies to New York City."
Opponents of the bill were likewise upset with Cuomo's proposal. "It seemed to succeed in turning pretty much everybody against it," said Michael Elmendorf, president and CEO of the Associated General Contractors of New York State. "Our issue with the proposal was pretty simple. We believed it was going to stop economic and construction activity all across the state." 
Supporters of the bill wanted it to apply everywhere, opponents nowhere. In between was Cuomo, trying to compromise – although some stakeholders were skeptical. "The governor, quite frankly, is full of crap," Paul Brown, president of the Buffalo Building & Construction Trades Council, told The Buffalo News in July. "He said if you put the bill on his desk, he would sign it. He then did everything to not get it on his desk."
Cuomo reportedly had another aim in mind as he pushed for exemptions: helping out the New York City real estate industry that has been an important source of campaign donations over the years. It is beyond dispute that failing to pass the bill spared the New York City real estate industry from a second political loss following the passage of a tenant-friendly package of rent regulations in mid-June. A few days after the session ended, Scott Rechler, chairman and CEO of RXR Realty, hosted a Cuomo fundraiser with tickets going up to $25,000 at his Manhattan home, increasing widespread suspicions that the proposed New York City carve-out was Cuomo's way to win back support from the real estate industry that he had spurned by refusing to intervene when Democrats reached a rent regulation deal. The notable absence of Building and Construction Trades Council of Greater New York President Gary LaBarbera – a prominent Cuomo ally who has previously supported expanding the prevailing wage – added to perceptions that Cuomo was working behind the scenes to scuttle the prevailing wage bill. LaBarbera did not respond to a City & State request for comment. A spokesman for Cuomo declined to comment.
In the end, the prevailing wage bill failed for numerous reasons. Lawmakers were unwilling to support the relatively modest expansion proposed by Cuomo in the budget. There was lukewarm support among Democratic state senators for a bill that they worried would dampen affordable housing development. While business groups united in opposition to the bill, the building trades unions were not joined at rallies in the state Capitol by other contingents of organized labor, who appeared to play little role in the prevailing wage debate.
While the prevailing wage issue has fallen off the political agenda over the summer, it will likely come up again in January. Resolving outstanding differences on the issue of carve-outs might be the ideal place to start in redefining what the term "public works" truly means.
Powered By
NEXT STORY: Amid controversy, NYPD facial recognition has some success