New York State
New York has the MWBE program. What about gay business owners?
Lawmakers are pushing to get more contracts to LGBT-owned businesses.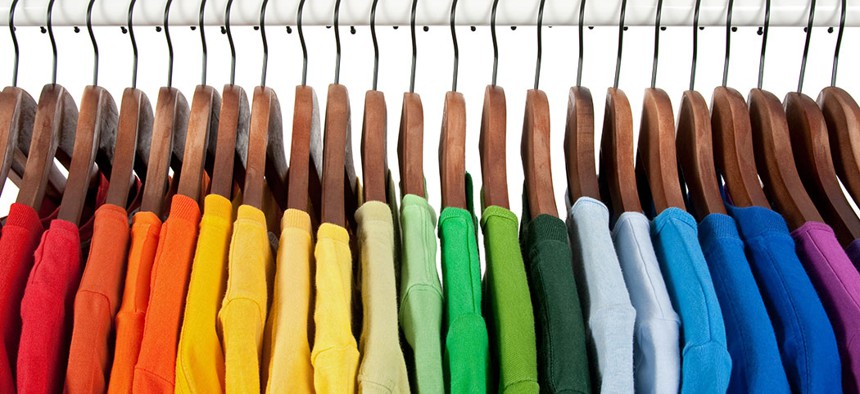 Business wasn't exactly booming for Sam Lehman – until his company came out of the closet.
"My business probably increased 70% after I joined the LGBT Chamber of Commerce," he said. "It opened up many doors."
Lehman is a gay man and co-founded Columbia Consulting Group, a technology consulting and staffing firm for other companies. And in the decade since his company was certified as an LGBT-owned business, he's become an outspoken advocate for the process and the opportunities it has provided.
Many private firms, Lehman explained, have supplier diversity representatives who act as liaisons with contractors who aren't straight, cisgender white men. (Cisgender refers to people whose gender identity matches their birth sex.)
And now, New York City Councilman Ritchie Torres is trying to get the city government to catch up with the private sector. He's introduced a bill, Intro. 1463, that would make the city recognize LGBT-owned businesses and encourage the city to contract with them.
"Diversity does not happen on its own, naturally. The city has to be intentional about it," Torres told City & State. "Why should New York City be less progressive than corporate America?"
New York City already has a well-established MWBE program for businesses owned by racial minorities and women. Launched in 1992, the program is based on a series of rigorous studies that have shown there's a disparity between the number of such businesses available to perform government work and how much the government contracts with them. That's the legal framework that allows New York City – and other governments around the country, including New York state – to set specific goals for giving contracts to businesses owned by minorities and women.
Despite the program, the disparity is stark. A study of contracting from 2006 to 2015 found that while 51% of available vendors were owned by minorities and women, just 10% of city procurement dollars went to such firms. While the MWBE program is based on mathematical analysis, it's not impossible to change. In September, the City Council passed legislation adding Native American-owned businesses to the program. Native American-owned businesses only make up less than 1% of firms available for contracting, and now the city will have specific goals to meet.
"Why should New York City be less progressive than corporate America?" – New York City Councilman Ritchie Torres
So are LGBT-owned businesses the next to be added to the program? No – and that's by design.
"We do not believe in set-asides. We do not believe in quotas," said Jonathan Lovitz, senior vice president at the National LGBT Chamber of Commerce, which has been a leading advocate for Torres' bill and similar legislation around the country. "In no way are the goals or percentages by any other community touched by this."
That's a persistent myth around the legislation, Lovitz said, and one that seems to put him and other supporters of the bill on the defensive whenever they're talking about expanding government contracting with LGBT-owned businesses. Because the sector can be so competitive – and lucrative – there's a lot of competition among business owners. And a program to help one segment of business owners can feel like it's taking away resources from another segment. Add in the fact that 58% of New York's LGBT population is white, and half are men, an attempt to add LGBT business owners to the existing MWBE program could look like a bill to help a cohort of business owners that don't need a leg up.
That's why Torres' bill as written actually wouldn't change much. It would require the New York City Department of Small Business Services to create an opt-in registry of LGBT-owned businesses certified with the National LGBT Chamber of Commerce, then make resources and training on city contracting available to them. There aren't any utilization goals in writing, as there are with the MWBE program. There actually couldn't be, because the city hasn't included LGBT-owned businesses in the disparity studies that form the legal framework for the program. A companion bill sponsored by New York City Councilman Daniel Dromm and co-sponsored by Torres, Intro. 1453, could open up the door for a more expansive program by requiring the city to conduct a disparity study to prove whether or not LGBT-owned businesses get a fair share of city contracts.
Advocates point out there's established evidence, both statistical and anecdotal, of LGBT-owned businesses being underutilized in government procurement. But that bill would likely prove more controversial than Torres' relatively simple one.
"The MWBE program is a federally designated program. You just can't jump up and add whoever you wish to it," state Sen. James Sanders Jr. told City & State. Sanders, who is black, is the chairman of the Senate's Task Force on MWBEs. He's also a disabled military veteran, he said, and as much as he'd like to help fellow disabled veterans, adding more categories could open up the whole procurement system to a legal challenge.
"If you just put whoever you want in ... you would lose your MWBE (program)," he said.
Those fears may be hurting legislation similar to Torres' on the state level. State Sen. Brad Hoylman is sponsoring a bill that would provide help with government contracting to not just LGBT-owned businesses, but also those owned by veterans and people with disabilities. But the bill has died in committee each year since 2016. Various proposals to help veteran-owned businesses in city contracting haven't gotten off the ground either.
Advocates say the fear that supporting LGBT-owned businesses could harm MWBEs is unfounded. "We laugh about the argument, 'Well, isn't this just eating away at the pie for other communities?'" Lovitz told City & State. "'I dare you to say that to the African American or Hispanic or Asian American gay business owner who's also a woman. That what you see about them is only what makes them valuable."
After introducing it in February and making a public push for it in June during Pride Month, Torres' bill has yet to receive a public hearing. New York City Council Speaker Corey Johnson seemed miffed at a September press conference following accusations he was holding up the bill, but a City Council spokesperson reached this month would only say the Torres and Dromm bills "are going through the legislative process." Dromm didn't respond to a request for comment and Torres downplayed any issues, saying he was hoping to schedule a hearing. But supporters like Lovitz were quick to shame the City Council for not moving more quickly.
"It's a matter of getting New York caught up with the rest of the nation," Lovitz said. "The fact that cities like Baltimore and Nashville, Orlando and Tampa, LA and Chicago have all beaten New York City to recognizing the LGBT business community is absolutely unthinkable."