New York State
New York's lawsuit against Exxon Mobil has begun, here's what it could mean
The state alleges the oil company lied to the public about the risk climate change poses to the company.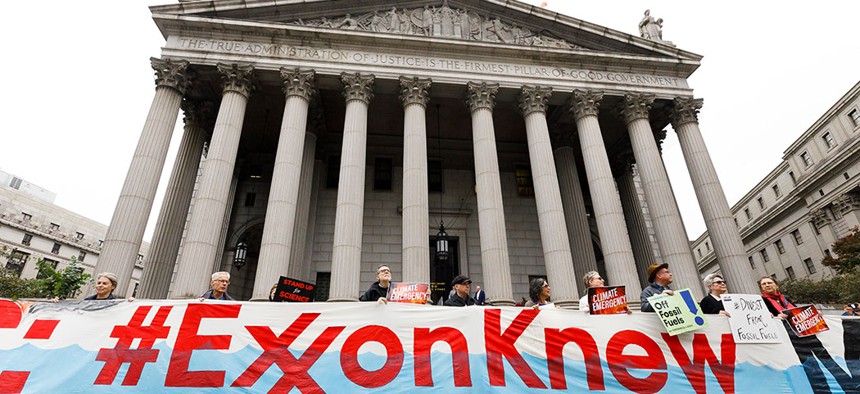 "Exxon Mobil did nothing wrong – absolutely nothing wrong," the energy company's lawyer Theodore Wells Jr. began his opening statement in the densely packed state Supreme Court in New York City on Tuesday, the first day in a landmark case against the world's largest publicly traded oil company.
The groundbreaking civil lawsuit is being brought by New York Attorney General Letitia James, who alleges that Exxon Mobil deceived investors about the company's management of financial risks posed by climate change. According to the AG's office – which began the case under James' predecessor Eric Schneiderman – Exxon falsely represented that it was applying a higher projected carbon cost to its projects than it was actually doing in its own planning and estimations, making its fossil fuel assets seem significantly less risky than they were. By using two different cost estimates, the attorney general alleges, Exxon Mobil underreported billions of dollars in potential costs, downplaying the risk to its investors and bolstering the value of its shares. 
The securities fraud case is the first major case to go to trial against an energy company for climate-related risks and could have far reaching consequences both for future cases against Exxonmobil as well as for the future of internal corporate carbon-pricing.
The case People of the State of New York vs. Exxon Mobil Corporation is different from climate liability cases such as the youth climate lawsuit against the U.S. government, or other climate nuisance cases being brought against Exxon Mobil and other fossil fuel companies. The youth climate lawsuit is alleging the U.S. government, by continuing to promote climate change-causing activities, is harming their constitutional right to life and liberty. A decision on whether this will go to trial is expected soon from the federal appeals court in San Francisco. The climate nuisance lawsuits are going after fossil fuel companies for impeding their full use of public and private property because of climate change. Most of these cases are awaiting various appeals.
Instead, this case presents the possibility that oil, gas and coal companies could be guilty of defrauding investors if they misled the public about how they are managing the current and future risks of climate change to their financial prospects, including increased regulatory burdens like a carbon tax. "That could have both financial as well as political ramifications in terms of generating the political will to address climate change," said Katrina Fischer Kuh, the Haub Distinguished Professor of Environmental Law at Pace University.
The case began in 2015 when Schneiderman started an investigation into Exxon Mobil's public disclosures over the climate risks to its current and future business practices. Schneiderman used New York's Martin Act, a 1921 anti-fraud law that provides shareholders broad protections from corporate fraud.
"With an act like the Martin Act, you don't have to show intent to defraud," Pat Parenteau, Professor of Law at Vermont Law School told City & State in an interview. "If you are so clumsy in communicating the way you are taking risk into account that you literally mislead your investors, confuse them to the point that they really don't understand what you are doing, how you are taking risk into account, that's enough to make you liable under the Martin Act. It is that tough. "
Whether James can show that the world's largest publicly traded oil company was being clumsy, intentionally or not, with assessing, applying, and communicating the climate risk of its investments, is what both sides will be attempting to prove or disprove over the course of the trial that is expected to last three weeks.
Opening with a series of documents from Exxon's shareholder meetings showing how the company was made aware of the climate risk to its investments, Kevin Wallace, a lawyer from the attorney general's office, laid out in his six-point oral argument New York's claim that the world's largest publicly traded company had "defrauded the public about the impact of carbon regulation on the company's financial outlook."
The argument hinges in part on the evidence that shows Exxon anticipated more costly and stringent climate change regulations over the coming decades and signaled to shareholders that it was applying a cost of carbon up to $80 per ton across its business to account for that risk. However the type of numbers used to estimate the risk from climate change and future oil and gas regulation due to climate change – so called "proxy costs" – were much higher for the public than the numbers the company used internally. 
Wells, Exxon Mobil's lawyer from the prominent New York firm Paul Weiss, dismissed the allegations on Tuesday as a "hypergranular dispute about GHG (Greenhouse Gas) cost assumptions in a cash flow model." He acknowledged that the company had two sets of carbon costs, a "proxy cost" and a "GHG emissions cost" but said they served two different purposes, one for assessing demand and one for expenses.
Regardless of how hypergranular the dispute may seem to Exxon, experts believe that it will send a signal to investor groups already concerned about the broader risk of climate change on markets.
"It certainly will lead other companies in the fossil fuel business to be much more careful about the way they describe how they are taking the risks of climate regulation into account," said Parenteau. "I think they are going to have to come up with a standard way of accounting for the risks of the business model they are pursuing, in light of climate change and the increasing impacts of a relatively modest climate warming compared to where we are heading."
While this case might not set a legal precedent for other kinds of climate liability, the more than 4 million documents uncovered in the discovery process could be useful for future cases against Exxon Mobil, said Parenteau, many of which have been influenced by recent investigations by InsideClimate News and the Los Angeles Times. These investigations showed that as far back as the 1970s Exxon Mobil's own researchers were predicting the catastrophic effects of climate change, at the same time the company was engaged in a multimillion-dollar effort to cast doubt on the science and fund misinformation campaigns.
The lawsuit is not directly tied to this climate disinformation campaign, "but it is related to the same idea of a differential between internal corporate sophisticated understanding of the likely impacts and costs of climate change and then a very big delta between that and public representation," said Kuh.
If Exxon is found to have defrauded the public, the NYAG's office has estimated the cost of restitution to shareholders to be between $476 million and $1.6 billion. While there are only a few other climate-related securities lawsuits vying to go to trial, this lawsuit adds to a growing number of legal cases attempting to get fossil fuel industries to pay for climate damage and force change through the courts – a move led largely by liberal states under an administration unsympathetic to action on climate change. The trial is expected to take around three weeks and if the verdict is appealed, which experts say is likely, a resolution could take years.
Powered By
NEXT STORY: Attorneys general assemble to investigate Facebook