New York City
NYC construction safety bill tweaked, again
Public Advocate Jumaane Williams' bill is meant to expand opportunities for training.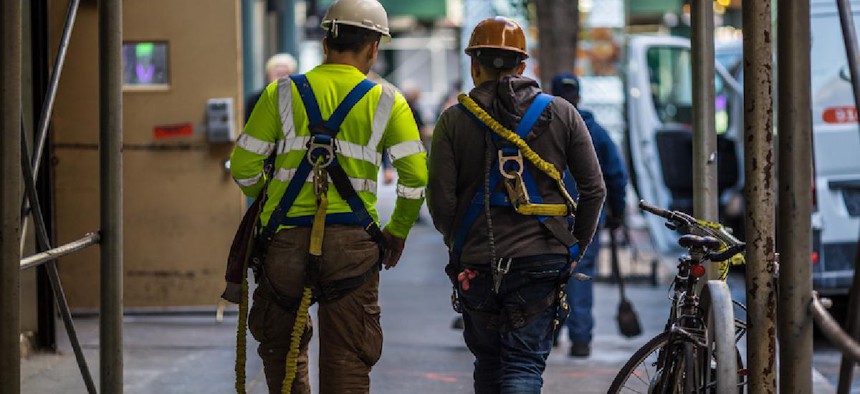 Things can move very slowly in the construction industry. St. John the Divine Cathedral in Upper Manhattan, first started in 1892, is still under construction, 127 years later. 
And the New York City Council's Site Safety Training legislation, first passed in 2017, is still being tweaked, more than two years later.
The latest fix is meant to expand the pool of educators that can provide Site Safety Training classes to construction workers. It would also make minor clarifications to overly broad bill language. 
It's expected to pass the City Council on Thursday, and soon after become law.  
It's at least the second legislative fix to the major construction safety law. And it's gone through some administrative changes too, like the New York City Department of Buildings pushing back the deadline for workers to receive training.
Enacted in response to a spate of deaths and injuries on construction sites across the city, the law now requires workers to have completed at least 30 hours of training by Dec. 1 2019, and 40 hours by Sept. 1, 2020. Before the law, no safety training was required for workers on smaller buildings, and just ten hours on larger buildings.
To be fair, nobody thought training New York City's entire construction and demolition workforce, while pleasing the numerous, politically powerful stakeholders including labor unions and real estate developers, would be easy. City & State's Sept. 2017 headline: "Construction work requires little to no training, but a fix hasn't been easy."
The construction safety bill faced particular criticism from black and Latino groups, who thought the bill would benefit unionized workers – a population that is disproportionately white – to the detriment of non-unionized workers, who are largely people of color. But the lead sponsors, then-City Councilman Jumaane Williams and City Councilman Carlos Menchaca ushered it through with major support from the Building Trades Council. 
Now the New York City public advocate, Williams is the lead sponsor of the new bill that's meant to improve access to training for people of color. "This is not only extending capacity," Williams told City & State. "It's extending it to community organizations that usually don't have an entry to do this, particularly black and brown organizations."
Since the city passed the law, the Department of Buildings has been criticized for not doing enough to implement the law and falling short on providing legal training opportunities. 
Andrew Rudansky, a spokesman for the agency, defended its record in a statement.
"Tens of thousands of workers in New York City have already received mandatory safety training required by Local Law 196, and thanks to our standardized course content and training grants provided by the city, this training is more affordable and accessible than ever."
Williams himself declined to directly criticize the agency, just saying that his bill is a way to get more workers trained, sooner.  "We just have to keep pushing," he said. "Can't change the deadline again. It's just not going to happen."