JCOPE's strange priorities
Why investigate a possible allegation against the governor and state Assembly Speaker when you can harrass an alleged rape victim?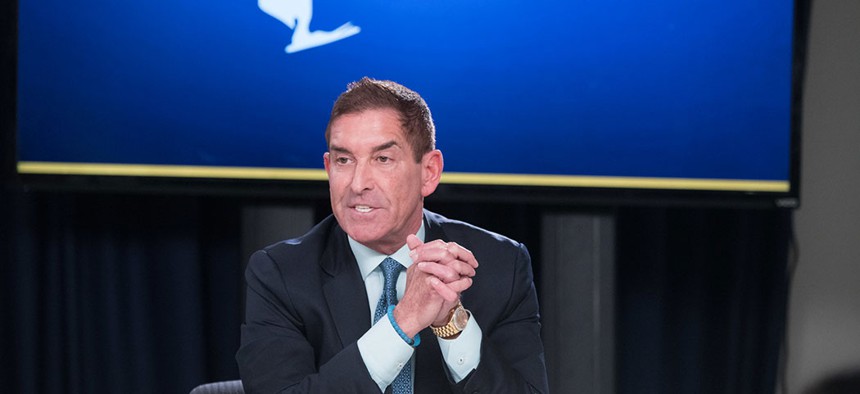 On Thursday, the Joint Commission on Public Ethics dropped their case against alleged rape victim Kat Sullivan, who they initially accused of violating lobbying laws while pushing for the Child Victims Act to pass, the Times Union reports.
That's not the only JCOPE-related story sure to raise eyebrows this week. It was also discovered on Thursday, that the ethics panel will soon be holding a hearing regarding their investigation into former state Sen. Jeff Klein's alleged sexually inappropriate behavior with a female staffer – two years after the investigation launched and one year after Klein lost his bid for reelection. And on Monday, The New York Times dove into the state Inspector General's investigation into allegations that JCOPE leaked to the offices of Gov. Andrew Cuomo on a prospective investigation into the governor's disgraced former aide Joseph Percoco was so thin.
One might question why the ethics panel would persecute a grassroots activist championing legislation, rather than direct its attention to long overdue investigations of powerful men accused of sexual harassment and corruption. It's hard to gain insight into the commission's priorities, especially since it's as secretive about its inner-workings as Willy Wonka (minus the fun). 
Here's what you need to know about the most recent unflattering JCOPE news:
Kat Sullivan
Sullivan alleged that she was raped by one of her teachers over two decades ago and was awarded a settlement in 2016, a portion of which she spent to boost the campaign to pass the Child Victims Act in 2018. Her money went toward a billboard advertisement and small plane that flew over Albany with a banner advocating for Gov. Andrew Cuomo to pass the legislation. In June 2018, JCOPE sued Sullivan, alleging that she violated lobbying laws by not registering as a lobbyist before purchasing an ad and banner to promote a bill. 
Sullivan countersued JCOPE in October, stating that she never conducted lobbying work and should not be penalized in the same manner that a professional lobbyist might be. She also argued that the commission's suit was unconstitutional. "The commission's investigation epitomizes government overreach and abuse," Sullivan's suit stated.
Within the past few months, Sullivan has led a fierce attack campaign against JCOPE, taking out billboards targeting JCOPE Chair Michael K. Rozen, leading a protest outside of the committee's Albany office with women dressed in "The Handmaid's Tale" costumes and penning a letter to Cuomo (who helps appoint those on the ethics panel) detailing her situation.
On Thursday, it was revealed that JCOPE would be dropping its case against Sullivan. The ethics panel informed Sullivan of its decision to drop the case in a letter sent to her on Wednesday, which was obtained by the Times Union. 
In the five-page letter JCOPE informed Sullivan that they still believe she was in the wrong and have enough evidence to win a case against her. It's certainly interesting that the ethics panel managed to stack up the evidence against Sullivan within the past year, but it hasn't held a hearing regarding the investigation into Klein until now. 
Former state Sen. Jeff Klein
Two years ago, Erica Vladimer, a former staffer of former state Sen. Jeff Klein's alleged that Klein sexually harassed her while she was still working for him. Vladimir says Klein forcibly kissed her in 2015. Her allegations catalyzed Albany's own #MeToo movement and prompted a JCOPE investigation into his behavior. (Vladimir is now challenging Rep. Carolyn Maloney in the 2020 Democratic primary.) Klein has denied the allegations.
On Thursday, it was discovered that JCOPE will soon hold a hearing as part of its investigation into Klein. The catch? Klein lost his reelection campaign in 2018 and is no longer a member of the state Senate. 
Even if JCOPE substantiated Vladimir's story, would there be any ramifications for Klein, considering he's no longer a member of the legislature under the purview of the Albany watchdog? That remains unclear. And because of the procedures that are dictating this investigation, a final conclusion may not be reached for another six to 12 months. "Investigations take as long as they need to take," Walt McClure, a spokesperson for JCOPE, told Politico New York.
State Assembly Speaker Carl Heastie
On Nov. 14, it was alleged that Cuomo may have been illegally briefed on the possibility of JCOPE voting to investigate the governor's disgraced former aide Joseph Percoco, sometime between January and Oct. 4, according to a Times Union report. This violation of JCOPE's laws came to light following reports that Cuomo reached out to Assembly Speaker Carl Heastie with concerns over how the commission would vote in their January meeting. 
The New York Times revealed on Monday that Heastie's Executive Counsel Howard Vargas reached out to former JCOPE Commissioner Julie A. Garcia, who was appointed by Heastie in October 2018, hours after JCOPE's January meeting concluded, and questioned whether Garcia had voted against Cuomo's interests at the meeting. A spokesman for Heastie told the Times that Vargas acted independently, without direction from the Assembly speaker. 
The day after her call with Vargas, Garcia told JCOPE Executive Director Seth Agata that someone from Heastie's office reached out to her in January and informed her of Cuomo's alleged conversation. Agata filed a complaint with the inspector general, as required by law. 
Garcia was interviewed under oath in February, though neither Cuomo nor Heastie were interviewed. "I expected the I.G. would do a thorough investigation," Garcia told the Times. "It appears I was wrong."
The inspector general's office released the letter concluding its investigation into the matter – which had been sent to JCOPE commissioners in October – to the Times on Wednesday. It stated that "no individual was able to provide firsthand knowledge of any leak or potential perpetrator." Six days after the letter was issued, Garcia resigned.
Both Heastie and Cuomo have denied any wrongdoing. 
On Wednesday, Assembly Speaker Carl Heastie admitted to contacting JCOPE Commissioner Jim Yates – whom he appointed in 2017 – in January, following a reportedly heated discussion with Cuomo regarding the ethics panel. At the Capitol, Heastie explained that he frequently reaches out to Yates because they're friends and that the conversation they had in January had nothing to do with JCOPE. "I have never spoken to Jim Yates or any other appointee about any matter or matters before JCOPE. Jim and I talk all the time," said Heastie.
Robert Freeman
Freeman, the former executive director of the New York Committee on Open Government, a state department that provides guidance on Freedom of Information, Open Meetings and Personal Privacy Protection Laws, was fired from his post in June, after the state inspector general found him guilty of multiple instances of sexual misconduct dating back to 2003. Freeman himself admitted to many of the allegations against him. 
In November, it was discovered that many state officials were already aware of the allegations of sexual misconduct against Freeman and did nothing about it. 
Vladimer told the New York Post that the I.G. contacted her for an interview regarding Freeman during its investigation, as she has alleged that he also acted inappropriately toward her and on one occasion he "grabbed my ass." Interestingly, Vladimer had reported Freeman's inappropriate behavior to JCOPE years ago, though nothing came of her complaint.