Energy & Environment
The latest in New York bird law. Yes, that's a thing.
Lawmakers have stepped up to protect our fine feathered friends.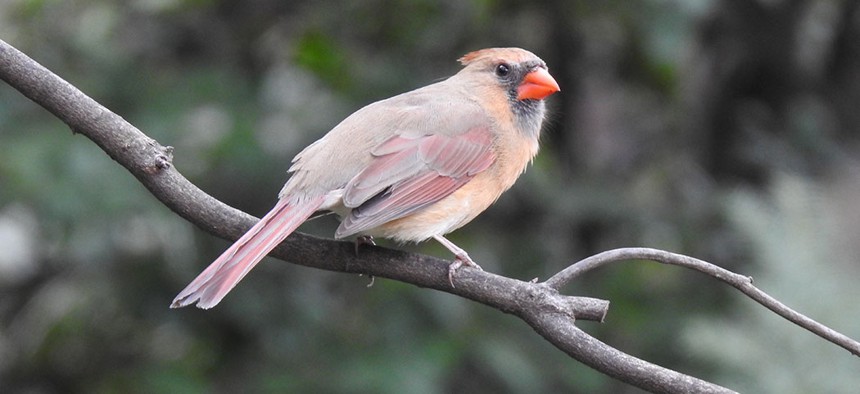 A whole flock of legislation dedicated to helping New York's bird population has taken flight this year – and though not everyone is emu-sed by these new bills, others just can't stop raven about them. 
On Tuesday, the New York City Council passed a bill that will require new building developments be made with materials designed to prevent birds from flying into them. The new law is the result of years' worth of lobbying by bird experts and advocates, The City reports. 
"Every year, hundreds of thousands of birds in New York – including over 100 species that we know of – die brutally and unnecessarily as a result of collisions with reflective or transparent glass buildings," Edita Birnkrant, executive director of New Yorkers for Clean, Livable, and Safe Streets, said at City Hall on Tuesday before the bill's passage. "Birds are a critical part of our city's ecosystem, and for too long we haven't done enough to protect them."
Earlier this year, the city also passed legislation to outlaw the sale of foie gras and bird trafficking – but the city isn't the only place where bird-friendly laws have arisen. State Sen. Brad Hoylman has been working hard to pass a couple of bills focused on protecting the state's birds this past year – though not all have made it past Gov. Andrew Cuomo.
You may be wondering what's up with all of these new bird bills – and the simple answer is that these fragile creatures are in greater need of assistance than ever before. About 90,000 to 230,000 birds in New York City end up dying each year simply from crashing into buildings, according to the New York City Audubon. And it's estimated that two-thirds of North American bird species are facing extinction, among them many species that call New York home. 
Here's everything you need to know about the Empire State's latest bird-related legislation:
Bird-friendly materials bill
The city's new local law, which is expected to go into effect December 2020, will require new buildings (or buildings set to be renovated) to use materials on windows that make them much easier for birds to see, for the first 75 feet of the building – where most collisions happen. 
This can be as simple as using windows with ultraviolet glass that is only visible to birds, or putting simple designs, screens or shades on windows, according to The City. None of these new requirements are expected to seriously impact the design aesthetics of any new buildings, so architects can rest easy. 
The "bird-friendly building council act"
This legislation, sponsored and pushed for by state Sen. Brad Hoylman, sought to create a state council tasked with determining building regulations with birds' safety in mind for all of New York. The bill was vetoed by Gov. Andrew Cuomo on Nov. 20, after the governor said it would be too expensive to pass, though he did call it a "laudatory pursuit."
Harsher penalties for bird trafficking
On Oct. 30, the City Council instituted much more rigid penalties for trappers found guilty of capturing and transporting the city's pigeons for out-of-state shoots. The iconic city birds have been illegally hauled to other states for years, for the sole purpose of being released and shot at organized pigeon shoots.
The flap over the foie gras ban
The City Council also passed a bill to outlaw foie gras on Oct. 30, which will prevent the sale of the controversial French delicacy, beginning in 2022. But since the legislation's passing, duck farmers have been crying fowl.
Last week, the New York Post reported that upstate duck farmers are hoping Cuomo will intervene and prevent the city's new bill from going into effect, claiming that it will severely harm their business. "It's sad to think Mayor de Blasio signed a bill that was based mostly on misinformation and lies about how ducks are raised and processed at our New York facilities," Sergio Saravia, president of La Belle Farms in the Hudson Valley, wrote in a letter penned to Cuomo. 
It's unclear how Cuomo will act regarding this matter, but a spokesperson for the state Department of Agriculture told the Post that it is aware of the letter and will make a decision on how to move forward once a formal request to review the local law has been received.
The birds and bees protection act
This Hoylman-sponsored bill, introduced to the Senate in May, aims to eradicate the sale of pesticides, known as neonics, that are harmful to a variety of pollinators, such as birds and bees. 
The bill is still in the process of being reviewed by the Senate's Environmental Conservation Committee, but environmental advocates, like the Natural Resources Defense Council, are hoping it'll pass and give bees and birds alike a breather.