Marijuana
Fight over marijuana tax revenue ramps up again for budget season
How to spend marijuana money will likely be the most difficult debate during legalization negotiations.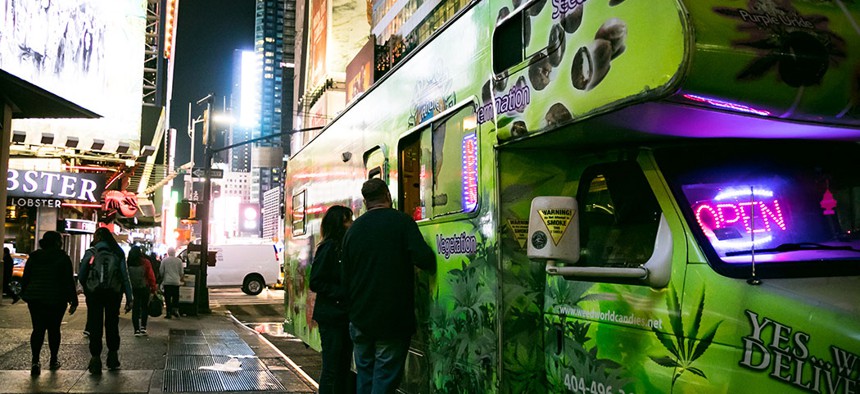 Gov. Andrew Cuomo unveiled his new Cannabis Regulation and Taxation Act as part of his state budget proposal on Tuesday. There are a few notable changes from the version he proposed last year, although much of it remained the same. And one of the major impediments remains the same as well: Cuomo and the Legislature have different ideas about how to spend the proceeds from taxing pot. 
State Sen. Liz Krueger and Assembly Majority Leader Crystal Peoples-Stokes greatly revised their legislation over the course of last session to bring it closer to the framework Cuomo had proposed – even adding an option for counties to prohibit marijuana sales – in the hopes of getting it across the finish line. The legislative bill never came to a vote, thanks to a handful of suburban lawmakers.
Now, Krueger, Peoples-Stokes and Cuomo want to try again, but the question of what to do with the tax revenue from recreational pot – which was a flashpoint last year – hasn't been resolved.
After last year's budget passed without marijuana legalization, the two state legislators introduced new versions of their bill to that closely mirror Cuomo's preferred regulatory framework, including an Office of Cannabis Management, a cannabis advisory board and a similar tax structure as the governor's bill, including an 18% sales tax. Many legalization advocates and progressive lawmakers want a portion of that money to be explicitly earmarked for communities that have been negatively impacted by marijuana criminalization in the past. Since 2017, the Marijuana Regulation and Taxation Act has included language that required a substantial minority of the tax money be reinvested in low-income, minority and other communities that have been disproportionately impacted by marijuana policy.
When Cuomo made his first proposal in last year's budget, it included no specific dollar amounts or percentages set aside for explicit use. He included broad guidelines, such as administrative costs of the recreational marijuana program and investing in public health and safety, but otherwise left the answer to the revenue question open-ended.
End-of-session negotiations led to minor concessions when it came to revenue. Krueger and Peoples-Stokes added an annual $1 million allocation to police across the state to improve drug detection methods and increase road safety. The rest of the (very specific) allocations remained the same, including dollar amounts for research and a percentage for public health education and drug abuse treatment.
Cuomo, for the most part, is sticking to his guns. He appeared to relent slightly, including updated language in the new version of his Cannabis Regulation and Taxation Act that specifies tax revenue could be used for the proposed social equity plan. Otherwise, uses for revenue remained very broad. In a statement provided to City & State, Norman Birenbaum, state director of cannabis programs, said the governor "contemplates funding communities disproportionately impacted by the war on drugs, ... (but) allows for spending decisions to be made on an annual basis" by not adding specific earmarks.
Marijuana legalization advocates aren't happy about Cuomo's continued refusal to make substantial changes to his revenue disbursement plan. Kassandra Frederique, managing director of policy, advocacy and campaigns at the Drug Policy Alliance, said in a statement that while she is happy that the governor is recommitting to marijuana with a social equity plan, she's "disappointed" that he has not committed money to community reinvestment. "Without this necessary component, the governor's proposal will not truly right the wrongs done to communities of color by disproportionate enforcement of marijuana," she said.
Krueger told City & State that she expects the revenue issue to once again drive the debate during the budget season. "I do think that's going to be the big fight, I think that's the big difference between where the Assembly and the Senate are together," Krueger said. "I think on many of the other things, we have blended together and resolved our issues." 
Even so, Krueger said that after seeing the governor's proposal, she and Peoples-Stokes intend to introduce a new version of their own proposal very soon. She previously told City & State that they were working on this version last year, but decided to hold off until they could assess the new gubernatorial proposal. Krueger said it will serve as the legislative starting point for budget negotiations, but that it could pass as standalone legislation thanks additions made for on-the-fence legislators. "I have colleagues who last year were like, 'I don't know, I'm not sure I could support this. Could you do this?'" Krueger said. "And I made it do this and they're like, 'Now you can have my support.'" 
State Sen. Peter Harckham is one such lawmaker who on Thursday announced his conditional support for legalizing recreational marijuana thanks to amendments in the soon-to-be-introduced version of the bill. He specifically cited a new commitment to use 25% of the total marijuana tax revenue for drug treatment, prevention and education. 
Although the revenue question is the biggest outstanding question, there are still a number of differences between Cuomo's proposal and the Legislature's. Notably, the governor seeks to impose more stringent criminal penalties for possessing, selling and growing marijuana illegally. He would also permit someone to carry only up to one ounce of weed or five grams of concentrated herb, like in an oil, whereas the legislative bill would permit up to three ounces and 24 grams, respectively. 
Cuomo also added a new, paid Cannabis Control to which he would appoint the members that would help run the Office of Cannabis Management. He removed his original proposal for an unpaid advisory board, which Krueger and Peoples-Stokes included in their legislation. The change shifts several of the powers originally prescribed to the executive director, such as coming up with rules and regulations, to the Control Board instead.
Michael Sisitzky, lead policy counsel at the New York Civil Liberties Union, said that broadly, the Marijuana Regulation and Taxation Act in the Legislature is more focused on social equity than the governor's Cannabis Regulation. He noted a couple relatively minor differences between the two, including that the Legislature's bill directs judges to consider potential immigration consequences when adjudicating marijuana-related cases under a new legal framework. Sisitzky also pointed out that Cuomo does not make any mention of child welfare and ensuring that parents are not unfairly penalized simply for using or possessing marijuana after legalization. "There is more work that needs to be done in terms of making sure that the equity plans are ready to go Day One, that we're considering the full universe of consequences people have suffered as the result of prohibition and criminalization," Sisitzky said.
Correction: An earlier version of this post misattributed a statement that was actually from Norman Birenbaum, the state director of cannabis programs.