New York State Senate
State Senate reforms voting reforms
Emphasizing unity, but also willingness to revise, Democrats passed automatic voter registration and adjusted early voting implementation.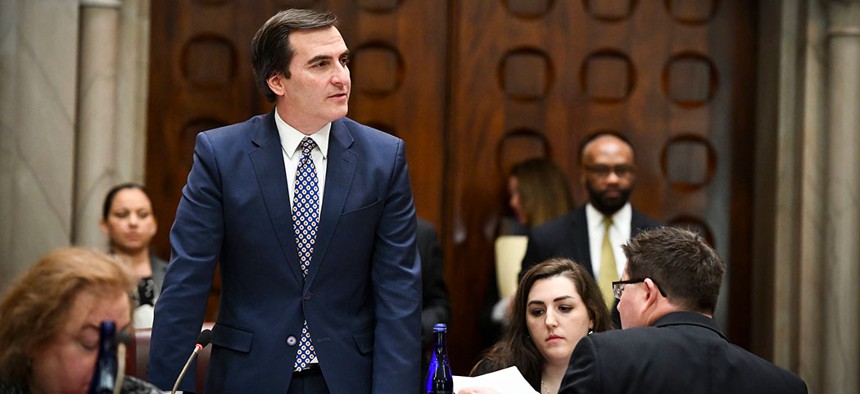 Democrats in the state Senate made a package of voting reforms the first issue they addressed this year, just like in 2019 when they took over the chamber for the first time in a decade. Before passing legislation that would allow for automatic voter registration and various tweaks to the new early voting system, Democrats made a point on Thursday of using the action to show their willingness to improve on high-profile legislation they passed last year. 
"We understand that our work is never done," State Senate Majority Leader Andrea Stewart-Cousins of Westchester," said at a Jan. 9 press conference. "We're not a 'set it and forget it' majority." And, unlike controversial bail reforms and a new system for publicly financed elections, her conference is undoubtedly revising voting reforms. 
The voting reforms that Democrats passed this week were in some ways a redo of last year's efforts to address the issue. They've passed a new version of a bill that will allow automatic voting registration, after a drafting error that would have allowed ineligible residents to register caused them to drop it at the last minute last year. Other bills passed on Thursday were drafted in response to a November public hearing that featured numerous complaints about how early voting had been implemented for the first time weeks before. 
If the state Assembly also passes the voting reforms package in the coming months and Gov. Andrew Cuomo signs the bills into law, at least some of the changes would go into effect in time for the 2020 elections.
Democratic state senators said their top goal for the package as a whole is to increase participation in the democratic process. They say that automatic voter registration aims to add another million voters to 12.7 million people who are already on the rolls. It would not take effect for another two years, unless the state Board of Elections determines that adequate information technology infrastructure exists to implement it. A bill that would require poll sites on college campuses would not take effect until 2022, but seven other bills take effect much faster if they get the blessing of the Assembly and the governor.
Many of the newly approved bills aim to alter the location of early voting sites. One measure would allow counties to deploy pop-up voting sites for periods as short as three days, as opposed to the nine-day periods for fixed polling sites. This would take effect immediately, alongside other changes aimed at increasing the number of polling sites in cities and towns and requiring them to be more accessible by public transportation on Long Island and in Westchester. Schools will no longer be sites for early voting, following complaints that classroom learning had suffered because of their use during the 2019 elections. 
More time will be needed for other changes. This includes a bill that would require that the largest municipality in each county have at least one early voting site would take effect 30 days after becoming law. Municipalities and the state would be able to display messages on highways reminding people to vote, under another proposal that takes 60 days to go into effect. 
The first round of early voting held in 2019 occured during an off-year election with few high-profile races. Just 1.3% of voters in New York City, for example, cast ballots before Election Day. It is hard to determine just how many of those 60,000 people would have skipped voting entirely if early voting had not been available. However, Democratic lawmakers say that the first real test of whether their reforms will substantially improve voter turnout will be the 2020 elections. "We are putting our best foot forward on election reform issues," said State Senate Deputy Majority Leader Michael Gianaris of Queens in a press conference. "Our work is ongoing."
Critics of voting reforms have said that they place too much of a financial burden on local governments that have to implement the changes without additional funding from the state. 
Stewart-Cousins suggested that savings garnered by changes made last year that consolidated state and federal primaries into a single date would allow local governments to pay for early voting. She said the Senate could reexamine the issue at a later time. 
While Democrats touted voting reforms as an issue where they could improve on their past work, Stewart-Cousins signalled on Jan. 9 that's not an attitude that necessarily extends in the near term to other controversial issues. She told reporters Thursday that the state Senate has no plans at present to change a much-criticized new system for publicly financed political campaigns. Though she and other members of the state Senate have said they are open to changing new limits on cash bail that went into effect on Jan. 1, there was no timeline to do so at this point. "We're on day nine," she said. "We are paying attention as it continues to see if there are any necessary tweaks – but again, we're not responding right now." 
Democrats last year passed sweeping changes to state criminal justice laws, including eliminating cash bail for most non-violent felonies and misdemeanors. Proponents said the changes would afford poor defendants, who are overwhelmingly people of color, the same chance to stay out of jail before their trials as higher-income people. Critics have recently seized on news stories highlighting the crimes allegedly committed by people after they were released for earlier charges. 
Divisions over bail reform have proven especially hard to resolve among Democrats in the state Senate. The party's majority in the chamber depends in part on moderate lawmakers from Long Island and the Hudson Valley who have called for changes that would allow judges to evaluate a defendant's "dangerousness" while deciding whether to release them before their trial. That idea is opposed by more liberal lawmaker from New York City like Gianaris, who have said it is too early to consider legislation that would alter the current bail laws. 
Republicans in the state Senate are looking to take political advantage of this situation by attacking Democrats for their emphasis on voting rights in the first week of the session. The release of some criminal defendants who then allegedly committed other offenses underscores the need to resolve concerns over criminal justice reforms early on in the session said state Senate Minority Leader John Flanagan of Long Island, who unsuccessfully tried to repeal bail reform by amending a Democratic voting reform bill. "We're going to hammer this," he told reporters on Jan. 9. "This should be the number one priority … and they're doing election reforms?" 
Powered By
NEXT STORY: Cuomo says gig workers must be "appropriately" classified