Andy Byford
What Andy Byford's resignation means for Cuomo
"Train Daddy's" sudden departure is off-brand for the governor.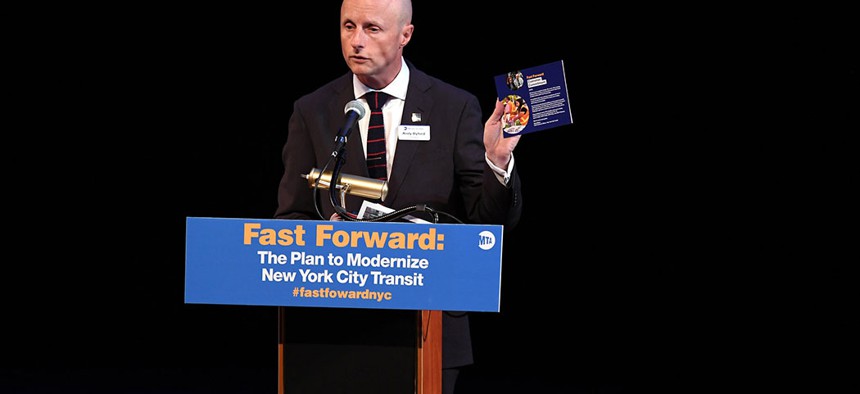 Ever since Gov. Andrew Cuomo coined the phrase "Summer of Hell" in 2017 to describe the declining state of repair inside the New York City subway system, he has made moves to assert his control over the Metropolitan Transportation Authority: declaring a state of emergency, reorganizing the agency and tweaking state law to allow state Budget Director Robert Mujica to serve on the MTA board. 
Taking charge of the MTA means also taking responsibility when things go wrong and, to many, New York City Transit chief Andy Byford's resignation on Thursday is a thing that went badly wrong. The announcement that Byford would resign, following months of speculation, triggered a cascade of Twitter commentary from elected officials representing New York City to the effect that Byford was doing a good job and the governor chased him out of it.
Both Cuomo and Byford had denied reports of conflict between them, some of it was on full public display – like the time Cuomo dismissed Byford as a mere division head while explaining that he was too busy to speak with Byford for months.
An internationally-recognized efforts on transit issues, Byford's was widely viewed as a subway savior upon his appointment in 2018. Since then, he has sped up repairs and travel times while also working to improve the MTA's relationship with commuters. "There's so much he's done in two years that we're now taking for granted," said Lisa Daglian, executive director of the Permanent Citizens Advisory Committee to the MTA. "He's raised the bar and changed people's expectations about what subways and buses can be."
Byford's sudden departure, with so much work on the subways still unfinished, is off-brand for Cuomo, who effectively controls the agency through his appointments, budgetary powers and political influence. He has won three terms as governor with a political brand largely defined by a desire to be seen as a can-do executive who takes a hands-on approach to problems. Yet, media reports of his relationship with Byford also highlight how the governor's management style drove one of the world's most recognized transit experts to leave after two years. 
There are already signs that the next subway crisis could be blamed more specifically on Cuomo as a result. "In the immediate term, Andy Byford's departure will be a reminder of the underlying reality that it is Gov. Cuomo's transit system," said John Raskin, president of the transit advocacy group Riders Alliance. "He's the one who riders are going to hold accountable for whether the subway and the bus actually work."
Cuomo has downplayed the significance of Byford's departure. "Nobody does these jobs for a lifetime," Cuomo told reporters at a Manhattan press conference on Thursday. "He was a great part of the team." 
In the past year, there has been demonstrable progress in improving the subway system. Major incidents and travel delays have declined. Subway speeds are up. A redesign of bus networks is underway and $51 billion in funding has been secured to transform a subway system that still relies on 1930s technology. This has happened due to efforts from both Byford (who oversaw the development of the Fast Forward plan to improve the system) and Cuomo, whose political acumen pushed a congestion pricing plan to pay for repairs through the Legislature last year. 
Cuomo's involvement in efforts to repair the signalling system that directs subway trains, however, appear to have irked Byford. The resignation letter he sent to MTA Chief Operating Officer Mario Pelquin on Thursday, however, referenced how the MTA reorganization had undermined his own leadership. "I have built an excellent team and there are many capable individuals ... who could perform this important, but reduced service delivery role," states the letter. Politico reported that a key catalyst for Byford to resign was a meeting last week that the governor held on subway speed. High-level MTA executives were invited to the meeting, but no one from Byford's own division was in attendance – even though the topic was well within Byford's purview. 
While the governor has understated his influence over the MTA at times, his efforts to avoid a complete shutdown of the L-train not only show that he can bend the agency to his will, but also that the public can benefit from it. A governor becoming involved in an issue like subway repairs – which affects millions of his constituents in the five boroughs – can be good, according to Rachel Fauss, a senior analyst at the public watchdog group Reinvent Albany. But some of Cuomo's involvement in the MTA can be counterproductive, she said. "The issue is that fine line between assuming ownership and accountability of the agency, but not micromanaging it, and I think that clearly the balance wasn't right," Fauss said. "I think that the issue has been top-down control (and) needing to let the professionals do their jobs."
Some politicians see his resignation as an opportunity for them to pursue their own political goals like transferring control of the subway system to the city, which gave it up to the state decades ago. "It would be much easier to retain top talent like Andy Byford under municipal control," New York City Council Speaker Corey Johnson, an expected 2021 mayoral candidate, said in a tweet on Thursday. "It's time for municipal control now! Maybe we can bring Andy back." Assemblyman Robert Carroll of Brooklyn told City & State that he would introduce legislation to do just that in the coming days.
Only time will tell whether the MTA can successfully improve subway performance without Byford. One thing though appears more certain than ever, according to Nicole Gelinas, a senior fellow at the Manhattan Institute. "It's a sign that trying to be independent of the governor is probably not going to work very well," she said. "And that, coupled with the fact that we're still missing some city board members on the MTA board, is certainly not very good for checks and balances."