New York City
4 headaches the new taxi chief will have to deal with
There's a whole stack of issues waiting for TLC Commissioner Aloysee Heredia Jarmoszuk.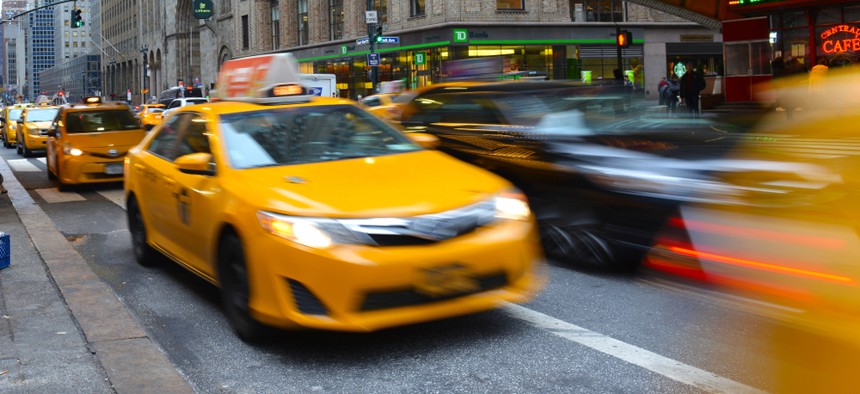 After nearly a year, the New York City Taxi & Limousine Commission has a new, permanent head honcho. And while Aloysee Heredia Jarmoszuk is still in the meeting-and-greeting first days of her new job, a stack of weighty and high-profile issues is waiting on her desk. 
Since former TLC Commissioner Meera Joshi resigned last March, the taxicab, for-hire vehicle, commuter van and paratransit vehicle regulating agency has had an eventful year, with new rules passed to regulate Uber and Lyft, and an explosive report revealing the depths and underlying causes of the taxi medallion crisis. Many of those issues, like the regulation of app-based for-hire vehicles, were lingering challenges long before Joshi's departure, while others, like the taxi medallion crisis, have grown in prominence in recent months. 
Mayor Bill de Blasio originally nominated Jeffrey Roth to take over for Joshi, but a contentious City Council hearing – during which council members accused Roth of avoiding questions about the taxi crisis – resulted in de Blasio withdrawing Roth's name. Since Joshi's departure, the TLC's deputy commissioner for policy and external affairs, Bill Heinzen, has served as acting commissioner, representing the commission during City Council hearings on for-hire vehicle advertising and a cap on cruising for passengers on ride-hail vehicles. 
Though she was just confirmed by the City Council last week, Heredia Jarmoszuk will have to contend with all these issues and more, implementing regulations that affect the lives of drivers and riders alike. City & State narrowed down four of the biggest challenges for the TLC's new commissioner.
The taxi medallion crisis
The yellow cab industry has been in decline for years, as demonstrated by the plummeting value of taxi medallions and the rise of app-based ride-hail services like Uber and Lyft. But an investigation in The New York Times brought cab drivers' woes into sharper focus last May, with reporting detailing predatory lending practices to medallion owners who drive their own cabs.
Since then, a task force was convened to recommend reforms to help medallion owners out of debt and help taxis compete with app-based services. A number of the recommendations included in the task force's report were directed at the TLC, and include suggestions like creating a universal app for taxi hailing. While the recommendations in the report were just that – recommendations – following up and working with City Hall and the City Council to craft policy changes is likely to be one of Heredia Jarmoszuk's top priorities. 
At her City Council hearing, Heredia Jarmoszuk suggested as much. "The taxi industry is currently in a state of crisis," she said. "The collapse of the medallion market sent shockwaves across the city. Many drivers are under extreme economic stress, with tragic results." She then named taxi and for-hire vehicle drivers who have taken their own lives in recent years. "I want to promise you that, if confirmed, you will have an ally in the TLC," she added, addressing drivers currently struggling under economic stress.
Regulating app-based ride-hail
Ever since Uber entered the market in 2011, the TLC, City Hall and other elected officials have been struggling to figure out how to regulate the booming ride-hail industry and its giants, Uber and Lyft. In the past few years, the city has made a few large strides to limit the companies' growth and effects on congestion, including a one-year moratorium on new for-hire vehicles and a minimum pay rule for drivers.
Last spring, de Blasio announced that he would not only extend the moratorium on new for-hire vehicle licenses for another year, but institute a cap on the amount of time that drivers can cruise without passengers south of 96th Street in Manhattan. The TLC passed those new rules last August, but plans hit a snag when ride-hail companies sued to block the cruising cap, and a state judge ruled in the companies' favor, declaring the cap "arbitrary and capricious." As some ride-hail companies continue to push back against existing regulations and the city works to implement new ones, a good deal of Heredia Jarmoszuk's time at the TLC will surely be taken up with the Ubers, Lyfts and Vias of New York.
Discrimination and ride refusal
Heredia Jarmoszuk is only in her first days on the job, but already, she's out in front on an important issue to the TLC: discrimination and ride refusal. The TLC unveiled a new public awareness campaign this week to combat illegal refusals of service in taxis and for-hire vehicles and encourage riders to report these instances to the TLC via 311.
The campaign highlights the fact that last year, the TLC received 2,748 complaints about service refusals, and it's often people of color and disabled people being refused. "Transportation is a fundamental right for all New Yorkers, especially when it's provided by someone professionally licensed by our city to provide this service," Heredia Jarmoszuk said in a statement. 
Notably, the campaign is being released at the same time as fears about the new coronavirus are reportedly leading some drivers to discriminate against Chinese passengers by refusing rides. "We have no confirmed cases of the coronavirus in New York City," TLC's Deputy Commissioner of Public Affairs Allan Fromberg told the New York Post. "Of greater concern would be any attempt to sow bigotry and fear in the name of safety, which will not be tolerated in New York City."
A shortage of accessible for-hire vehicles
In addition to the issue of illegal ride refusals, disabled passengers have faced a shortage of accessible vehicles, and Heredia Jarmoszuk highlighted accessibility as a priority during her City Council hearing. The TLC has existing initiatives, like the Taxi Improvement Fund, which supports accessibility through payments to taxi drivers who use wheelchair-accessible vehicles. Accessible for-hire vehicles have also been something of a white whale for the TLC, though there are now rules holding for-hire vehicle companies to wait-time standards for passengers hailing wheelchair-accessible vehicles.
Uber, Lyft and Via told City & State in August that they met the first benchmark last June for the new rule – specifically, the requirement that 60% of wheelchair users be picked up within 15 minutes, and 90% within 30 minutes. But with incremental benchmarks coming up – including that by this coming June, 80% of requested trips be serviced within 15 minutes and 90% within 30 minutes – Heredia Jarmoszuk and the rest of the TLC must continue to keep their eyes on the companies' progress. 
Powered By
NEXT STORY: Airbnb in settlement talks with NYC over data lawsuit