New York State
A taxing strategy for moderate Senate Democrats
Activists, union leaders and fellow lawmakers are using carrots and sticks in pursuit of tax increases on the wealthy.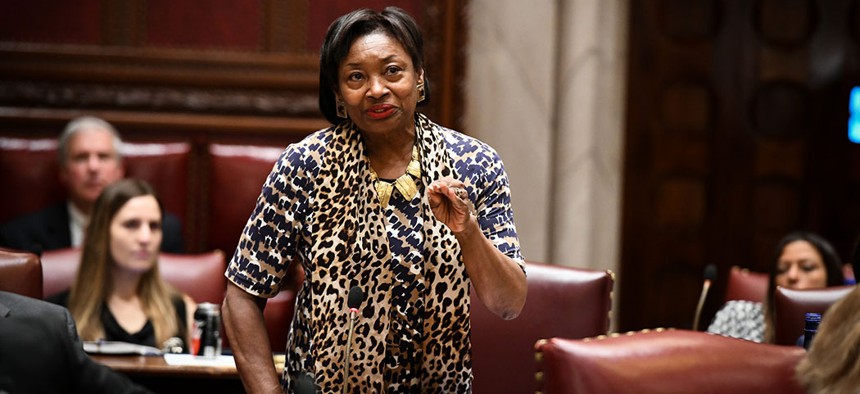 Progressive activists, as they do every year, are calling for new state taxes on the rich, but this year they have some new arguments about why it would politically benefit suburban Democratic senators worried about their 2020 reelection campaigns.
There are two basic ways to approach the state's $6.1 billion budget deficit. Gov. Andrew Cuomo and state Senate Majority Leader Andrea Stewart-Cousins want to avoid tax hikes. Assembly Speaker Carl Heastie wants to increase tax revenues. Stuck in between are swing district Democratic senators who the party needs to protect to keep its grip over the state Legislature. Facing calls for an array of new taxes – on the ultra-wealthy, pied-à-terres, real estate investors, luxury yachts and jets, stock transfers and corporate stock buybacks – Democratic senators from Long Island have largely avoided taking a stand. On Feb. 19, activists gathered outside the district offices of several Long Island Democrats who flipped state Senate seats in recent years, aiming to convince them that raising taxes in an election year is in their political interests.
"If they do want to get reelected, they're going to need to bring home some money for schools," said Charles Khan, organizing director for the Strong Economy For All Coalition, an umbrella group favoring tax increases. "They're going to need to make sure people's health care is not being cut. If they want to do that, then they are going to have to tax the (top) 0.1% in New York."
Efforts by activists, lawmakers and union leaders to raise taxes on the wealthy is nothing new, but they do have some new tactics and threats this budget season. The $6.1 billion budget deficit injects more urgency into the yearslong effort to raise taxes on the wealthiest New Yorkers. New polling suggests that it might even be more popular with voters – including suburbanites – than centrist Democrats fear. Activists are also criticizing Senate Democrats for making bail reform a top priority at the potential cost of raising more tax revenues to fund public schools, health care and other services.
Unions are playing a key role in placing a political wedge between Cuomo – who is aiming to reduce Medicaid spending by $2.5 billion – and the state Senate. United Federation of Teachers President Michael Mulgrew told state lawmakers at a Manhattan meeting earlier this month that the union would support lawmakers who held the line against Cuomo. The intended audience for this promise was not limited to the New York City lawmakers who were present that day, according to Assembly Health Committee Chairman Richard Gottfried. "I think the legislators in the room were not concerned about their own reelections, but whether some of their more moderate colleagues might be worried," he told City & State.
But those fears could be misplaced. A poll of New York registered voters commissioned by the United Federation of Teachers and conducted by Hart Research Associates, which has worked for major news outlets like NBC and The Wall Street Journal, found that more than 90% of respondents supported higher taxes on the wealthy, with negligible differences between New York City, its suburbs and upstate. "For those of you who are afraid about raising taxes on the wealthy right now and have been reluctant to do so, the poll indicated that 72% of New Yorkers would be more likely to vote for you in fact voted for these measures," Ron Deutsch, executive director of the Fiscal Policy Institute, told lawmakers at a mid-February legislative budget hearing on taxes. New York State United Teachers meanwhile hit the airwaves the next day with a new ad campaign. The state teachers union is supplementing the efforts to sway lawmakers to raise taxes on the wealthy.
While support for keeping income taxes and property taxes low can help win votes in swing districts in the Hudson Valley and Long Island, that does not mean that suburban voters categorically oppose tax increases, according to Lawrence Levy, executive dean of Hofstra University's National Center for Suburban Studies. "The fewer individuals the tax affects, the more likely it is to have a chance with suburbanites," he said. "Anybody who believes that suburbanites in New York, and even more so on Long Island, are anti-tax hasn't been paying attention to school budget elections. They are willing to consider whether the proposal will deliver value and be aligned with their values."
There are a few signs that some suburban senators are also open to hearing arguments in favor of raising taxes on the wealthy in one form or another. Activists say they spotted Long Island state Sens. James Gaughran and John Brooks at a Feb. 13 briefing held by the Strong Economy For All Coalition in Albany. There are also tax proposals coming from lawmakers like state Sen. Jen Metzger of the Hudson Valley, who is leading efforts in the chamber to impose a new tax on stock buybacks by corporations.
But political alliances can fray when one side does not get what it wants from another. Progressive groups backed the Democratic takeover of the state Senate in 2018 and celebrated the legislation it passed on issues like voting rights, rent reforms and climate change. But such support is evidently contingent on Democratic senators getting on board with raising taxes on the wealthy while not also making a deal on bail reform. "My fear is that legislators who are looking for rollbacks on bail might get pitted against education and (that would) come at some cost to schools," said Jasmine Gripper, executive director of the Alliance for Quality Education, an advocacy group pushing for billions in new funding for public schools per a 2006 state court decision..
Such arguments have yet to convince Long Island Democrats. A spokesman for state Sen. Todd Kaminsky said he remains opposed to raising taxes. Other members of the so-called Long Island Six, the half-dozen Democratic senators from the island, are laying low on the issue until the Senate releases its own funding proposal in the coming weeks. But activists are continuing to pressure swing district Democrats, including through new ads on Facebook.
If Democrats were to raise billions of dollars through new taxes on the wealthy, they could theoretically have enough money to plug the budget deficit while also increasing spending on public schools and health care enough to placate their critics on the political left. But this would require Cuomo and Stewart-Cousins to give ground on an issue that they have been firm on thus far this year.
There could be some wiggle room for them as budget negotiations get underway among Cuomo, Heastie and Stewart-Cousins. The governor has previously supported new levies on pied-à-terres and hedge fund managers. "We would have to review the specifics," Cuomo spokesman Rich Azzopardi said about the governor's support for such proposals moving forward. Stewart-Cousins meanwhile has said tax increases are not the "first fallback" position for her conference. But taxes targeting billionaires would not exactly violate her stated commitment to protecting "middle-class and low-income New Yorkers."
Fiscal conservatives have warned that any attempt to raise taxes on the wealthy could hurt the state's bottom line. The top 1% of income tax filers paid 37% of the state's income taxes, according to research by the Citizens Budget Commission. The state is more dependent than ever on taxes from a few dozen billionaires at the very top, and if just a few of them move out of state, then it could make a big difference in the state's revenues, fiscal watchdogs warned.
Balancing the budget ultimately comes down to something more than dollars and cents. Senate Democrats worry that backing increased taxes on the wealthy could hurt their hold on swing districts in the chamber, which would in turn jeopardize progressives' ability to get bills through the state Legislature. But activists on the political left are challenging that assumption this year by pushing the idea that supporting higher taxes on the wealthy is to the political advantage of Democratic lawmakers. "Show me the money," Deutsch said. "This is the year the Legislature has to get a spine."
An earlier version of this article misspelled the name of Charles Khan and mischaracterized a 2006 state court decision.