New York City
Can legalizing marijuana help New York communities heal?
Advocates say the state has the chance to be a leader on social equity.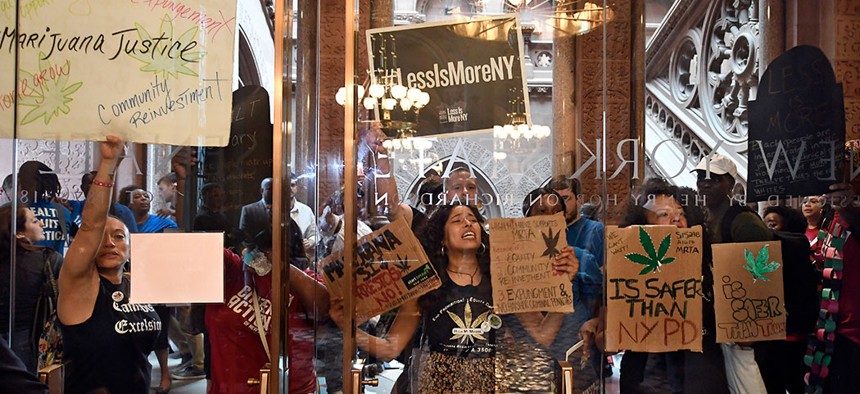 As New York moves closer to legalizing recreational marijuana, social justice advocates are fighting to make sure that minority communities where people have been disproportionately incarcerated over the drug would be able to benefit from a newly legal industry.
Activists are hoping to include "social equity" provisions in recreational pot legislation. Such provisions would lower barriers to enter the marijuana industry for those who have been harmed by marijuana criminalization, reinvest in affected communities and expunge the criminal records of those convicted of marijuana-related crimes while releasing those currently serving time in prison. 
However, there is no one program or set of policies that activists can point to as the ideal social equity model, which has left many states trying different systems to see what works. And New York is no different, as it hashes out the broad strokes of its own plan. With the state poised to legalize marijuana with a strong focus on equity from the outset, the Empire State has the opportunity to become a nation-leading example for other states to follow.
Although marijuana arrests have decreased in recent years, black and Latino men are still getting arrested and ticketed at much higher rates – at least eight times the rate in New York City – than their white counterparts. Meanwhile, white and black communities use marijuana at about the same rates. And it's not just in the city – research has shown that counties across the state have similar racial disparities in marijuana arrests. These disparities drove the state to enact legislation late in the 2019 session to further decriminalize marijuana possession and expunge past convictions as a sort of stopgap measure, since full recreational marijuana legalization failed to pass.
Minority Cannabis Business Association President Jason Ortiz, a Connecticut organizer and leader among marijuana social justice activists, said that people who have been hurt by marijuana criminalization can benefit under a new legal framework. This means that people who have been arrested, or had a family member arrested, for marijuana-related crimes ideally would be at the front of the line to get licenses or jobs in a legal marijuana market under a social equity program, Ortiz said.
But other criteria for who would qualify as a "social equity applicant" can vary depending on who you talk to or what state you're in. For example, some activists want social equity applicants to include those who have never been arrested, but were previously part of the illicit market. Some states include criteria like poverty level and geography when vetting people applying for licenses as part of a social equity program.
Gov. Andrew Cuomo defined a social equity applicant a little more narrowly in his 2021 budget proposal, where he laid out his plan for legalizing recreational marijuana. He added to Ortiz's definition to require that the person also be a member of a community determined to be disproportionately impacted by marijuana criminalization and earn less than 80% of the area median income. The proposal includes language stating that these social equity applicants, as well as minority- and women-owned businesses, and low-income farmers, would receive prioritization over other license applicants. The Marijuana Regulation and Taxation Act, introduced by state Sen. Liz Krueger and Assembly Majority Leader Crystal Peoples-Stokes, offers similar guidelines as part of the proposed social and economic equity plan in the bill.
These considerations were notably not a part of the state's medical marijuana program, which was almost entirely dominated by large, multistate pot companies largely run by white men from outside the state. Only one company, New York-based Etain Health, qualifies as a minority- or women-owned business under state law. These massive companies will likely benefit from their existing footholds in New York when attempting to enter the recreational market.
Advocates want a detailed social justice plan to be put in place before licenses are issued and businesses open. Jessica Gonzalez, general counsel for Minorities for Medical Marijuana, said this is essential to any social equity program because prioritizing social equity applicants means little if they don't have the resources to apply for a license. She pointed to Illinois, where despite having a social equity program, there were few low-income or minority applicants during the first round of licensing. It opened too quickly, benefiting established companies and rich entrepreneurs who knew how to navigate the complicated process. "Even the timelines can be prohibitive," Gonzalez said.
Providing low- or no-interest loans is an important part to getting social equity and other disadvantaged business owners up to speed, but so are legal services to navigate a complicated application process, training programs for potential entrepreneurs and incubator programs to continue assistance after a license has been granted. "Some states have said, 'We're going to give out grants, we're going to give out loans,'" Gonzalez said. "You cannot give out money to folks who have never had money. So you have to give them a fighting chance." 
In New York, both major proposals from the governor and the Legislature include a mandate that the state create a social and economic equity plan with guidelines that appear to include many of the components that advocates want, such as loans, business training, incentives for large companies to incorporate social justice into their business plans, and, to varying degrees, reinvestment of tax money into communities that have been hurt by marijuana criminal enforcement. However, neither contain a specific timeline for when the program would be implemented or how quickly license applications would be accepted after the bill becomes law. According to advocates, New York could potentially be a leader among states with legal recreational marijuana, as it would be one of the first to not just have a statewide equity program, but to include it from the outset of legalization. Few states have statewide social equity programs; Massachusetts became the first in 2018, two years after a statewide referendum legalizing pot in 2016. Illinois followed suit last year when it included social equity provisions in its legalization legislation that was signed by the governor.
While New York has solid guidelines in its proposals, it would still be up to the proposed Office of Cannabis Management – which would be created at the same time as legalization – to determine the details of and implement a social and economic equity plan. So in some ways, the state would still follow the proud tradition of other states trying to figure out the finer points of how equity should work after legalization.
According to advocates, no one has quite gotten it right yet. Every experiment has been a learning experience for the rest of the country. The only program so far where equity applicants have actually opened businesses is in Oakland, California, years after the program was established. Illinois dedicated what activists consider unprecedented financial resources to fund its equity initiatives. That state also included a controversial provision that would encourage larger businesses to hire social equity employees – if the company proves it hired such employees, it would be considered a social equity applicant itself and gain the benefits that come with the designation. In Illinois, that means bonus points in a grading system to determine who receives a license. Massachusetts, the first with a statewide equity program, took a novel approach by mandating all on-site consumption and delivery licenses be awarded to social equity applicants. Boston implemented its own program that established a 1-to-1 ratio of social equity and nonsocial equity licenses issued at all levels of the distribution chain. However, the relative successes of these programs still need to be determined, as there is little centralized data collection and many of these programs are still too new for their impacts to be understood. 
Imani Dawson, executive director of the Cannabis Education Advocacy Symposium and Expo, said that the Krueger and Peoples-Stokes bill, known as the MRTA, could be groundbreaking and set a precedent for other states to follow. "Because it is centered on marijuana justice and really creating an equitable industry for everyone, for me, it is sort of the standard," Dawson said. "And my hope is that the governor will adopt the MRTA as the standard." 
And though the governor's proposal shares many similarities with the MRTA when it comes to social and economic equity, the bills differ on how to use tax revenue collected from marijuana sales. The MRTA sets aside a significant portion of that money for community reinvestment in its social equity program, including grants to support job placement, adult education and housing initiatives. Cuomo's proposal contains no specific earmarks, but includes language that some money will be used for community reinvestment grants. That disparity will likely fuel debate in the coming months, and was a large part of why marijuana legalization failed to pass last year. But if the governor and the state Legislature can agree on a compromise – and that's a big if, since neither side seems inclined to budge – New York can be in Cuomo's favorite position: a national leader on progressive policy.