Criminal justice
Why the new bail law was always destined for changes
Apparent contradictions in bail reform backed Democrats into corner.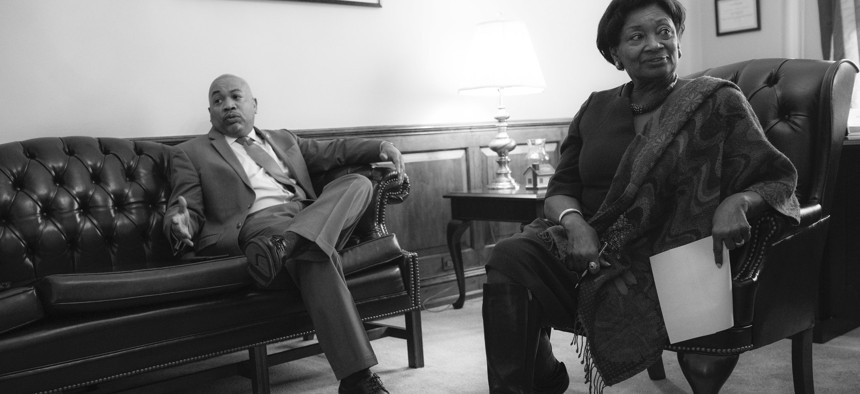 While changes to the state's bail laws have only been in effect for less than two months, criminal justice reform proponents have been on the defensive against attacks from political opponents and sensational tabloid stories. Those calling for rollbacks to the bail law have plenty of ammunition: local newspapers have churned out story after story of defendants in New York City being released without bail despite long criminal records and people being arrested again after they were released before trial.
It has led to renewed calls to give judges the discretion to consider a defendant's perceived dangerousness or risk when determining pretrial conditions. A new proposal to overhaul the law from state Senate Majority Leader Andrea Stewart-Cousins would eliminate cash bail and give judges more discretion to consider the potential risk a defendant poses when deciding whether to hold the person in jail before trial.
In order to combat the negative press, advocates have begun fact-checking the newspapers as well as statements from prosecutors, judges and law enforcement officials.
Ensuring everyone understands the bail law and its actual limits is critical for Democratic lawmakers and criminal justice reform advocates. But doing so also puts bail reform advocates in the odd position of arguing in favor of keeping some individuals in jail, which would seem to concede their opponent's view that some people should be kept in jail before standing trial in order to protect the public.
Some lawmakers have followed that approach into a rhetorical trap, by pointing out ways high-profile defendants could have been held or given bail as a defense against claims that prosecutors' hands were tied by the new law. 
Assembly Speaker Carl Heastie talked about the case of a serial bank robber in New York City who was released after being charged with another bank robbery despite being on parole. The new arrest would have constituted a parole violation, Heastie said, which made the person eligible for bail, even with the new reforms. Prosecutors could have opted for stricter pretrial conditions, but chose to release the defendant.
Heastie and state Sen. Jessica Ramos have suggested that some prosecutors are undercharging cases, thus precluding the possibility of bail in cases where the evidence would support higher, bail-eligible charges. "I'm tired of the media cherry-picking stories where judges have undercharged people and let them go," Ramos said at a recent criminal justice reform rally in Albany.
This is a far cry from the concerns that some Democrats expressed at the end of 2019 that prosecutors would begin overcharging in order to continue setting bail. "People should be charged with the appropriate charges," Ramos later told City & State, clarifying that she is referring only to a handful of cases covered in the media where prosecutors could have sought different charges and set bail for a defendant, so it shouldn't be seen as evidence of a flaw in the new law. Ramos added that she is not suggesting that prosecutors should begin seeking higher charges, and she is not advocating for that.
Marie Ndiaye, supervising attorney of the Decarceration Project at The Legal Aid Society, offered the case of Eugene Webb as an example of an undercharged defendant who made headlines. Webb was released after being charged with misdemeanor assault after allegedly hitting a woman so hard he knocked out two of her teeth. Ndiaye said that the assault as described was obviously severe enough for prosecutors to charge Webb with a bailable felony, rather than a nonbailable misdemeanor. "We have seen some undercharging, but I'm never going to go out there and say you should be charging them with something else," Ndiaye said. Like Ramos, she said she is only trying to correct misinformation in the press, which Ndiaye said often originates from prosecutors and judges.
Manhattan Institute fellow Rafael Mangual pointed to the list of offenses made bail-eligible – including most violent felonies – as proof that Democrats implicitly conceded when they drafted the legislation that dangerousness should be considered. "The fact that lawmakers carved out violent felony charges from the reform undercuts (Democrats') defense of the law," Mangual said. "The carveout represents a tacit recognition of the fact that defendants' dangerousness matters." Mangual also argued that pointing to a defendant who could have been kept in jail under a more serious charge also undermines the notion that there is no public safety risk to releasing more defendants.
A proposal like the one from Stewart-Cousins is one of the only ways out of the contradictions in the current bail law, which is also declining in popularity among New York voters. It ends the purported economic injustices of bail, which still exist under the new law for those who do get cash bail, while making an explicit acknowledgement about dangerousness that has been at the root of a lot of recent criticisms. New York is unusual in that it does not allow judges to assess dangerousness when determining pretrial conditions.
Criminal justice reform advocates, however, have argued that adding that discretion would allow judges to rely on racist biases when determining who should be locked up before trial, continuing the disproportionate jailing of poor minorities seen under the old bail system. 
Spokespeople for Heastie and Stewart-Cousins did not return a request for comment about how the specific list of bailable offenses was decided upon. Ramos, who was not directly involved in the negotiations that developed the list of bail-eligible offenses, suggested that the new law is not perfect. "It's not my bill, I voted for what I thought was the best possible bill because of where we were," Ramos told City & State before Stewart-Cousins' overhaul proposal was made public. "And I think that it has gotten us to a place that has been good for many people, but created some confusion."
That confusion Ramos has tried to combat helped lead to Stewart-Cousins' proposed fixes, which was met with immediate vitriol from some left-wing activists: VOCAL-NY community leader Roger Clark said it "gives (judges) a license to discriminate and lock up more black people in jail." Though Stewart-Cousins argues that the majority of people would still be automatically released and that the judicial discretion would follow "strict guidelines," it still makes explicit what had been implicit in the current law: dangerousness and risk play a role in pretrial detention and bail.
Powered By
NEXT STORY: James loses bid to block Sprint/T-Mobile merger