Andrew Cuomo
Cuomo's timing with the state comptroller
DiNapoli's state financial update could put lawmakers on the spot.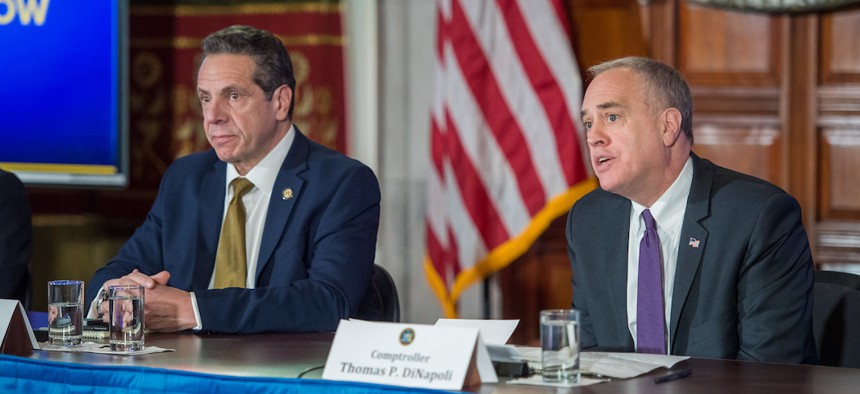 Lawmakers have to release with their one-house budgets right at about the same time that the state Comptroller Thomas DiNapoli is expected to provide an update on how coronavirus is affecting state finances, per a request made by the governor yesterday. 
It's hardly a coincidence that Cuomo waited until Tuesday to ask DiNapoli for his take on state finances, according E.J. McMahon of the Empire Center for Public Policy. "Asking the comptroller to weigh in now is a timely and crafty political diversion on Cuomo's part," McMahan argued in a blog post. The comptroller has a week to get back to the governor on how the coronavirus affects revenues and spending – just in time for when the legislative houses release their one-house budgets. Assuming DiNapoli recommends that the state limit spending, the governor will have some help swatting away lawmakers' requests for funding and tax increases on the wealthy. "(It's) Cuomo's way of saying "don't just take my word for it – DiNapoli agrees we need to be more cautious," McMahon added. 
Comments DiNapoli made yesterday back up such reasoning. "It's pretty obvious there are significant risks now to the economy and certainly state revenue," DiNapoli said, according to The Wall Street Journal. The comptroller also discussed the issue last night on Capital Tonight. "I'm sure there will be a reassessment and a balanced approach," Stewart-Cousins said Wednesday when asked how she expects the comptroller's findings to affect her own conference's upcoming budget proposal.
Senators are now discussing today how coronavirus will affect their own fiscal proposals, state Senate Education Chair Shelley Mayer told City & State Wednesday morning. Lawmakers in both houses are expected to release one-house budget proposals next week, but they will have to do that without a full understanding of the effect that the virus will have on the state's bottom line. Similar discussions have not happened yet in the other chamber, according to Assembly Education Chair Michael Benedetto. "I have no idea how this will affect the one-house," he said. "We have not discussed the implications as yet.