Infrastructure
De Blasio is worried about NYC's supply chain, should you be?
Some experts say sick drivers could cause shortages, but others say the system could adapt.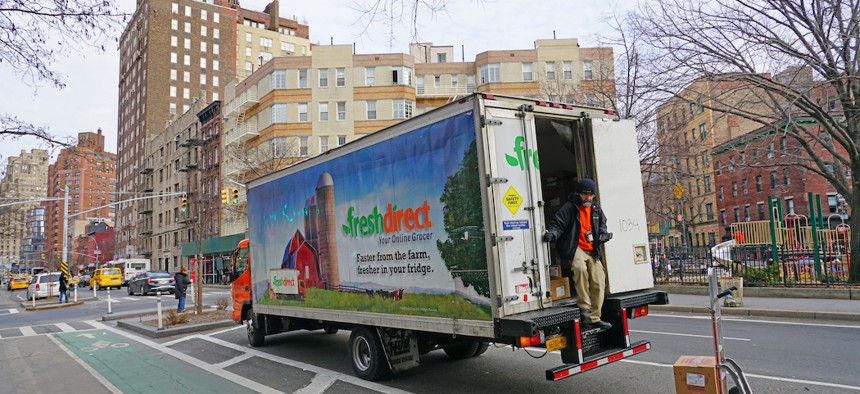 Mayor Bill de Blasio raised eyebrows when he told MSNBC on March 18 that "we don't know what the future of our supply chain will look like." The mayor didn't elaborate on what he meant by that, but he went on to talk about his fears that many New Yorkers who can't work during the new coronavirus outbreak won't have money for food or other necessities if major federal help is not forthcoming. City & State reached out to the mayor's office to ask for more details about the mayor's concerns, but we have not received a statement as of press time. 
De Blasio has mentioned potential future supply chain disruptions in other interviews as well, so it's clearly a major concern in his mind. What might the mayor be worried about?
A supply chain is all the people and processes that transform raw materials into products and transport those products to the consumer. A supply chain can be as short and simple as growing a carrot in your backyard, or it can span multiple continents. All else being equal, the longer and more complicated a supply chain is, the more vulnerable it is to disruptions. For example, if you wanted to buy a product that normally is manufactured in Wuhan, Hubei Province in China, it might have recently experienced a supply chain disruption due to the COVID-19 outbreak. 
The dire shortage of masks in New York City hospitals is due to multifaceted supply-chain problems. Most of our masks are made in China, which has been keeping the masks to meet its needs at home. With the new coronavirus outbreak seemingly contained in China now, the country is once again ramping up production and export, but the U.S. is competing with many other pandemic-stricken countries to buy the masks. 
The anxiety that fueled the recent panic-buying of products such as hand sanitizer, canned foods and toilet paper is, at bottom, anxiety about the integrity of the supply chain. As the coronavirus outbreak accelerates, will we still be able to get food, medicine, and personal protective equipment? 
If you've gone shopping for toilet paper, hand sanitizer, or disinfecting wipes in New York City lately, you have encountered bare shelves. However, the fact that you can't get hand sanitizer is not a sign that the supply chain is faltering. The immediate culprits, says Hofstra geography professor and supply chain expert Jean-Paul Rodrigue, are people stockpiling those products. The globalized capitalist system is still perfectly capable of supplying a normal amount of toilet paper to every U.S. consumer. The problem arises when some shoppers hoard far more than they need, depleting supplies for everyone else until the next shipment comes in.
Manufacturers are ramping up production of high-demand items, but they're hitting a bottleneck at the warehouse level. "Getting the product out to the customers is extremely difficult because you can only fit so many people in the warehouse" said Steven Vairma, international vice president of the International Brotherhood of Teamsters and the director of the union's warehouse division.
Truckers and warehouse workers in the grocery sector "are being burdened with a tremendous workload" due to panic-buying, Vairma said.
Every expert interviewed for this article agreed that, as of this moment, the United States has plenty of food and a healthy supply chain to bring it to consumers. 
The immediate problem, Rodrigue explains, is that the panic buyers are throwing off the carefully calibrated models of consumer demand that make the whole system run smoothly. Normally a grocer knows how many steaks she's likely to sell on a Thursday, or how many extra bottles of water she's going to need if the temperature rises by 5 degrees. Panic buyers throw off these calculations. 
The New York City area is especially vulnerable to distribution shocks because its real estate is unusually expensive and its stores are smaller. A suburban supermarket might have inventory in the back room to replenish shelves, but in New York, stores may not even have a back room – products often go straight from the truck to the shelf. If someone buys 10 packs of toilet paper from a bodega, everyone else has to wait for the next delivery. 
Social distancing is already causing major disruptions in the economy. Truck drivers who supplied school cafeterias, bars, and restaurants are facing layoffs, but Rodrigue is confident that there is enough flexibility in the system to rehire those drivers to deliver more groceries. Vairma said his union is working on a program to shift drivers from supplying food to schools and other shuttered institutions to supplying beleaguered grocery stores. 
The overwhelming majority of goods destined for New York City arrive by truck, including most of the city's food and 99% of its pharmaceuticals, according to Purushottam Meena, associate professor of supply chain and data analytics at the New York Institute of Technology. 
One reason New York City is so dependent on trucks is that there's no freight rail crossing the Hudson anywhere near the city. Rep. Jerry Nadler has been lobbying unsuccessfully for decades to build a freight rail connection between New Jersey and Brooklyn. Long Island and Westchester are also separated from the rest of the country by the Hudson River, so they share the city's dependence on trucking. 
Experts agreed that the health of the trucking workforce is critical to the functioning of the supply chain. The system only works as long as there are enough qualified truck drivers to move products. "We are designated as essential suppliers and our people are doing what they need to do to get it done," Vairma said.
The supply chain is in good shape right now, but the situation could change dramatically if large numbers of truck drivers start missing work due to the coronavirus, caregiving responsibilities or quarantine. The health of truck drivers is a critical vulnerability in New York's supply chain. Rodrigue points out that the solitary working conditions of truck drivers reduce their risk of infection, and companies are taking steps to further insulate them from human contact, but in a pandemic, they could still get infected. 
We don't know what percentage of the population will ultimately contract the coronavirus, in part because the infection rate will depend on how scrupulously Americans practice social distancing. Planners in Germany and the United Kingdom are working on the assumption that at least 60% to 70% of their population will get infected over the course of the pandemic. Less than 20% of the residents of Hubei Province, where the outbreak began, became infected, but that was because the Chinese government imposed strict social distancing very early. It's probably already too late for the United States to achieve such a low infection rate. 
The big question is whether the supply chain is resilient enough to adapt to significant corona-related absenteeism in the trucking and warehouse workforce.
"In the coming weeks and months, the food supply chains may observe severe disruptions in New York City," Meena wrote to City & State in an email. "Since demands are surging significantly because of the coronavirus outbreak, I expect even with a 1-2% sudden shortage in truck drivers (with no backup plans), supply chains will start observing disruptions."
Rodrigue was more optimistic, pointing out that the system is very flexible. Demand is falling sharply in other sectors, thus freeing up truckers and warehouse workers who won't be needed to ship as many clothes, cars, or consumer electronics during the upcoming recession. 
Much will depend on how well employers and various levels of government support the warehouse and trucking workers. Vairma of the Teamsters notes that many of his members are left out of the federal government's new corona-related sick leave program, which was signed into law on Wednesday, because they work for companies with more than 500 employees. 
To contain the virus, people must be able to stay home when they're sick, without facing financial ruin. "That's where the government obligation is going to have to step up, ensuring that these folks continue to draw their paychecks and continue to receive their health and welfare benefits and continue to have their pension payments made on their behalf," Vairma said. 
Management and labor are already taking steps to protect their drivers from the coronavirus on the job. Changes are afoot, explains Bernadette Kelly, recording secretary of Teamsters Local Union 210, a 10,000-member New York local that includes truck drivers and warehouse workers in pharmaceutical production and distribution. Cleanliness and safe handling have always been important, but standards are getting even stricter to protect drivers and consumers. Drivers are getting their temperatures taken when they clock in, and start times are staggered so that drivers don't gather in crowds. Drivers are wearing masks and gloves and wiping down their cabs, seats and steering wheels. 
Vairma says that he's already seeing a slight uptick in people calling in sick, but he adds that his truckers and warehouse workers are extremely committed to their mission. "They're doing a tremendous job working in an environment that is very stressful right now."