DoITT
DoITT head Jessica Tisch's hard line against LinkNYC vendor
Tisch comes out hard against CityBridge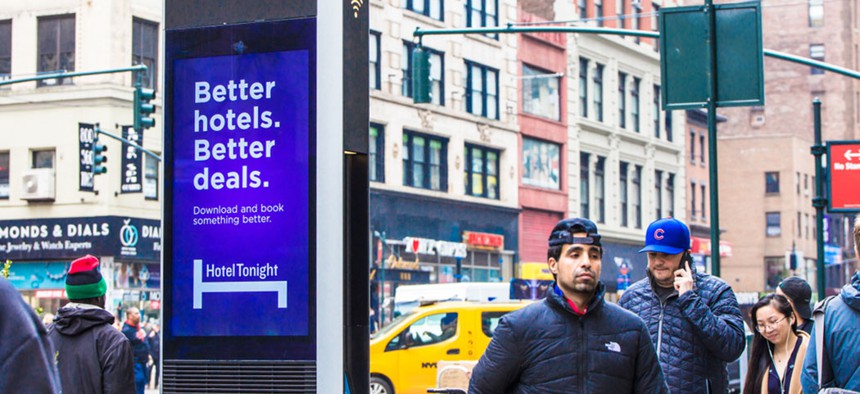 Jessica Tisch made her first appearance before New York City Council as the city's newly installed commissioner of the New York City Department of Information Technology and Telecommunications to discuss DoITT's preliminary budget and tout progress on initiatives like Text-to-911 and decommissioning NYCWiN, the city's wireless network that was infamously felled by a Y2K-like bug last year.
But in testimony that Councilman Bob Holden – chair of the Committee on Technology – called "forceful," Tisch came out hardest against CityBridge, the consortium of companies administering the city's LinkNYC kiosks. She said that CityBridge has failed to install 537 promised LinkNYC kiosks – many of which were set to be built in outer boroughs, which suffers from a dearth of the kiosks, which provide free WiFi, telephone and device charging services. CityBridge has not installed a single kiosk since the fall of 2018, and owes the city tens of millions of dollars in franchise fees – which are supposed to come in part through advertising revenue the kiosks generate – Tisch added.
"I believe the city has bent over backward to work with CityBridge," Tisch said on Tuesday, explaining that the city has already modified its agreement with CityBridge to give the consortium more time to fulfill its promised outcomes. "I have no patience for it." Asked what measures DoITT will take to ensure that CityBridge starts building promised kiosks and paying required fees to the city, DoITT's general counsel, Michael Pastor, said that provisions in the franchise agreement are binding and enforceable. 
A separate issue with LinkNYC came to the fore last year, at around the same time that dozens of the kiosks were smashed by a vandal. After video of the vandalism was released, civil liberties advocates raised concerns about privacy protections in the program, given that the kiosks collect user email addresses and surveillance video for a week. DoITT said at the time that the city would conduct a privacy audit of CityBridge but the topic wasn't brought up at Tuesday's hearing.
Tisch briefly referenced one explanation CityBridge has provided for why it hasn't lived up to LinkNYC commitments, saying the consortium is "crying poor." Both Tisch and Holden characterized this as an unacceptable excuse, referencing the fact that one of the companies in the CityBridge consortium is backed by Sidewalk Labs, a subsidiary of Alphabet – the parent company of Google.
"What DoITT presented at the City Council was a fictional narrative that ignores the city's responsibility for the current state of affairs," a spokesman for CityBridge said in an emailed statement. "While the public's use of LinkNYC's free services has far exceeded expectations, installing Links has proven more difficult and costly than expected, largely due to the city's own rules and bureaucracy."
While DoITT's testimony on Tuesday suggested that the agency will be getting tough on CityBridge, it's not at all clear that the consortium will fulfill its commitment to build all the LinkNYC kiosks it owes soon. Tisch herself acknowledged that over 500 kiosks would be a lot to build before the end of the year.
For the rest of today's tech news, head over to First Read Tech.
Powered By
NEXT STORY: Andrew Cuomo: Master of disaster