Melinda Katz
Katz admits mistake in asking for bail
Queens DA also continues asking for bail in other cases, despite campaign pledge.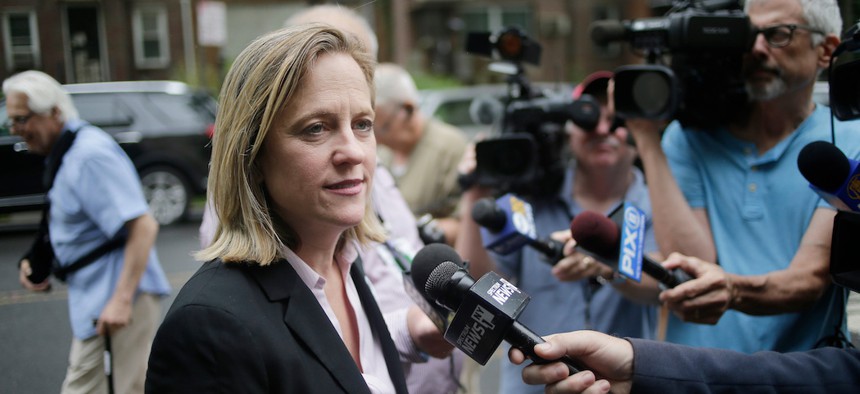 Queens District Attorney Melinda Katz admitted that her office made a mistake in asking a judge to set bail on a defendant in a case that didn't qualify as a bailable offense under a new state law.
The case first gained attention thanks to a tweet from Diana Nevins, a Queens public defender with The Legal Aid Society, who said that a request for $5,000 bail for a person charged with a misdemeanor was "an illegal request." 
Tonight in Queens night court, an ADA asked for $5,000 bail on a misdemeanor case that the ADA admitted was a nonqualifying offense - which means that a judge can't set monetary bail.

When judge scoffed at the illegal request, ADA said it was coming from her supervisors.

— Diana (@artemis_nieves) March 10, 2020
The Legal Aid Society, which supports a total ban on cash bail, declined to comment, and Nevins did not respond to a request to comment.
When City & State asked Katz about the matter, she sent a statement on Wednesday explaining that the case in question involved a man who was previously charged with stalking a woman he didn't know. The court issued the alleged victim an order of protection on Feb. 17. A few weeks later, on March 8, the same man was re-arrested for violating the woman's order of protection and charged in Queens Criminal Court with second degree criminal contempt, which is a misdemeanor. 
Under New York's bail law, which went into effect on Jan. 1, judges cannot set bail on any anybody charged with a misdemeanor, except for a few specific exceptions. Criminal contempt in the second degree is a bailable offense (under NYS CPL § 530.40.4(h)), but only if the person under the order of protection is a family member or a member of the same household of the person who's accused of stalking them. Since the man accused here was a stranger to the victim, the judge couldn't legally set bail.
"The law did not permit bail in this particular case," Katz continued in the statement. "The request was a mistake. (Assistant district attorneys) will be re-trained on the nuanced distinction in the law."
While the bail request wasn't granted in this case, it's notable that Katz's office is asking for bail at all. Early in her campaign for district attorney, Katz ran on a platform of ending cash bail on all misdemeanors and non-violent felonies, but before she was elected in 2019, she shifted her position, saying that she would end cash bail completely. Nevertheless, her office continued to request bail for some defendants after she took office at the beginning of this year. She explained the apparent contradiction on NY1 in January, saying that although "cash bail is unfair, it's inequitable," her office is "not there yet," on declining to ask for bail. Alternatives to incarceration, like supervised release and pretrial monitoring would need to be expanded first, she said, and her office would need a larger staff and more resources.