Coronavirus
There's no easy fix for altering subway service during a pandemic
Potential service cuts pose more questions than answers.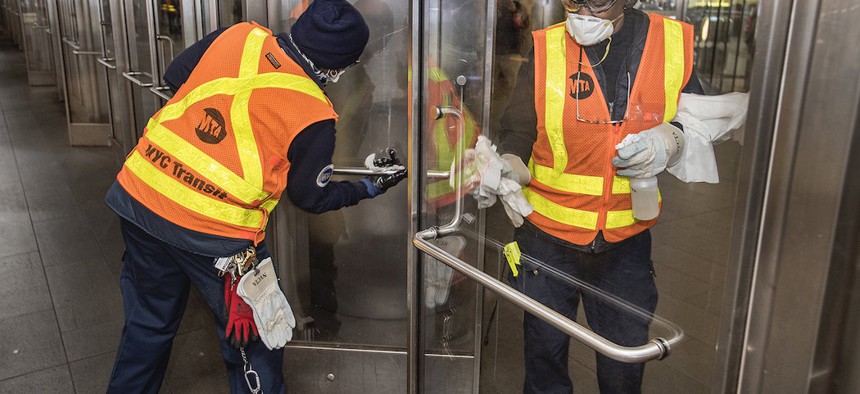 The New York City subway is not shutting down, at least not yet. Interim New York City Transit President Sarah Feinberg said in a public radio interview on Thursday that the Metropolitan Transportation Authority is planning for every possible scenario in deciding how to respond to the intensifying spread of the coronavirus, but that there is currently no intention to shut down the subway. Feinberg added that the MTA is also taking cues from federal and state health officials on service changes.
MTA Chairman Pat Foye echoed that sentiment in another interview, saying that the subways are safe and that the MTA is looking at deploying "new and innovative technologies" to better disinfect the subways, though he didn't elaborate on what those would be.
But in the aftermath of Gov. Andrew Cuomo's indefinite ban on gatherings of more than 500 people – an attempt to limit the spread of the coronavirus – some say a wider-scale shutdown of subway service may be prudent. While the MTA is now disinfecting subway stations twice a day, it's not clear how much impact other measures short of a shutdown will have from a public health perspective. 
In fact, scaling back service could do more harm than good. 
Subway ridership is already dropping. It was down 18.5% on Wednesday from the same Wednesday last year, Cuomo announced Thursday. That same day, Feinberg said that the MTA is currently weighing options. "If ridership really goes down dramatically, or if public health officials recommend that we dramatically alter our service, how would we do it?" Feinberg said. "Would we go to a Sunday service? Would we change the number of trains that we're sending through certain parts of the city? We have contingency plans for that."
If the MTA were to cut back service, it's not clear what lines would be cut or how those decisions would be made. Nor is it obvious why the MTA is even considering less frequent service, since having fewer trains running could actually lead to more crowded commutes for those who still need to take the subway. "It's not really clear if this is a public health response or if this is a resource conservation issue for the MTA," Ben Fried, communications director of the transit advocacy group Transit Center said. "I think priority number one has to be public health and ensuring that any service reduction doesn't result in crowding on the trains that puts people more at risk."
Feinberg said Thursday that the MTA isn't currently considering making service cuts based on financial need or because of lost farebox revenue amid declining ridership. But the MTA's long-term financial woes aren't helped by the coronavirus crisis. "The MTA was already in a financial bind that the recent drop in ridership has worsened," Danny Pearlstein policy and communications director at the transportation advocacy group Riders Alliance wrote in an email. "Meanwhile, New Yorkers who need to take buses and trains will suffer longer, more crowded commutes if service is cut." Both Fried and Pearlstein noted that to help the MTA cope with this strain, it will need state and federal financial assistance.
The MTA did not provide clarification on potential service cuts and what their aim would be, in response to an inquiry from City & State, on Friday. But Robert Paaswell, distinguished professor of civil engineering at the City College of New York and the former executive director of the Chicago Transit Authority, shed some light on the balance that the MTA is likely trying to strike right now. "There's two conflicting things. One is, ridership is down, so you should scale back service," Paaswell said. "But you want to keep distance between people, so you don't want to scale back so much that your cars become crowded again."
Meanwhile, some are still advocating for a full shutdown of the subway. Shutting down the subway would come at a high cost for workers who don't have the flexibility to work remotely and who rely on the trains to commute. An obvious place where this would pose a problem is for healthcare workers trying to get to work. Some, however, argue that even that high cost could be worth paying if it helps to limit the spread of the virus. "If New York state and city public officials decide that we must shut down most activity in the city to prevent the rapid spread of the virus, then the best way to shut down the city is to shut down the transit system," Nicole Gelinas, a senior fellow at the Manhattan Institute, wrote in an email. Gelinas added that one way of coping would be providing very limited transit service to healthcare workers, or grocery store and pharmacy personnel, and that the state and federal government should in general be working on measures to make up for lost income of people affected by these kinds of shutdowns. "Shutting (down) the subway system is just like shutting down the public schools – it means a lot of people won't be able to get to work, but in this case, the benefit may outweigh the cost."
If a shutdown were to occur, Paaswell said there are some steps the MTA could take to mitigate the negative effects, including potentially running limited transit service to essential workers like health care personnel. While Paaswell said that while it could be technically feasible to run very limited subway service for only designated, essential people – using a special metrocard, for example, – the likelier solution would be ramping up bus service to make sure health care, utility and even grocery store workers were still able to get to work. "If it were me, if I was running CTA, I would get the heads of the hospitals in a room together to see how many people they think would need (service), where will they be coming from, and (ask) would a couple buses a day running certain routes or picking up at certain places be as efficient as people waiting a long time for a train?" Paaswell said.
In the possible event of a full subway shutdown – which, again, Cuomo and the MTA have not expressed interest in pursuing – Paaswell said some cars should still be kept running with a "skeleton crew" to ensure that the tracks are still in good condition and signals are working. Essentially, the MTA wouldn't be hitting the "off" switch on the subways, but closing station entrances and ensuring only essential personnel are in the stations making sure things are running smoothly in case service needed to be restarted on short notice.
What makes this decision so difficult is the fact that officials are working with very limited data, due to lack of adequate testing for coronavirus and other challenges related to the federal government's slow and uneven response. Judging how safe or dangerous it is to run full subway service is not easy without complete information. "We don't know the rate at which people are getting sick, and we don't know who is getting sick," Paaswell said. "And the fault of that is not the transit system or the mayor or the governor, the fault is that we have bad data in this country, and that's a terrible, terrible thing."