New York State
Why Cuomo and de Blasio disagree on testing for COVID-19
The state is prioritizing testing for COVID-19, but New York City wants to save scarce resources for treating the sick.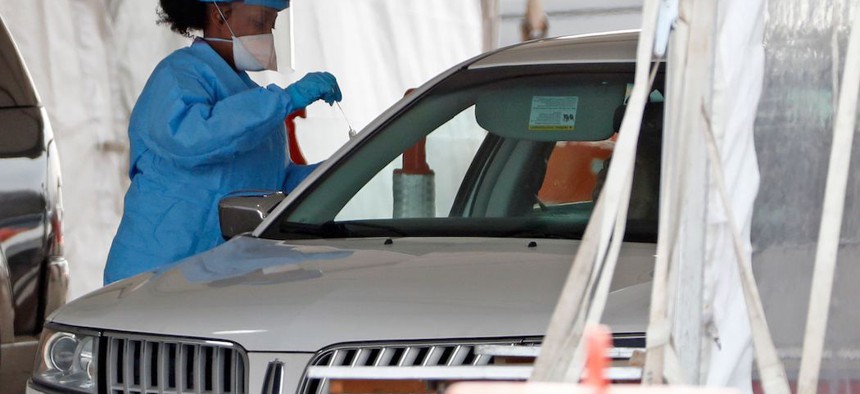 Testing for COVID-19 has been a critical component of containing the virus in numerous countries, and global health officials stress the importance of widespread testing, yet New York City Mayor Bill de Blasio and his administration have suddenly switched gears to discourage testing in recent days. 
Last week, de Blasio pivoted his focus to securing medical supplies rather than pushing testing, as testing results can no longer be used strategically to stop the virus's spread. There's also the possibility that those waiting to be tested could spread infection, especially when lines to test are as long as they were outside of Queens' Elmhurst Hospital on Saturday. On Sunday, the city ended up canceling remote COVID-19 testing, outside of hospitals, to focus on securing resources for hospital sites, for that exact reason.
Gov. Andrew Cuomo is pro-testing. Thanks to a sharp rise in testing over the last week, New Yorkers know there are currently 20,875 cases of the virus that have been identified in New York state, which has now tested 78,289 people. On Saturday, March 21, the governor announced that New York is now conducting more tests per capita than China and South Korea. 
In South Korea mass testing was used to determine how many people had COVID-19, even if they did not display symptoms, which helped slow the virus's spread by keeping asymptomatic or presymptomatic carriers of coronavirus in quarantine. They tested around 20,000 people per day and even launched drive-through testing areas to test as many people as possible. Because the country acted quickly, they did not need to enforce the severe social distancing practices that other countries have. 
However, some are concerned that the continued push for more COVID-19 testing will actually do more harm than good. "The time for mass testing, unfortunately, is gone," New York City Councilman and Health Committee Chairman Mark Levine told City & State over the phone. 
According to Levine, the time for mass testing was a few weeks ago, when New York City, which is home to a majority of New York's statewide cases, could have identified everyone with COVID-19 and traced their contacts while those infected were in quarantine. However, the federal government did not create a testing infrastructure fast enough, meaning that many New Yorkers with less-severe COVID-19 symptoms were unable to access tests at that time.
"It's no longer practical or a good use of resources to identify everyone and trace all of their contacts," Levine said. "We need to shift to the true battle ahead, which is in our hospitals. And it's a battle that's going to require us preserving all our resources for the most severely sick, that also includes testing."
Resources being used to test individuals, such as personal protective equipment, medical staff and the COVID-19 tests, should be diverted to hospitals to treat the severely ill, Levine said. "And we all know that when we really needed the testing, when it could have been absolutely strategically crucial, we didn't have it," de Blasio said during a press conference Sunday. "And now, we're at a point where we have to treat testing on a priority basis given this massive community spread. But even that has to now be thought about in terms of the supplies and the equipment needed, even just to keep the testing going as much as we want because the first obligation is to save human lives." 
Some experts agree. "If we had all the resources in the world and could wave a magic wand, we would be happy to test these people, but they're not there, so I'm afraid we're having to prioritize," Dr. William Schaffner, a professor of infectious diseases at Vanderbilt University Medical Center, told CNN.
Levine also noted that, in terms of treatment, the test results are not relevant in less severe cases. "We get no useful information out of a test result, because either way the doctor is going to tell you stay home, rest, hydrate, take some meds for the headache or call a doctor if the situation gets worse," Levine said.
The city must also contend with a shortage of protective gear for medical personnel doing the testing. For that reason, since Friday, despite the state's ramped-up capacity to test for COVID-19, tests in New York City are being reserved for those who wind up being hospitalized. 
Levine said that even if the state suddenly had South Korea's testing capability it would be a waste of time at this point, though it could prove helpful in the future. "There will come a day when we're on the other side of this pandemic and the number of (COVID-19) cases is dwindling," he said. "And we can once again identify and trace individual contacts. But we are very, very far from that stage and that is many months away. Now all that matters is preserving resources."
In place of testing, Levine and de Blasio urge social distancing to prevent the virus' spread. But social distancing alone is not enough to completely suppress the virus. Should social distancing measures get scaled back as positive cases decrease, it's likely that we would soon see the virus return. A combination of rampant and fast testing, strict social distancing, isolating the sick and contact tracing – tracing the places and people infected individuals have come in contact with – can adequately suppress the virus, The New York Times reports. But neither the state nor the country has been able to sufficiently execute all of these measures yet. 
Widely testing for the virus, however, can give medical officials insight as to where resources are needed to combat the virus and make social distancing more effective once more positive cases are identified. And testing can still provide epidemiologists and health care experts with valuable data moving forward. "When we look at this retrospectively, knowing that is going to be important," Tara Smith, an epidemiologist at Kent State University, told FiveThirtyEight. "The data we need to look at the genomics of the virus, who transmitted to whom, who sparked clusters in new areas, we get all of that data from testing."