Andrew Cuomo
Budget proposal in play would end cash bail
A state budget proposal to end cash bail in New York, but it would allow judges to assess a defendants' dangerousness.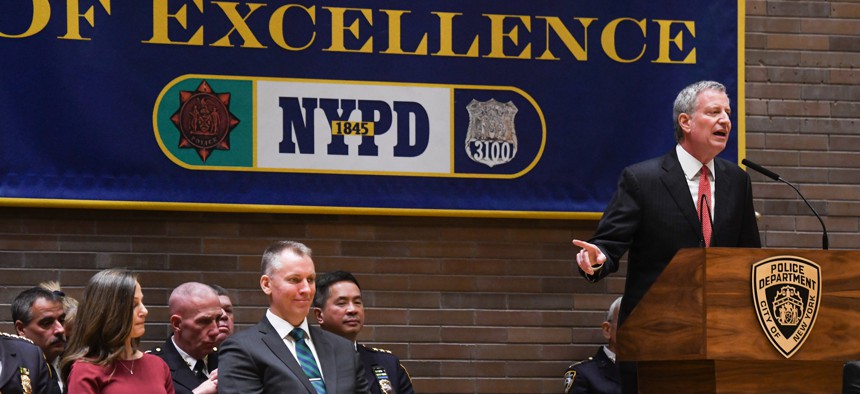 State legislators and Gov. Andrew Cuomo are considering completely eliminating cash bail in New York, but allowing judges to consider a defendant's "dangerousness" while determining whether they should be held in jail pre-trial.
The general outline of the plan has been discussed for months, but the specific bill language being discussed hasn't been made public until now. A coalition of criminal justice reform organizations who do not support the proposed changes, including VOCAL-NY, shared it with reporters and supporters on Tuesday night, just hours before the state's budget deadline at midnight on April 1.
Cuomo bail draft proposal M... by Zachary Williams on Scribd
The bill language is just a draft, and is not guaranteed to be included in the state budget and become law. But a state Senate Democratic source confirmed that the 42-page draft was still being discussed among legislators. 
New York is reportedly one of the only states that doesn't currently allow judges to consider a defendant's dangerousness when deciding whether to let him or her walk free before trial. This proposal would change that, letting judges consider both the defendant's likelihood of returning to court and their likelihood of "committing a crime involving serious physical injury to another person."
Many public defenders and left-leaning reformers fear that standard is too subjective, and that it would allow biases into the equation, resulting in more black and Latino New Yorkers being held in jail. Many of those opposing the changes held an emergency press conference over Zoom video conference Tuesday night, including Assemblywoman Latrice Walker.
"Bail is about ensuring a person's return to court," she said. "It's not about getting in the business of future crimes."
The proposal would also eliminate the practice of cash bail. Currently, judges can ask for bail on people who are accused of felonies and some misdemeanors. Under the new proposal, judges could still impose certain conditions on a defendant to ensure their attendance in court, such as requiring counseling, but there can't be any financial cost. 
The draft proposal would essentially be an edit of the overhaul of New York's bail laws that passed in last year's budget. That law strictly limited the types of crimes where judges could impose bail, which resulted in lower jail populations across the state. While Cuomo championed those changes then, the new laws came under attack even before they went into effect on Jan. 1, with conservatives and progressives alike, including New York City Mayor Bill de Blasio, blaming the state legislation for an apparent uptick in crime. Many supporters of the new laws pushed back against the notion, saying it was far too early to draw conclusions. 
Cuomo and state Senate Majority Leader Andrea Stewart-Cousins have been fully on board with changing the bail law. Assembly Speaker Carl Heastie, however, has shown a resistance to making changes to the bail laws so soon after the new law went into effect. If this draft language does not make it into the budget, it will likely be because of his influence. 
Powered By
NEXT STORY: Cuomo pulls back on proposed donor disclosures for nonprofits