Coronavirus
Cuomo's coronavirus testing challenge
The governor is extending the statewide 'pause' through May 15.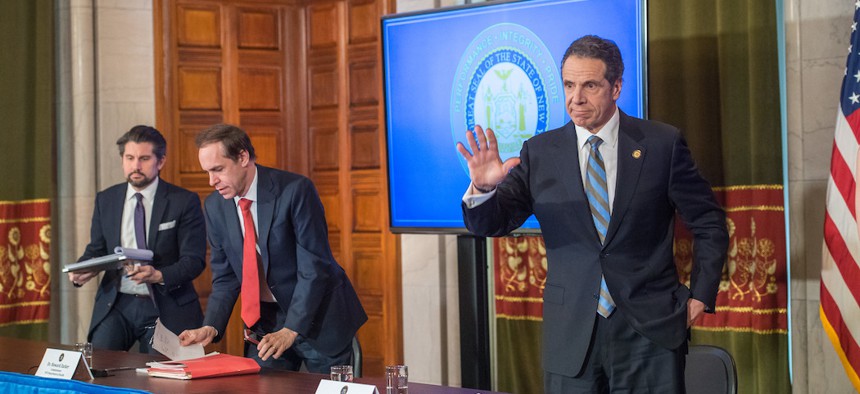 The rate of new coronavirus infections appears to be declining, but that does not mean social distancing requirements should end anytime soon. Gov. Andrew Cuomo told reporters Thursday that he is extending the statewide "pause" through May 15, while arguing that recent progress at containing the coronavirus could be jeopardized if economic activity resumes too soon.
"I need people to really understand this," said Cuomo, whose preferred slower pace of reopening has led to clashes with President Donald Trump. "'Why don't you open up tomorrow?' Because we're afraid the infection rate will go up." The governor noted that the virus could be much more widespread than testing suggests, especially since only about a half-million people have been tested in a state of more than 19 million.
There has been a wave of media criticism in recent weeks of the city, state and federal governments' respective responses to the pandemic, with much of the blame appearing to land on the president in particular. Cuomo responded to criticisms of his own performance by noting that while he is in charge of state government, much of his authority is based on using his bully pulpit.
"I don't even have the ability to enforce these measures on any scale if people said, 'I'm not willing to do it,'" Cuomo said Thursday of the new state face mask requirement for people in public places – a line of reasoning he used to defend the state's timeline in closing schools and businesses.
While he has emergency powers to suspend laws and rewrite state rules, Cuomo's power has limits by his own admission. Part of that is based purely on the different roles each layer of government plays in this crisis, a dynamic challenged by the governor's notoriously testy relationship with Trump and New York City Mayor Bill de Blasio.
With the mayor increasingly focused on the city budget process, and the president focused on a variety of issues, Cuomo appears to have the job of figuring out how to deploy widespread rapid testing for the coronavirus. Unlike getting New Yorkers to wear face masks on the subways, or deciding when businesses should reopen, Cuomo will need something besides public trust (a talking point since early March) to build the state's capacity to test millions of people.
"The plain reality is we have to do it in partnership with the federal government," Cuomo said. "We are talking about supply chains that go back to China. The state does not have the capacity to do that."