Coronavirus
NY knew its ancient unemployment system needed upgrades years ago
The state knew its tech needed upgrades years ago. Now New Yorkers are suffering.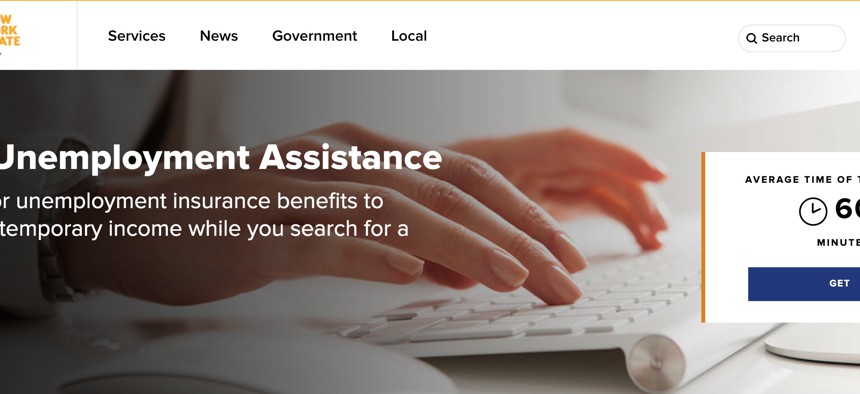 Losing your job is hard. Trying to file for unemployment insurance in New York can feel even harder.
More than 1 million New Yorkers have applied for unemployment insurance since the coronavirus pandemic shut down much of the state's economy in mid-March, leading to mass layoffs, furloughs and cutbacks. In that time, many of those New Yorkers have grown intimately familiar with an unemployment insurance system run on technology that is nearly half a century old and an overloaded call center unequipped to handle the volume of new calls. 
Applicants for unemployment insurance have been caught in a kind of maddening tech purgatory in which the state Department of Labor's website crashes or times out on them before their application can be completed – or, if they were able to complete it, the website times out when they try to claim their benefits. Many applicants were told to call the department's phone lines in order to complete their application, but they couldn't get through. The result was hours wasted on reloading the website and restarting the application or calling the department constantly, trying to get hold of someone who can help. All the while, the bills still come, rent is still due and the futile search for work in the middle of a global crisis continues. 
By late March, the Department of Labor was struggling to keep its head above water to process the hundreds of thousands of claims, and the resulting complaints from those unable to complete applications. A relaunch of the unemployment website in early April – branded as a "tech surge" – aimed to patch some of the system's issues with new servers to handle increased web traffic, along with a sleeker application designed by Google.
Three weeks into that relaunch, the Department of Labor is touting $3.1 billion in unemployment insurance distributions since the crisis began. But some New Yorkers still appear to be in unemployment purgatory. Tweets from the Department of Labor's Twitter account are met with hundreds of replies from people complaining that their applications are still pending or that they've yet to receive benefits. A Facebook group named "HELP US - NYS Unemployment Issues" has 33,000 members and 1,000 new posts a day, and news articles are still proclaiming the unemployment insurance process a "Kafkaesque mess."
So how did we get here? State officials have pointed repeatedly to the unprecedented volume of applications to explain why the system has failed some New Yorkers, but while the sudden surge in traffic is certainly unheard of, some observers say the issues with the state's unemployment system are rooted in New York's lack of long-term investment in crucial IT systems. "The question to ask is, why is the architecture old, why is the application old, and why are we having the problem? It's because the state, in my humble opinion, has starved out technology," one tech consultant told City & State. 
To be sure, the coronavirus crisis and ensuing economic shutdown is causing people across the country to lose work – not just those in New York. States including North Carolina and Texas are receiving 100 times their normal load of unemployment claims, and others are taking the same steps New York has, including boosting staffing and building new web servers. A recent Pew study found that 71% of Americans who filed for unemployment in March still hadn't received benefits by late April. The state Department of Labor has argued that despite the problems, it has outperformed other states in being able to distribute over $3 billion in benefits so far.
But New York has known that its unemployment insurance system has needed an upgrade for years. The state in 2017 issued a request for proposals for a "system solution" to completely revamp the website and its underlying system that allows New Yorkers to apply for and receive unemployment benefit payments and submit employer contributions and appeals, as others havereported already. In 2019, that contract was awarded to Tata Consultancy Services, a global IT leader based in India, for $57 million. The Department of Labor did not comment on how far along that work is now. "While DOL is undergoing a multi-year top-to-bottom overhaul of its unemployment insurance infrastructure, the state and Google developed and launched a new web application so New Yorkers would be able to file for the COVID-19 related benefits they need in a reliable and streamlined way during this unprecedented time," department spokeswoman Deanna Cohen said in an emailed statement.
A spokesperson for the state said that the primary issue with the unemployment system was the actual web application that users went through to file a claim: As layoffs began across the state, hundreds of thousands of people were suddenly trying to access the application at the same time. The Department of Labor reported a 1,600% increase in web traffic during some of the worst weeks. 
But a deeper look at that RFP from 2017 suggests that it's not just the web application that's an issue, but the entire architecture of the outdated system that is responsible for processing claims and actually making payments. That RFP reads: "... the State has faced the pressing problem of maintaining, modifying, and extending outdated and expensive mainframe-based UI benefits and contributions systems that were written in the 1970s and 1980s and remain constrained by the technology of that era." 

The entire unemployment benefits site is built on a mainframe computer system – basically giant computers tasked with processing data and transactions. That mainframe system, with its underlying technology from the days of bell bottoms and platform shoes, is what the state has had its eye on modernizing for years. Upgrades to the system might, for example, allow it to be used 24/7, instead of the current situation, in which New Yorkers can only apply for benefits between 7:30 a.m. and 7:30 p.m. Overnight, the information from the applications has to be processed by the mainframe computers. Why the state only awarded a contract to a tech company to start that work in 2019 is unclear. 
That mainframe system, with its underlying technology from the days of bell bottoms and platform shoes, means New Yorkers can only apply between 7:30 a.m. and 7:30 p.m. Overnight, the information has to be processed.
And while that system may be tested in the coming weeks, as more claims are dispersed, so far, the bottleneck has been the hundreds of thousands of people trying to get their foot in the door of the unemployment system. Think of the application for unemployment like a front door to accessing benefits. A recently unemployed person goes to the department's website, creates a government login and begins to fill out questions about their employment status, plugging in personal details including their name and Social Security number, as well as facts about the circumstances of their unemployment, such as the last time they worked or whether they are out of work because of coronavirus-related cutbacks. 
As users filled out the application, it might stall or time out. Take too long to answer a question – many of which are not easy to answer – and you could be kicked off and forced to start from scratch. Some applicants dug around and found that they were having issues because their web browser was incompatible with the application. One of the recommended browsers for the application was Netscape 6.0 – a discontinued browser first introduced in 2000. Other users who knew enough to experiment and try to load the application on Safari instead of Chrome, for example, experienced some success. But fixes and patches like that aren't going to work for – or even occur to – everybody. "That presupposes that the person that's applying for these benefits has the technical savvy to make the distinction between the browser technologies," the tech consultant said. "A lot of the people who are applying for these benefits are not in the technology space."
The department's "tech surge" in early April was targeted at ironing out both the issue of increased traffic and the clunky application. The Department of Labor brought in Google to build a new, sleeker application for filing for benefits, which is supported by the tech giant's cloud infrastructure. Cloud servers – as opposed to in-house physical servers – are online data centers that are able to adapt to changing traffic loads and the needs of whatever website or system they're hosting. A system that relies mostly on in-house physical servers, meanwhile, has to be able to maintain or build its own data storage when traffic spikes – as was the case when the state scrambled to build new servers when users on the Department of Labor's application spiked. 
One of the recommended browsers for the application was Netscape 6.0 – a discontinued browser first introduced in 2000.
So far, the department reports, the new Google-backed application has had no "unscheduled downtime," suggesting that it's working for now.So why are some people still not receiving benefits? Outlets like Gothamist have reported that New Yorkers are still having issues connecting to the Department of Labor's call center. As part of the tech surge, the department also implemented a new procedure in which applicants don't have to call the department's phone lines and to wait on hold for hours to complete an application but instead receive a call within 72 hours of filing to fill in any outstanding information the department needs to process their claim. The call center got hundreds of new staff to support the effort, with plans to add more. Nevertheless, some users still report having issues, including not getting a call back or verifying their information over the phone but still not being able to claim benefits, as some applicants told Gothamist. 
Gov. Andrew Cuomo has also said that the state could run out of funds to pay out unemployment benefits, depending on how long the coronavirus crisis drags on. 
A spokesperson for the state estimated that while every claim is different and has its own set of extenuating circumstances, the average applicant might receive payments two to three weeks after first claiming benefits. But some applicants report waiting longer.
One potential source of delay is the process of applying for Pandemic Unemployment Assistance – an insurance program in the federal CARES Act for those not covered by traditional unemployment, like independent contractors or gig workers. Until recently, those workers had to apply and be rejected for traditional unemployment before being allowed to apply for the program. New federal guidance allows the application to be combined, and the state Department of Labor released a streamlined application that aims to cut down on that backlog. 
But that doesn't describe everybody who is still waiting on payments or experiencing holdups in having their applications completed. One other remaining sticking point is the fact that once your application is completed, you still have to go back to the website to certify your claim each week to note how many hours you worked in the previous week and testify that you are looking for work. That process is still running on the old website, not the new Google-designed and cloud-based one. So even though the process of getting your foot in the door has been streamlined, many New Yorkers are still stuck in the purgatory of timed-out sessions and other frustrations every subsequent week.
As part of the "tech surge" in early April, new physical servers were built to support the older part of the system and the website as a whole. There are now more than 60 servers supporting the website, as opposed to the four that supported it before the coronavirus crisis. Theoretically, the addition of new servers means that the website and the portal used to certify claims can handle the increased load of users more easily. 
Why the existing website was not migrated to the cloud or even upgraded before the crisis is not clear, but some suggested that it's another result of the state's lack of investment in IT. "This should be so bloody simple, it's not funny," the tech consultant said, laying out three issues with the entire unemployment insurance system: user design and functionality, the need for the architecture of the system to be upgraded and monitored, and the need for continuous investments in these systems as technology evolves. "They've not done that," the consultant said. "They've not upgraded any of those core systems."
Some experts suggested that the issue gets back to the process of IT procurement in the state, and that contracting can be a long and burdensome process – especially for smaller companies that don't meet the state's qualifications. Some of the requirements laid out in the 2017 RFP for the revamp of the unemployment system, for example, included specifications about the years of experience everyone from the vendor's project manager to lead programmer had to have had in similar IT projects. From government's perspective, strict requirements are built into RFPs to ensure that the vendors hired to build $50 million IT systems know what they're doing. But that might come at a cost. "Innovation in technology occurs on the bleeding edge," another tech consultant said, suggesting that government is often behind the technology curve when it's only behemoth companies winning contracts. "It's the companies that are just coming into the market that are pushing the big companies in a (new) direction. That's why you see so many acquisitions, buying little companies up and using their technology to move forward."
The state rejected the notion that it has neglected its tech. "Since day one, we have been laser-focused on modernizing the Empire State's technology infrastructure," Scott Reif, spokesman for the state's Office of Information Technology Services, said in an emailed comment. "And from critical upgrades to nearly two dozen state agency websites, to new cloud-based solutions that safely store more data at lower costs, we have vastly improved how state government uses technology and how New Yorkers interact with state government online." 
New York is not alone in finding itself ill-equipped to handle this unprecedented caseload of claims. New Jersey, for example, has received criticism for operating its unemployment system using a 60-year-old programming language called COBOL that few programmers are still trained in – though it's not clear that COBOL is to blame the state's unemployment delays. But what this crisis has brought to light is just how critical the underlying tech systems of state services like unemployment are. When they're left to age without regular, significant upgrades, people suffer. 
Richard Blum, a staff attorney in the employment law unit of the Legal Aid Society, said that one of the problems with the original unemployment application process was not just the technology, but the fact that the questions themselves can be hard to answer, leaving people to pull their hair out figuring out whether to answer "yes" or "no" to surprisingly complicated questions like whether they're prepared to take a job immediately. A person in quarantine because they have the coronavirus might answer "no" and be denied, for example.
The fact that taking more than two minutes to answer a question could result in the session timing out and forcing users to start the application all over again just makes it harder. "I think it's important to look at it not only as a technology issue," Blum told City & State. "The technology reflects values and policies. If you design a system that is difficult to navigate in good times, that means some number of people just get screwed. In bad times, it means a lot of people get screwed."