New York State
Suburban golf courses remain open, despite COVID-19
New York has banned basketball, but it allows golfing.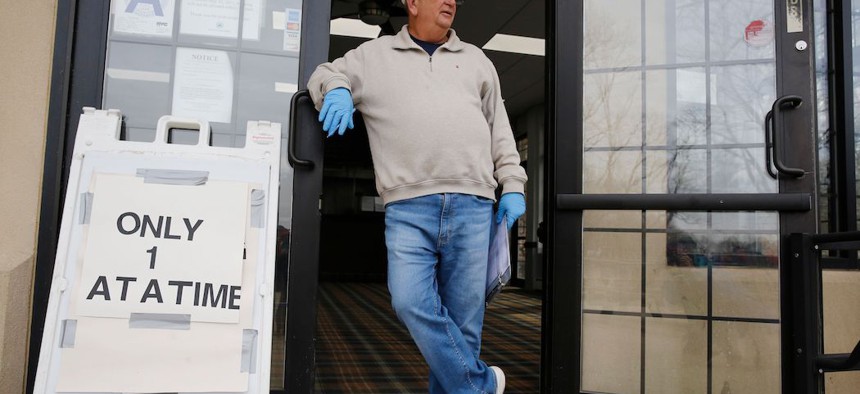 While Gov. Andrew Cuomo has ordered the closure of all non-essential businesses and public playgrounds, some state-run golf courses on Long Island and in Westchester remain open – despite those New York City suburbs being among the areas hardest hit by the new coronavirus. 
Most public and private golf courses have been closed for an indefinite period of time, however, including President Donald Trump's golf clubs in the Bronx and Westchester. 
In an April 2 briefing, Westchester County Executive George Latimer confirmed that the county's six golf courses remain open. "We have kept the county parks open so that people who have no other available recreation have at least some opportunity where they can get out, stretch their legs, get some fresh air," Latimer said. "Golf, to me, is analogous to hiking and bicycling, which are relatively individual sports. You do it with one, two or three other people, but not with 20 or 40 as other types of sports." 
Nassau County, on Long Island, announced it was closing all county-owned golf courses and driving ranges early last week, but it reversed the decision on March 26. "The golf courses are officially reopened with some modifications to accommodate social distancing," Nassau County Executive Laura Curran said at a press conference. 
On Wednesday, Cuomo closed basketball courts and playgrounds to prevent New Yorkers from increasing the risk of transmission of COVID-19 by playing team sports. Parks to remain open. But why are golf courses like parks rather than basketball courts or soccer fields? 
Some might suspect classism: Basketball is more popular than golf among younger, inner-city and lower-income New Yorkers and communities of color. Golf is more typically played by middle-aged and older suburbanites – who are wealthier, older and whiter, on average – in part because it requires larger spaces and more money to play. 
But suburban government officials deny that has anything to do with the disparity in how golf and basketball are treated. "People perceive golf to be an elite sport and that's why it's kept open, but that's not true," Latimer told City & State. "Golf continues because you generally only have three or four people at one time in close contact with each other."
Since the state classifies golf courses as parks, state-run courses can continue operating. "State parks are open for outdoor recreation and exercise," said Dan Keefe, a spokesperson from New York State Parks, Recreation and Historic Preservation. "Measures are being implemented at our courses on social distancing." 
The state has extended the interval between tee times from eight to 16 minutes to avoid close contact between players who are not playing together. Equipment to clean dirty golf balls, known as ball washers, and bunker rakes, which are used to smoothen sand along the course, have been removed. The state installed foam into the cups on greens, so players will no longer touch the flags, reducing contamination. Golf carts are now limited to one driver and are sanitized after each use. 
According to Latimer, the restaurants at each course have been closed, and the county has also removed the takeout option of food and beverages. County police continue to monitor the situation by circulating the parks to enforce social distancing, preventing a large conglomeration of people. 
At Maple Moor Golf Course in Westchester, all facilities have been closed except their pro shop, in which players pay for their tee times and exchange the golf cart keys. Changing rooms are closed to prevent contamination and transmission of the virus. 
But despite these efforts, it seems to some critics that a simpler ban on golfing would more effectively prevent any interaction – such as two friends playing together, standing less than six feet apart, and spreading the virus that way. There is also the question of whether all of society should simply forgo these recreational activities to send an unambiguous message about the need to stay home. "I think we're sending mixed messages to the community," Paul Feiner, a supervisor in the Westchester town of Greenburgh, told City & State. "The only way we will beat coronavirus is if people practice social distancing – at least for the coming weeks."
The state has not yet discussed the possibility of closing golf courses. Gov. Phil Murphy of New Jersey shut all golf courses on Wednesday. In Connecticut, Gov. Ned Lamont has closed public courses, but allowed private golf courses to remain open, provided they are taking proper safety measures. With the weather warming up and public courses still open in Westchester, golfers could come to New York from the entire tri-state area to play. 
With reporting by Amanda Luz Henning Santiago.
Correction: Paul Feiner and Ned Lamont's names were spelled incorrectly in an earlier version of this story.
Powered By
NEXT STORY: How New York changed its bail law