Coronavirus
The unanswered questions about antibody testing
This early, antibody testing for COVID-19 will not lead to quick and easy public policy decisions.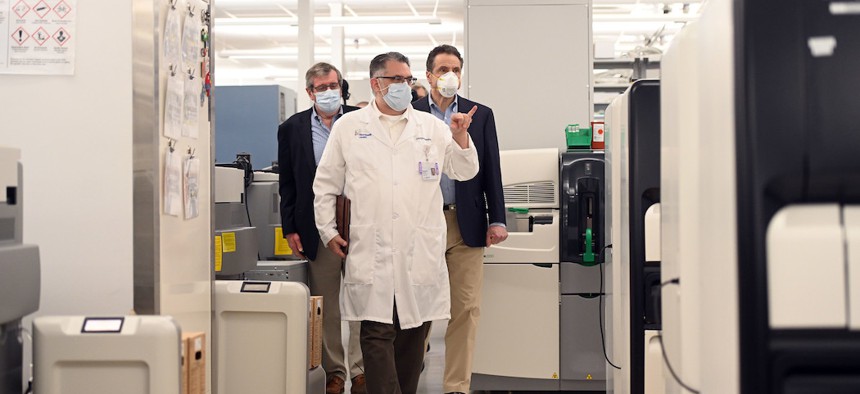 On Sunday, Gov. Andrew Cuomo announced that the state would begin ramping up COVID-19 antibody testing, beginning with a random sampling of more than 3,000 New Yorkers. Viewed as a necessary step in the state's fight against the coronavirus and eventually relaxing social distancing measures, antibody testing will help to fill in missing data about the scope of the virus's spread in the state. But with many unknowns regarding how the virus acts and the accuracy and validity of new antibody tests, information gathered in this early stage will not provide any quick fixes or clear answers.
The antibody testing program should provide a rough estimate of how widespread COVID-19 infections are in New York and the severity of the state's outbreak. As opposed to diagnostic tests, which tell whether a person currently has the virus, antibody tests can determine whether someone had the coronavirus in the past, regardless of whether they displayed symptoms or received a diagnosis. By using a large group of random people distributed across New York, the state can begin to figure out the true infection rate of COVID-19. Current data is based on diagnostic tests that generally are limited to people already suspected of having the disease. The random survey of antibody testing will provide a more representative pool of New Yorkers who may or may not have been eligible for a diagnostic test so far.
Public health experts have long been saying that because the United States has failed to get diagnostic testing up to scale, the number of cases that states report is likely far lower than the reality. A recent study in California found that about 4.1% of the population of Los Angeles County, or 221,000 to 442,000 people, had antibodies to the coronavirus by early April. This is far more than the 8,000 cases the county had reported at the time, and presents a better understanding of the virus's spread and mortality rate, which may be lower than initial data has suggested. New York's survey is expected to yield similar results in that it will reveal missing information that has resulted due to a lack of widespread testing.
Once analyzed, the results of the 3,000 random tests should give the state a much better idea about where the state stands as initial discussions begin about how and when to begin easing social distancing restrictions and restarting parts of the economy. Cuomo has repeatedly emphasized the need for widespread and comprehensive testing, both diagnostic and antibody, before that happens.
However, much is still unknown about the coronavirus and the body's reaction to it, so if anyone is looking for immediate action as a result of antibody testing data, they ought not to, according to Cara Pager, an expert on viruses at the University at Albany. For example, although Cuomo has said the antibody test will show who has immunity, there is no public health consensus yet about whether someone who's had the virus is now immune to it. Traditionally, a person infected with a virus gains at least short-term immunity through the production of antibodies. Numerous reports have emerged about people who tested positive for COVID-19 for a second time after they were believed to have recovered. It's possible that the virus stayed in their body and never fully cleared, according to Columbia University assistant professor of epidemiology Matthew Lamb, but it's still unclear exactly how the coronavirus acts. This would put a damper on trying to make sweeping claims about herd immunity, seen as one potential factor in reopening the economy, even if a large percentage of the population is found to have contracted the virus at some point.
Another unanswered question that could impact the idea of herd immunity is how many antibodies result in a sufficient level of immunity. The level of antibodies in the body provides a strong indicator about the level of immunity, as opposed to the knowledge that antibodies are simply present in the body. One test developed by Mount Sinai Laboratory Center for Clinical Laboratories in New York, which was recently approved by the U.S. Food and Drug Administration, would provide such information.
Yet another complicating factor is the lack of research that has been performed about those who have recovered from the coronavirus. A limited study out of China found that some recovered COVID-19 patients were found to have surprisingly low levels of antibodies, while others had no detectable antibodies at all. The data is still preliminary with a small sample size, but suggests the possibility that those who have been infected may still be at risk of reinfection.
The accuracy and reliability of tests is another potential roadblock to gathering information. Many tests available on the market now in the U.S., especially rapid tests that can be done quickly without much laboratory infrastructure, are flawed, at least in part because of the speed at which they were developed. The vast majority have not been approved by the FDA, but an easing of federal restrictions means they can still be sold and used. Only four antibody tests, including Mount Sinai's, have received emergency approval.
Jonah Bruno, a spokesman for the state Department of Health, said two antibody tests were developed by the state at the Wadsworth Center public laboratory in Albany with "their rigorous standards." He said the tests were approved by the state's regulatory review program, which the FDA permitted as an alternate oversight path. Bruno said that one test has also been submitted for further approval by the FDA, with plans to also submit the second test.
People produce two different antibodies in response to an infection, but only one is what Pager calls a "neutralizing antibody" that actively kills a specific virus. Tests available on the market can test for both kinds of antibodies, or one or the other, but only the presence of the neutralizing antibody indicates the potential for long-term immunity. And while antibody tests are not used to determine whether someone is currently sick, it's still possible that someone who tests positive for antibodies may still be fighting off the infection rather than having recovered from it. While this question is likely less relevant now, it still represents another complication that the state said it is prepared for. Bruno said that one test developed by the state is for the antibody that indicates potential immunity created as the virus begins to clear the body through a finger prick blood sample. The other uses blood drawn from a vein that detects total antibodies.
The expansion of antibody testing is a positive step for the state. The initial survey should provide much-needed information, which the state could use to develop policies. But that information is still preliminary and could be flawed as the world attempts to better understand the ongoing pandemic.