Health Care (Archived)
Critical medical procedures delayed by COVID-19
Everything from cancer treatments to organ transplants have been put off due to the pandemic.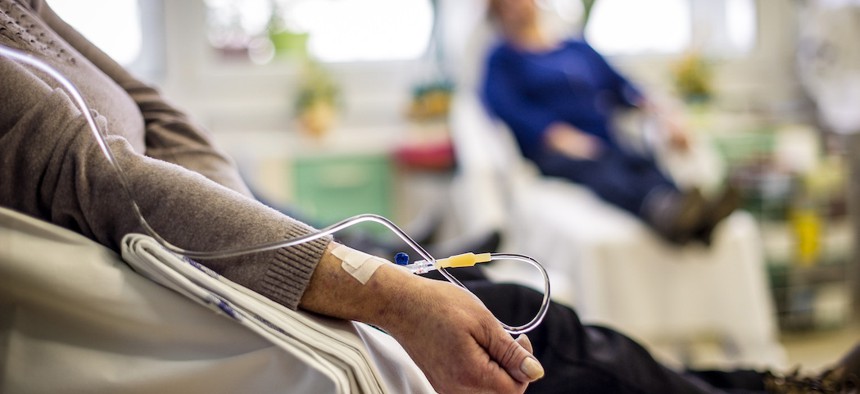 As COVID-19 patients began to flood New York's hospitals in March, numerous medical treatments – some lifesaving – were upended.
Cancer patients have had important surgeries postponed, kidney dialysis treatments have been stalled, organ transplants and brain surgeries have been suspended, and even clinical trials have been canceled.
A large reason why many of these treatments have been placed on the back burner has to do with Gov. Andrew Cuomo's March 22 directive to temporarily stop all elective surgeries, which includes everything from face-lifts to tumor removals. Since the initial wave of infections, Cuomo allowed hospitals to resume elective surgeries on April 28, as long as those hospitals weren't within counties experiencing a surge in coronavirus cases.
Many doctors from a wide range of medical specialties have also been asked to help treat COVID-19 patients, as the number of cases overwhelmed many hospitals, especially in New York City. But treatments have mostly been interrupted due to a desire to prevent immunocompromised patients, who are more susceptible to contracting COVID-19 and experiencing severe symptoms, from risking exposure to the virus.
While some patients suffering from chronic health issues have found solutions, such as using telemedicine services in place of a typical doctor's visit, many have been unable to proceed with their usual course of treatment. Here are the medical treatments that have been affected by the coronavirus crisis.
Cancer treatments and surgeries
Many oncologists, who typically stress the urgency of treating cancer as quickly as possible, have now been forced to determine which cancer treatments, such as chemotherapy and radiation, can be held off amid the crisis. A large number of patients who had diagnostic tests scheduled to screen for cancer will be forced to wait, which could potentially cause their cancer to worsen if they do have the disease. About 1 in 4 cancer patients across the country have already reported a delay in their treatments, including doctor's visits, imaging services and surgeries, according to the American Cancer Society Cancer Action Network.
"The health effects of this pandemic stretch well beyond those diagnosed and suffering from COVID-19 and are having an acute and adverse impact on cancer patients, many of whom can't afford treatment delays," Lisa Lacasse, president of the American Cancer Society Cancer Action Network, said in a statement. "Cancer patients are dealing with understandable, but in many cases, unsustainable delays in their care. This data shows the need for quick action in bolstering our health care system so we can both care for those diagnosed with the virus and for those facing a cancer diagnosis."
Some doctors have even switched from giving their patients intravenous chemotherapy to oral chemotherapy medication, so they can receive their treatment at home. However, some patients who have cancer that is at a more advanced stage are still required to receive chemotherapy and radiation at hospitals and clinics. Because visitors are no longer allowed to accompany patients, many undergoing these treatments are experiencing intense loneliness. "Someone used to go around and give foot massages and some places had therapy dogs," Haley Feldman, the clinical program manager for Gilda's Club NYC, which provides support to cancer patients, told The City about the ways patients used to be comforted.
Surgeries to remove cancer have also been postponed in an effort to free up beds for COVID-19 patients and to prevent cancer patients, who typically have weakened immune systems due to their chemotherapy and radiation treatments, from contracting the disease.
Kidney dialysis
Kidney dialysis machines, which fill in for someone's kidneys when they are failing or in need of assistance due to kidney disease, help filter and clean a patient's blood. Many COVID-19 patients in New York have unexpectedly experienced kidney failure. And it's estimated that 20% of coronavirus patients in intensive care units need dialysis.
Since there has been an increased demand for dialysis, there's now a shortage of machines and dialysis fluids, causing New York kidney specialists to scramble. "The nephrologists in New York City are going slightly crazy making sure that everyone with kidney failure gets treatment," Dr. David S. Goldfarb, a kidney doctor at NYU Langone, told The New York Times in April. "We don't want people to die of inadequate dialysis."
He added: "Nothing like this has ever been seen in terms of the number of people needing kidney replacement therapy."
Organ transplants
The number of organ transplants occurring throughout the country has dropped significantly.
Some potential organ donors have become infected with the coronavirus due to the high volume of COVID-19 patients in hospitals, making their organs unusable for transplants. "Normally we would follow about 20 to 25 referrals (for organ donations) a day," Helen Irving, president and CEO of LiveOnNY, which coordinates transplant organs from donors along the East Coast, told the Times. "That is now down to six or seven that are non-COVID and potentially with an injury that would allow them to become an organ donor."
Even if a donor has healthy organs, recipients of organ transplants are often on drugs that suppress the immune system's response, which makes them especially susceptible to contracting the virus, although those in dire need of a transplant are still undergoing surgery. "We understand that patients with COVID are the priority, but somebody that has end-stage liver disease can die as well," Dr. Mercedes Martinez, a transplant surgeon at NewYork-Presbyterian Medical Center, told the Times.
Organ transplants coming from living donors who choose to donate a kidney or a piece of their liver have similarly been stalled due to the possible risks to both patients. And now there's limited space for patients to recover after the surgery, now that most hospital beds are occupied by coronavirus patients.
Neurosurgery
Dr. David Langer, chairman of neurosurgery at Lenox Hill Hospital, told the Times that despite having 65 surgeries scheduled, his department has been unable to perform those procedures and they have been deployed to the hospital's intensive care unit. While a number of neurosurgeries can safely be delayed, such as those connected to back issues, there are patients who need neurosurgery to prevent life-threatening strokes. "We normally do those in a few weeks," Langer said. "There's no point in waiting; they're taking a risk."
However, without surgeons available and patients afraid to go to hospitals, the delays can be expected to continue.